Exceptional

On-/Off-Road All-Terrain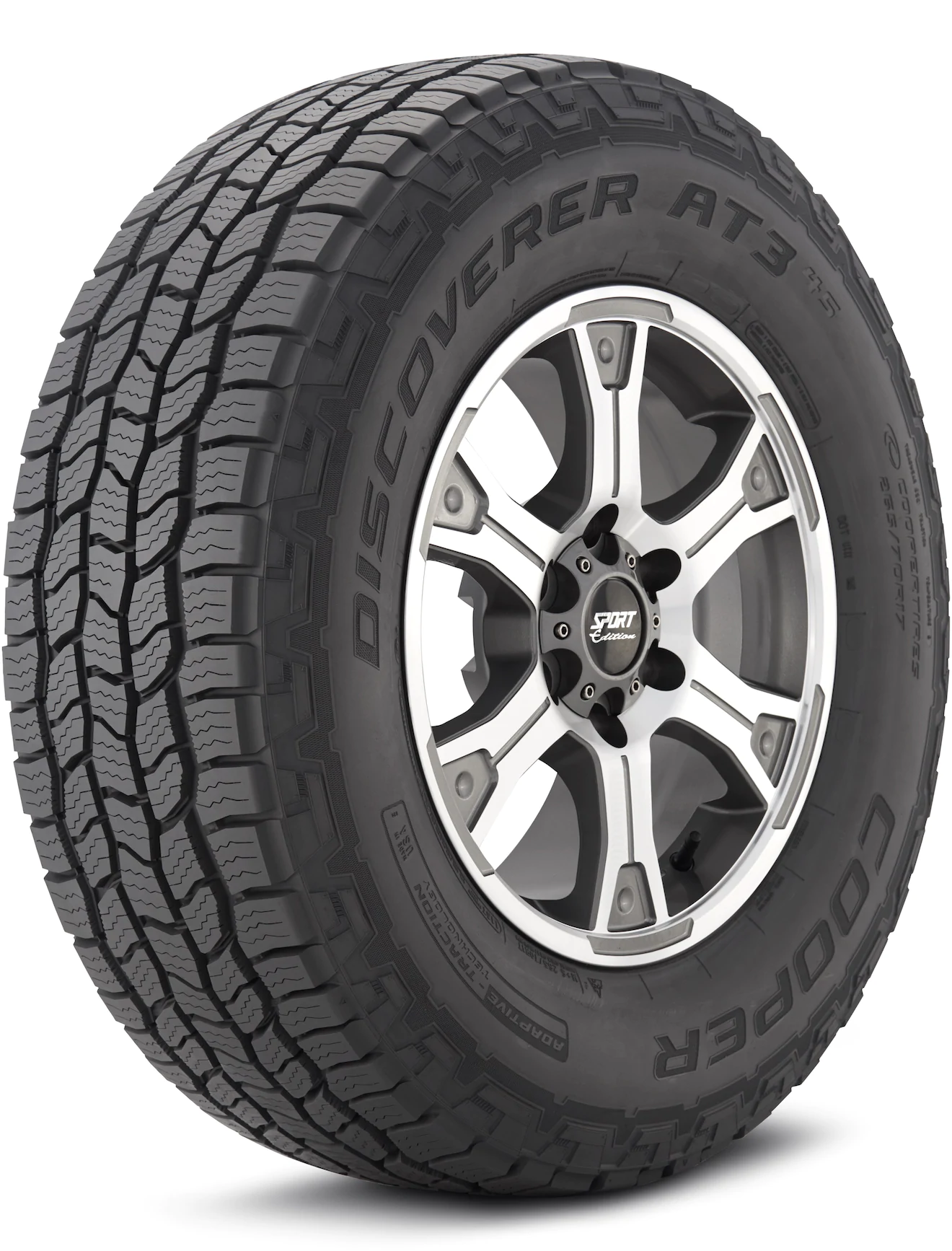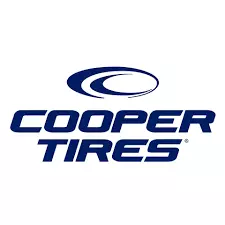 Strong sides
Attractive treadwear warranties
Optimized dry and wet road traction
Utilize durable manufacturing materials
Decent performance on snowy roads
Not so good
Perform poorly on muddy roads
Cooper Tires has made a name in the all-terrain market segment by introducing Cooper Discoverer AT3 4S tires. The tires are designed to offer safe driving and are available in different sizes (15-22 inches) to perfectly fit full-size SUVs, select crossovers, and light trucks. 
All-terrain tires remain unbeatable when it comes to combining highway performance and off-roading. They balance grip and handling to give you a comfortable ride, wherever and whenever. 
This review covers everything you need to know about Cooper Discoverer AT3 4S Tires, their specs, cutting-edge technologies used in their manufacture, and how they perform under different driving conditions.
Cooper Discoverer AT3 4S outperforms 99% of tires in the On-/Off-Road All-Terrain category.
What are the features of the Cooper Discoverer AT3 4S?
This is a durable tire brand that uses a silica-based compound that extends its service life. It is vital for enhancing grip under different roads. The traction of the tires is a combination of Cooper's Adaptive-Traction technology and the Secure-Grip all-terrain patterns. Cooper Discoverer AT3 4S tire is enhanced using open ribs, guaranteeing exceptional performance on dry and wet roads.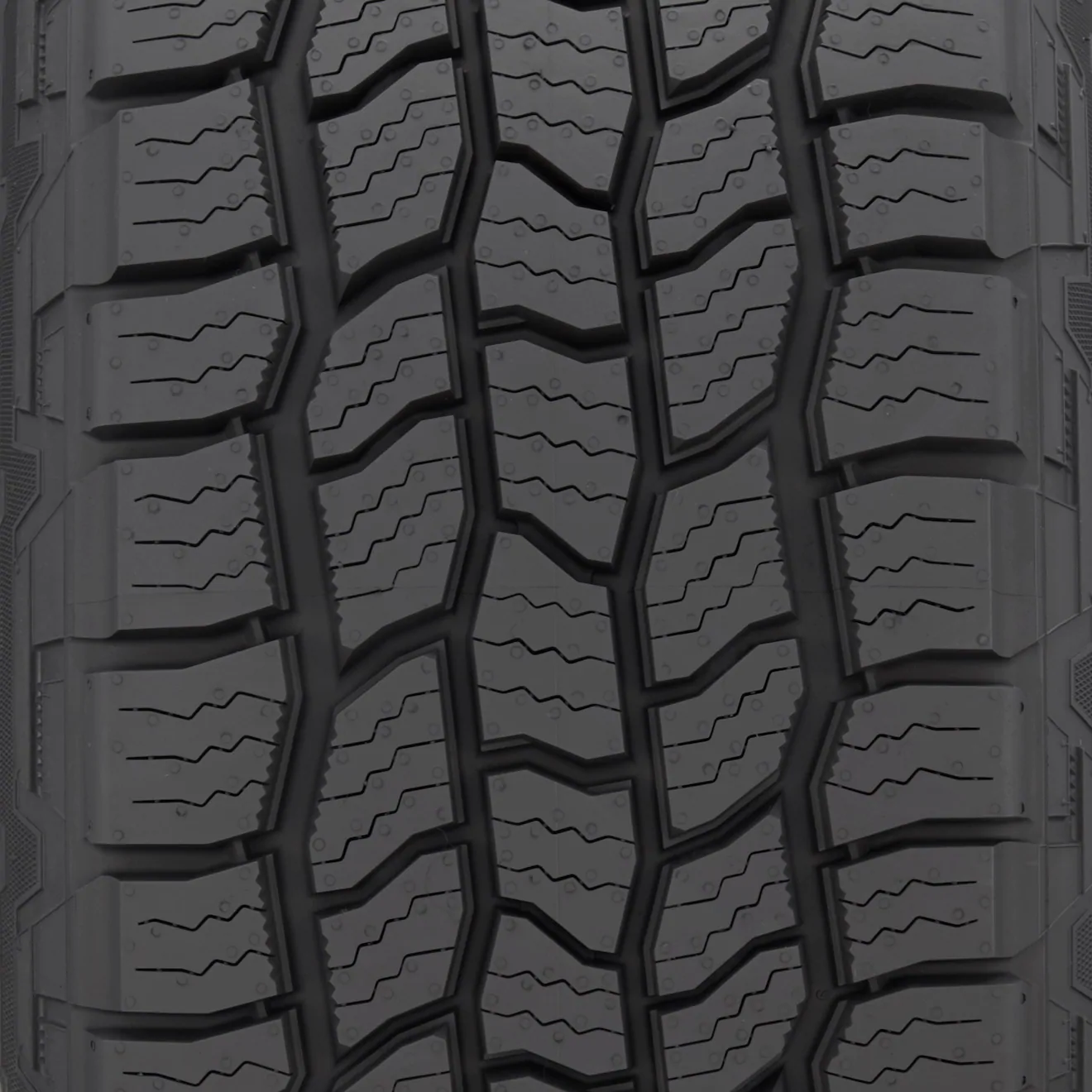 Cooper has done a great job in improving defense against hydroplaning. The tires have wide circumferential and lateral notches, which are assisted by Aqua Vac channels. They facilitate the quick evacuation of water from the road surfaces. The edges of the tire blocks are engineered to improve traction on snow using the Snow Groove Technology and Micro-Gauge sipes. 
Cooper Discoverer AT3 4S tires are among the most durable all-terrain tires, with their internal construction reinforced using plied polyester casings, nylon reinforcements, and steel belts. They improve the stability and the handling of the tires at different driving speeds.
Cooper Discoverer AT3 4S tires are suitable for winter use. They come with the 3-peak mountain snowflake symbol (3PMSF) and can provide sufficient snow traction. Their performance can be modest but may perform poorly under extreme winter conditions.
How long does the Cooper Discoverer AT3 4S tire last? 
Cooper Discoverer AT3 4S tires have one of the best tread life warranties. The company provides a limited tread life warranty of 6 years or 65,000 miles, whichever comes first. The uniformity warranty is limited for the First 2/32″ treadwear. The company handles all replacements for defective tires for a maximum of 6 years and covers all expenses relating to poor quality for the same period. The company offers a 45-day trial period for all verified purchases.
Discoverer AT3 4S tires have wear indicators within the treads of the tire. The tires require replacement when the tread wear indicators (rubber inserts) flush with the treads.
Off-road performance
Discoverer AT3 4S tires have a good record when it comes to off-road service. Although they are not a perfect choice, they have admirable off-road results. They have above-average traction over rough, hard-packed surfaces like dirt or gravel. They provide sufficient grip to maneuver these roads. Handling of the vehicle over such roads is decent and remains responsive to steering controls.
The tires provide reasonable traction on mud surfaces. The performance of the tire over such roads is dismal compared to mud-terrain specialized tires. On rocky surfaces, the tires have superb traction. The tough sidewall casing protects them against abrasion and punctures from chip cuts.
Wet performance
The Discoverer AT3 4S tires utilize the AquaVac Channels in their construction. It gives them a superb performance on wet roads. The additional sipes within the tread blocks enhance wet traction making the tires highly responsive to steering controls. These tires have excellent braking characteristics and can stop over very short distances. The wide longitudinal and lateral grooves allow maximum evacuation of water to improve driving safety and protect vehicles against hydroplaning.
Overall, these tires offer the drivers a certain level of confidence, thanks to their predictable handling, sufficient wet traction, and braking characteristics.
Dry performance
Discoverer AT3 4S tires have balanced dry road and wet road performance. They are reliable tires that ease regular highway commuting. These tires have excellent dry traction with remarkable responsiveness. They react promptly to steering controls and provide sufficient grip for cornering at moderate to high speed.
The braking distance is equally short, making them safe alternatives for drivers who want to enjoy the thrills of off-roading and high-speed highway driving. Discoverer AT3 4S tires retain a uniform contact patch on the dry roads. Once the grip is firm, the driver gains driving confidence which comes with the straight-line stability of the tires.
Comfort performance
Discoverer AT3 4S tires provide a quiet ride on the highway. On rougher surfaces, the noise levels are maintained at lower levels. Conversations inside the vehicle are hardly interrupted by the rumbling of the treads. The tread patterns are designed to absorb most of the surface noises. Cooper uses Whisper Grooves Technology to maintain the noise levels at decent levels. 
The two-ply polyester casings and nylon reinforcements absorb the shocks and vibrations emanating from the road surface to offer drivers a comfortable ride on the highways. 
Are Cooper AT3 4S good in snow?
Discoverer AT3 4S tires have aggressive treads to allow easy handling and steering over snowy roads. The tires use Cooper's Snow Groove Technology which uses ZigZag tread block edges to increase the snow-to-snow biting edges. It reduces the braking distance and increases snow traction making the tires safe for driving over light.
When exposed to deep snow and ice, the tires tend to underperform. The braking distance increases, and the handling gets challenging. They are not a suitable choice for extreme winter conditions.
Tire sizes & specifications
| Tire size | Load index/ Speed rating | UTQG | Max load | Max Inflation | Tread Depth | Tire Weight | Wheel Diameter | Rim Width Range | Measured Rim Width | Section Width | Tread Width | Overall Diameter | Revs Per Mile | Country | |
| --- | --- | --- | --- | --- | --- | --- | --- | --- | --- | --- | --- | --- | --- | --- | --- |
| 225/70R15 | 100T SL | 620 A B | | 44 psi | 13.5/32″ | 30 lbs | 15 | 6-7.5″ | 6.5″ | 9″ | 7.3″ | 27.7″ | 749 | US | |
| 235/75R15 | 109T XL | 620 A B | | 50 psi | 14/32″ | 33 lbs | 15 | 6-8″ | 6.5″ | 9.3″ | 6.9″ | 28.7″ | 721 | US | |
| 235/75R15 | 105T SL | 620 A B | | 44 psi | 14/32″ | 31 lbs | 15 | 6-8″ | 6.5″ | 9.3″ | 7″ | 28.7″ | 721 | US | |
| 255/70R15 | 108T SL | 620 A B | | 44 psi | 14/32″ | 36 lbs | 15 | 6.5-8.5″ | 7.5″ | 10.3″ | 8″ | 29.1″ | 713 | US | |
| 265/70R15 | 112T SL | 620 A B | | 44 psi | 14/32″ | 38 lbs | 15 | 7-9″ | 8″ | 10.9″ | 8.7″ | 29.7″ | 699 | US | |
| 265/75R15 | 112T SL | 620 A B | | 44 psi | 14/32″ | 38 lbs | 15 | 7-9″ | 7.5″ | 10.5″ | 8.1″ | 30.6″ | 679 | US | |
| 215/70R16 | 100T SL | 620 A B | | 44 psi | 13.5/32″ | 29 lbs | 16 | 5.5-7″ | 6.5″ | 8.7″ | 7.2″ | 27.7″ | 748 | US | |
| 225/70R16 | 103T SL | 620 A B | | 44 psi | 13.5/32″ | 32 lbs | 16 | 6-7.5″ | 6.5″ | 9″ | 7.3″ | 28.7″ | 723 | US | |
| 225/75R16 | 104T SL | 620 A B | | 44 psi | 13.5/32″ | 30 lbs | 16 | 6-7.5″ | 6″ | 8.6″ | 6.7″ | 29.1″ | 712 | US | |
| 235/70R16 | 106T SL | 620 A B | | 44 psi | 13.5/32″ | 33 lbs | 16 | 6-8″ | 7″ | 9.4″ | 7.7″ | 28.8″ | 719 | US | |
| 235/75R16 | 108T SL | 620 A B | | 44 psi | 14/32″ | 32 lbs | 16 | 6-8″ | 6.5″ | 9.3″ | 7″ | 29.7″ | 698 | US | |
| 245/70R16 | 111T XL | 620 A B | | 50 psi | 13.5/32″ | 36 lbs | 16 | 6.5-8″ | 7″ | 9.8″ | 7.6″ | 29.5″ | 704 | US | |
| 245/70R16 | 107T SL | 620 A B | | 44 psi | 13.5/32″ | 34 lbs | 16 | 6.5-8″ | 7″ | 9.8″ | 7.9″ | 29.5″ | 704 | US | |
| 245/75R16 | 111T SL | 620 A B | | 44 psi | 14/32″ | 37 lbs | 16 | 6.5-8″ | 7″ | 9.6″ | 7.4″ | 30.3″ | 684 | US | |
| 255/70R16 | 111T SL | 620 A B | | 44 psi | 14/32″ | 38 lbs | 16 | 6.5-8.5″ | 7.5″ | 10.2″ | 8.2″ | 30″ | 690 | US | |
| 265/70R16 | 112T SL | 620 A B | | 44 psi | 14/32″ | 40 lbs | 16 | 7-9″ | 8″ | 10.8″ | 8.5″ | 30.4″ | 682 | US | |
| 265/75R16 | 116T SL | 620 A B | | 44 psi | 14/32″ | 41 lbs | 16 | 7-9″ | 7.5″ | 10.5″ | 8″ | 31.6″ | 657 | US | |
| 215/65R17 | 99T SL | 620 A B | | 44 psi | 13/32″ | 30 lbs | 17 | 6-7.5″ | 6.5″ | 8.7″ | 6.9″ | 28.2″ | 737 | US | |
| 235/60R17 | 102T SL | 620 A B | | 44 psi | 12.5/32″ | 31 lbs | 17 | 6.5-8.5″ | 7″ | 9.6″ | 7.9″ | 28.3″ | 732 | US | |
| 235/65R17 | 108T XL | 620 A B | | 50 psi | 13/32″ | 34 lbs | 17 | 6.5-8.5″ | 7″ | 9.5″ | 7.9″ | 29.2″ | 710 | US | |
| 235/70R17 | 109T XL | 620 A B | | 50 psi | 13.5/32″ | 37 lbs | 17 | 6-8″ | 7″ | 9.5″ | 7.7″ | 30″ | 691 | US | |
| 235/75R17 | 109T SL | 620 A B | | 44 psi | 14/32″ | 35 lbs | 17 | 6-8″ | 6.5″ | 9.3″ | 7.1″ | 30.8″ | 674 | US | |
| 245/65R17 | 111T XL | 620 A B | | 50 psi | 13/32″ | 36 lbs | 17 | 7-8.5″ | 7″ | 9.5″ | 7.9″ | 29.5″ | 702 | US | |
| 245/70R17 | 110T SL | 620 A B | | 44 psi | 13.5/32″ | 36 lbs | 17 | 6.5-8″ | 7″ | 9.7″ | 8″ | 30.5″ | 680 | US | |
| 255/65R17 | 110T SL | 620 A B | | 44 psi | 13/32″ | 37 lbs | 17 | 7-9″ | 7.5″ | 10.2″ | 8.4″ | 30.2″ | 687 | US | |
| 255/70R17 | 112T SL | 620 A B | | 44 psi | 14/32″ | 40 lbs | 17 | 6.5-8.5″ | 7.5″ | 10.2″ | 8.3″ | 31.2″ | 665 | US | |
| 255/75R17 | 115T SL | 620 A B | | 44 psi | 14/32″ | 39 lbs | 17 | 6.5-8.5″ | 7″ | 10″ | 7.8″ | 32″ | 649 | US | |
| 265/65R17 | 112T SL | 620 A B | | 44 psi | 13/32″ | 39 lbs | 17 | 7.5-9.5″ | 8″ | 10.6″ | 8.8″ | 30.6″ | 678 | US | |
| 265/70R17 | 115T SL | 620 A B | | 44 psi | 14/32″ | 42 lbs | 17 | 7-9″ | 8″ | 10.7″ | 8.6″ | 31.4″ | 660 | US | |
| 285/70R17 | 117T SL | 620 A B | | 44 psi | 14/32″ | 45 lbs | 17 | 7.5-9.5″ | 8.5″ | 11.5″ | 9.2″ | 32.8″ | 633 | US | |
| 255/70R18 | 113T SL | 620 A B | | 44 psi | 14/32″ | 42 lbs | 18 | 6.5-8.5″ | 7.5″ | 10.2″ | 8.4″ | 32.1″ | 645 | US | |
| 265/60R18 | 110T SL | 620 A B | | 44 psi | 12.5/32″ | 39 lbs | 18 | 7.5-9.5″ | 8″ | 10.7″ | 8.9″ | 30.6″ | 679 | US | |
| 265/65R18 | 114T SL | 620 A B | | 44 psi | 13/32″ | 40 lbs | 18 | 7.5-9.5″ | 8″ | 10.7″ | 8.8″ | 31.5″ | 657 | US | |
| 265/70R18 | 116T SL | 620 A B | | 44 psi | 14/32″ | 45 lbs | 18 | 7-9″ | 8″ | 10.7″ | 8.8″ | 32.6″ | 635 | US | |
| 275/65R18 | 116T SL | 620 A B | | 44 psi | 13/32″ | 43 lbs | 18 | 7.5-9.5″ | 8″ | 11″ | 9.1″ | 32.1″ | 645 | US | |
| 255/50R20 | 109H XL | 620 A B | | 50 psi | 12/32″ | 38 lbs | 20 | 7-9″ | 8″ | 10.4″ | 9.8″ | 30.1″ | 689 | US | |
| 265/50R20 | 111T XL | 620 A B | | 50 psi | 12/32″ | 40 lbs | 20 | 7.5-9.5″ | 8.5″ | 10.6″ | 9.3″ | 30.5″ | 680 | US | |
| 275/55R20 | 117T XL | 620 A B | | 50 psi | 12.5/32″ | 44 lbs | 20 | 7.5-9.5″ | 8.5″ | 10.9″ | 9.4″ | 31.9″ | 649 | US | |
| 275/60R20 | 115T SL | 620 A B | | 44 psi | 12.5/32″ | 44 lbs | 20 | 7.5-9.5″ | 8″ | 10.9″ | 9.2″ | 33″ | 628 | US | |
| 275/45R22 | 112H XL | 620 A B | | 50 psi | 12/32″ | 41 lbs | 22 | 8.5-10.5″ | 9″ | 10.9″ | 9.1″ | 31.7″ | 654 | US | |
| 285/45R22 | 114H XL | 620 A B | | 50 psi | 12/32″ | 42 lbs | 22 | 9-10.5″ | 9.5″ | 11.3″ | | 32″ | 648 | US | |