You have been wanting to stretch your tires for a while now, but you don't know where to start? You've heard that it's a difficult process, and you're not sure if you can do it yourself.
With the right information, tire stretching is easy and can be done in the comfort of your own garage. In this article, we'll show you how to stretch your tires and which tire brands are the most stretch-friendly.
What Does It Mean To Stretch Your Tires?
Before getting started, one needs to understand what tire stretching is.
Tire stretching is a fitting of a narrow tire on a wide wheel. Usually the difference varies from 1 to 3 inches. The result is achieved by extending the sidewall all the way to the edge of the wheel. When the process is done, your car obtains a unique show-style outlook.   
Stretch-friendly Tire Brands
According to the research we have done by browsing the numerous specialized forums, subreddits, groups and polls conducted in such communities, the most stretch-friendly tire brands would be the following:
What Are The Most Popular Car Tires To Stretch?
When choosing a tire for stretching,  questions arise related to the brand, quality, durability and price. This list brings together brands with the best tires to stretch, among which you will find the ones that are right for you.
Nitto Neo Gen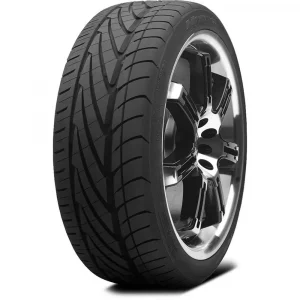 These tires were specially designed for car enthusiasts, who like stretching their tires and lowering cars. The tire tread remains stable on lowered cars with the most negative level of camber. Due to the fact that the flexibility of the tread is reduced, this allows the tire to wear more evenly making it a perfect variant for daily driving.
Nankang NS20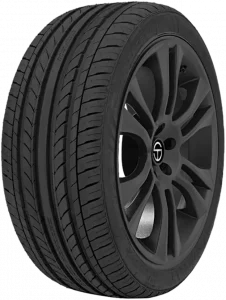 Budget and reliability – that is about  Nankang NS20. Initially this tire was designed for luxury sedans. They become popular among drivers thanks to their comfort and longevity . The tire provides high grip both on dry and wet surfaces thanks to special tread pattern design. 
Falken Ziex ZE 950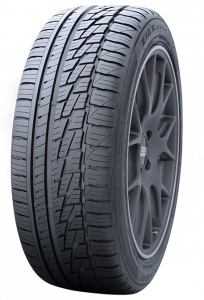 This tire will make your driving experience comfortable in any season of the year whether it's icy winter or hot summer. This is ensured by deep parallel grooves and a directional tread that improve traction.
Falken tires provide you with a comfortable and smooth ride. The only weak point of Falken Ziex ZE 950 is its handling which sometimes turns inaccurate.
SUPERMAX TM-1
If you're looking for tires which provide you with decent acoustic comfort, SUPERMAX TM-1 is exactly what you need. The thread pattern remains quiet and provides good traction whether it's wet or dry weather conditions. 
Affordable price and longevity are key factors for buying SUPERMAX TM-1. Although rocks and different obstacles create challenges for this tire due to materials used in it`s production.
Hankook Ventus V12 Evo2 K120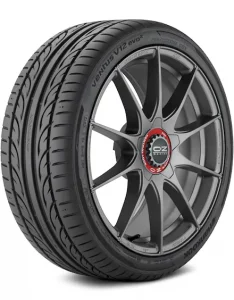 This tire combines both safety and reliability for everyday driving. To produce this tire manufacturer has used only high quality materials. The Hankook Ventus V12 was developed especially for extreme road temperatures. 
Special rubber technology allows the tire to remain controllable on the road without sacrificing comfort. The only drawback of Ventus V12 is the price.
Nitto NT 555 G2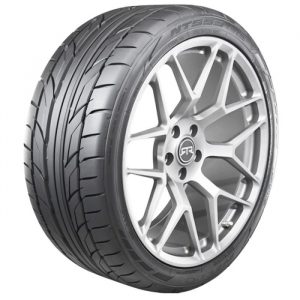 The Nitto NT 555 is intended for those drivers who value outstanding traction and practicality. The thread pattern of the tire makes it stable on corners and controllable on wet or ice. 
The rigidity of the tire is provided by a special silicate mixture that helps increase its lifespan and has a positive effect on braking and stopping speed of the car.
Toyo R888 – Perfect for Car Mods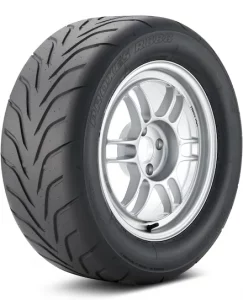 *Attention: Recommended for competition events only.
The large, wide profile of these tires makes them perfect for building show cars. They don't have an integrated rim protector so they're very aggressive looking and popular among car enthusiasts who enjoy making their projects stand out from the rest with this type tire on board!
What Are The Most Popular Truck Tires To Stretch?
Stretching tires has become popular not only among car owners, but also among pickup truck drivers who like the unusual appearance of their vehicle.
Since pickup trucks weigh much more than cars, they need appropriate tires that can withstand their weight.
Below you will definitely find a tire which fits your truck!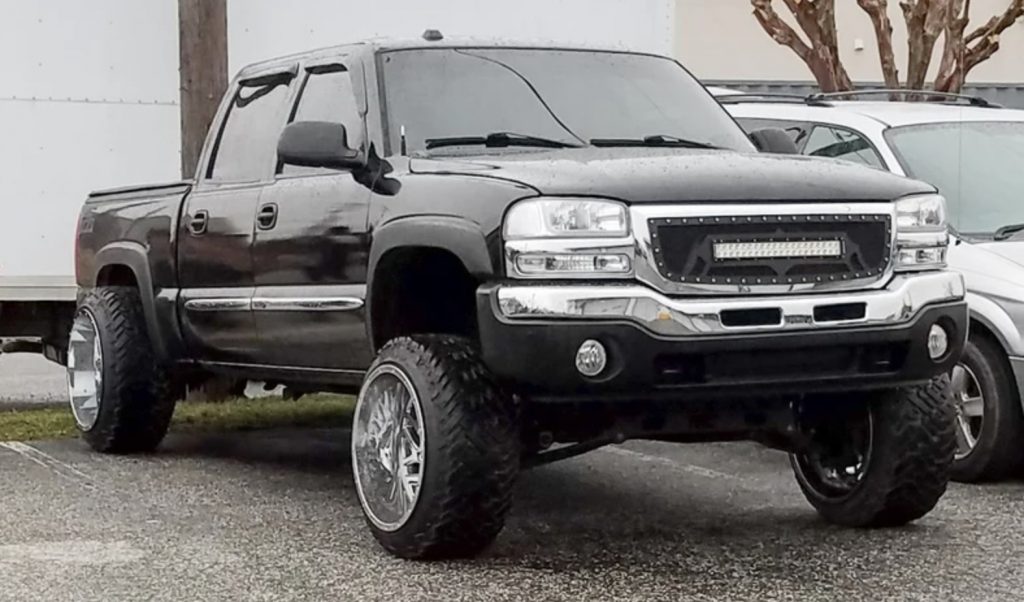 Venom Power Terrain Hunter X/T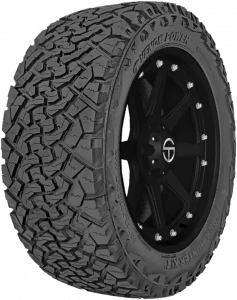 The Venom Power Terrain Hunter X/T combines perfect traction and comfort during everyday driving. The pure rubber was developed to protect the tire from any accidents which may occur whether it's cut or punctured. The Venom Power Terrain Hunter X/T is a reliable option, however it's quite noisy on the road.
BFGoodrich All-Terrain TA KO2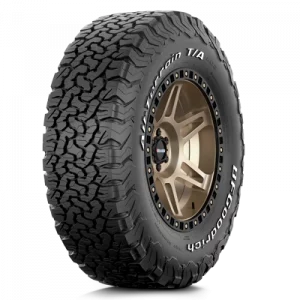 The BFGoodrich All-Terrain T/A KO2 tire was created to meet all off-road needs. The tire is equipped with aggressive tread pattern and deep grooves which means that any type of terrain, snow or ice is not a challenge for it. In addition the BFGoodrich All-Terrain T/A KO2 has chip and cut protection which prolongs it`s lifespan. This tire model is an example of perfect traction and great wear resistance. 
Gladiator X Comp M/T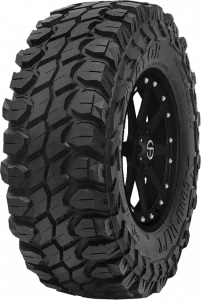 The tire is made of practical and high quality materials. That means remarkable durability for a long period of usage which reaches up to 4 years or even more. Solid tire spikes easily remove any dirt or debris. The model provides you with stable traction in any off-road conditions providing high passability features for an affordable price. The only disadvantage of this tire is it`s weight.
Kenda Klever R/T KR601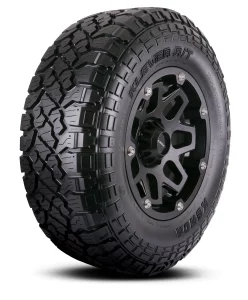 This tire is equipped with solid structure, deep grooves and directional tread which altogether provides you with nice grip with the surface. The tread pattern of Kenda Klever R/T KR601 allows you to feel confident on both snow and ice surfaces. 
Moreover high-quality materials of the tire make it durable and long-lasting. Affordable price and decent handling are the strong sides of the tire. The only drawback of Kenda Klever R/T KR601 is its weight.
Is it good to stretch tires ?
Well, there is no direct answer to this question. On the one hand, tire stretching is fascinating – it creates a unique look of the vehicle.
On the other, such modification is quite dangerous for everyday usage and even illegal in some states.
Can any tire be stretched?
All tires are different. Each manufacturer mentions specs according to the brand. Before stretching a tire, you should understand the strength of the materials and compounds from which it is made, and of course its parameters to fit on your rims.
In a few cases the only way out to know whether your tire can be stretched or not, is to apply it on your rim, so you can see the result.
Why do people use stretched tires?
Tire stretching is one of the available types of exterior car tuning without significant financial costs. Even simple welded steel rims shod in a low-profile tire on an old Honda Civic will distinguish this car from other traffic.
This trend has gained the status of a culture among car enthusiasts who try in all possible ways to make their cars as recognizable as possible using lowered suspension and bright rims that impress the public.
Such type of vehicle modification is labeled as stance. The origin of stance culture comes from Japan outlaw groups (like Bosozoku) and drifters. 
The first ones tuned their cars to make them unique among other vehicles in traffic. While the second lowered their cars to gain more grip and handling on the drift track.
How to Calculate the PERFECT Tire Stretch
Have you ever thought about how tire stretching works ? 
To start with, the diameter of the wheel doesn`t play a big role here. All the information is suitable from 13" to 23" wheels.
To explain we will use  18" as an example. It is worth mentioning that width and height of your tire affects the achievable stretch.  
A guy nicknamed h3llk1t3 has made a scrupulous research in his post where he explains all the quirks and features of his methodology. Below you can see how it works in practice. 
To calculate he uses the basic which is 255/35 18×10 parameters. This is a neutral or zero stage. Now if you want to go down you have to remember that section intervals go to 10 and side volt changes in intervals of 5.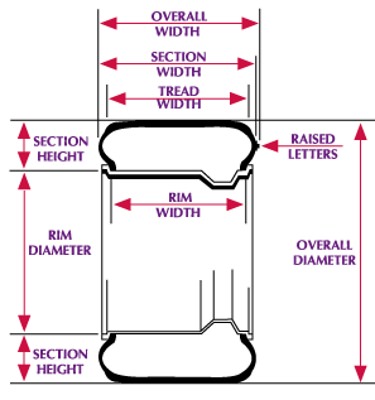 For example, if you go from 255/35 to 245/45 – it means one stage of stretching. The same goes to 255/35 to 255/30.
A 255/35 18×10 – is a stage one. (mild stretch)
A 245/35 18×10 – is a stage two.
A 235/35 18×10 – is a stage three (full stretch). 
A 225/40 18×10 – is a stage four (be aware that not all the tires are intended for this fitment and may cause a debeading). 
The process can go even further as long as you can reach the maximum of stretching.
Although it is recommended to keep up to a mild stretch stage. There are two reasons for that. 
Firstly, it will be safer, secondly you may probably won't have any issues with the road patrol. 
If numbers are complicated to you, you may use a special calculator. On the page input your existing parameters and click "calculate". 
The website will provide you with before and after results through the real-time diagram. With results obtained you won't have doubts whether the chosen tire fits or not.
Can I Stretch My Tires On My Truck?
The answer is yes. Be aware that the process  is quite dangerous and needs some preparations. Before getting started be sure that you have a fire extinguisher and the area you are working is safe. 
It is recommended to let this job to car workshop specialists, although they may refuse, because they don't want to put their customers at risk and have trouble with legal issues.
If you are still up to doing tire stretching on your own, follow the steps below.
STEP 1. Lay the tire and rim on a flat surface.
STEP 2. Make a soap and water mixture to apply it on the bead of the tire with the help of spray or paint brush.This allows the tire to slip on with less friction.
STEP 3. Put the tire on the rim of the wheel. To facilitate this process, use a special spoon or a long flat screwdriver.
STEP 4. Take the flammable substance and spray all over the inner tire. Deodorants and brake cleaners are also suitable for that. 
STEP 5. Connect the air compressor to the tire.
STEP 6. Light the flammable substance you applied on the inner tire.
STEP 7. When the tire is beaded, compress to the correct PSI level.
How do I choose a stretched tire? Things to Consider
Usually we choose goods due to quality, price and brand recognizability. Here are two key factors on how to choose a stretched tire.
Side opinion. Don't hesitate reading feedback both on official resources and forums. It will help you to better understand whether the selected tire brand is good or not for your vehicle.
Application. When choosing a tire, make sure it meets your needs. Pay attention to the pattern of the tread, the components it's made of and for which weather conditions it is.
Can I drift on stretched tires?
It may sound amazing, but tire stretching with correct adjustments may be useful while drifting. However, to achieve this one has to make negative front camber and suspension setups.
So how do the stretched tires accompanied with the mentioned above settings work together?
During the drift, the angle of the front wheel changes. Front negative camber alignment provides you with improved traction while passing corners. 
Do stretched tires have less grip?
Stretched tires won`t provide you with a decent traction on rainy and snowy roads as regular ones.
Besides, such a tire has a lower contact area with the surface that affects its braking distance.
Can you race on stretched tires ?
It is highly not recommended to use stretched tires for street racing. They heat much faster than regular ones and it even may cause blowing. 
If you still want to have fun with your stretched tires choose a safe area or special racetrack.
Mistakes running stretched tires
Rookies tend to make mistakes, here are a few moments which are to be taken into consideration.
1. Driving habits. Any technical car modification changes its behavior on the road. Same goes for stretched tires. Their sidewall spreads over the applied rim, which significantly affects the contact between the tire and surface. As a result car handling  and steering is way different than it was with regular tires.
2. Tire properties. Most people choose tires for stretching due to its price or look they bring without paying attention to features. Such aspects such sidewall strength, compound material, rain channels and maximum load are unique for every vehicle.
3. Car suspension. Stretched tires affect suspension that may result in its soon or late repair works. Besides, stretched tires affect vehicle controllability making your driving harsh and unsafe. 
Conclusion
Tire stretching is exciting though it may be dangerous at the same time. That's why it is still popular among both car tuners and enthusiasts. 
If you find the right tires for your rims and follow tips in this article, your experience will be safe and joyful.