The bolt pattern of a wheel can be measured using either standard or metric units, which is usually determined by the type of vehicle. The inconsistency occurred because older vehicles used to rely on the standard system (5×3.94″) while newer cars have adopted the metric sizes (5×100 mm).
The bolt pattern, or PCD (Pitch Circle Diameter), has two numbers divided by "x" (like 5×3.94″ or 5×100 mm). The first number indicates the number of lug holes on a wheel, which is the same in both systems. The second digit is the diameter of an imaginary circle formed by the lug holes, and it may be specified in inches (standard) or millimeters (metric).
While both systems are correct, it gets confusing when people mean the same lug pattern but operate different measurements of the imaginary circle. But here is the thing.
Each standard bolt pattern value has an equivalent in the metric system.
Use the chart below to convert any bolt pattern from metric to standard and vice versa.
The values are grouped by the number of lugs for your convenience.
Bolt Pattern Cross Reference Chart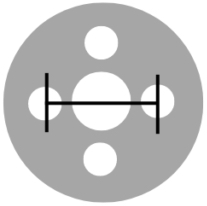 4-lug Wheel Bolt Pattern
| Metric (millimeters) | Metric (millimeters) |
| --- | --- |
| 4 x 95.2 mm | 4 x 3.75″ |
| 4 x 98 mm | 4 x 3.86″ |
| 4 x 100 mm | 4 x 3.94″ |
| 4 x 101.6 mm | 4 x 4″ |
| 4 x 108 mm | 4 x 4.25″ |
| 4 x 110 mm | 4 x 4.33″ |
| 4 x 114.3 mm | 4 x 4.5″ |
| 4 x 130 mm | 4 x 5.12″ |
| 4 x 137 mm | 4 x 5.39″ |
| 4 x 139.7 mm | 4 x 5.5″ |
| 4 x 160 mm | 4 x 6.3″ |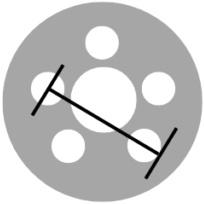 5-lug Wheel Bolt Pattern
| Metric (millimeters) | Standard (inches) |
| --- | --- |
| 5 x 98 mm | 5 x 3.86″ |
| 5 x 100 mm | 5 x 3.94″ |
| 5 x 108 mm | 5 x 4.25″ |
| 5 x 110 mm | 5 x 4.33″ |
| 5 x 112 mm | 5 x 4.41″ |
| 5 x 114.3mm | 5 x 4.5″ |
| 5 x 115 mm | 5 x 4.53″ |
| 5 x 118 mm | 5 x 4.65″ |
| 5 x 120 mm | 5 x 4.72″ |
| 5 x 120.65mm | 5 x 4.75″ |
| 5 x 127 mm | 5 x 5″ |
| 5 x 128 mm | 5 x 5.04″ |
| 5 x 130 mm | 5 x 5.12″ |
| 5 x 135 mm | 5 x 5.31″ |
| 5 x 139.7 mm | 5 x 5.5″ |
| 5 x 150 mm | 5 x 5.91″ |
| 5 x 155 mm | 5 x 6.1″ |
| 5 x 170 mm | 5 x 6.69″ |
| 5 x 205 mm | 5 x 8.07″ |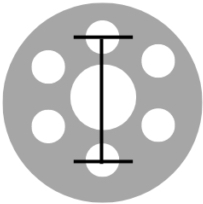 6-lug Wheel Bolt Pattern
| Metric (millimeters) | Standard (inches) |
| --- | --- |
| 6 x 114.3 mm | 6 x 4.5″ |
| 6 x 115 mm | 6 x 4.53″ |
| 6 x 120 mm | 6 x 4.72″ |
| 6 x 127 mm | 6 x 5″ |
| 6 x 139.7 mm | 6 x 5.5″ |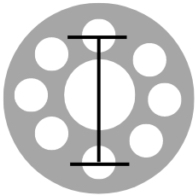 8-lug Wheel Bolt Pattern
| | |
| --- | --- |
| Metric (millimeters) | Standard (inches) |
| 8 x 139.7 mm | 8 x 5.5″ |
| 8 x 165.1 mm | 8 x 6.5″ |
| 8 x 170 mm | 8 x 6.69″ |
| 8 x 200 mm | 8 x 7.87″ |