Exceptional

Studless Ice & Snow
The Continental VikingContact 7 is a great winter tire option for those who are looking for excellent winter weather performance. The tire also offers great wet weather performance alongside good steering response. 
On the dry surface, the tire preserves good steering and cornering features, however, it may produce some noise on dry pavement. The Continental VikingContact 7 provides low noise which makes it a good option if you are looking for comfort and pleasure while driving.
Continental VikingContact 7 Strong and Weak Sides
Pros
Excellent snow traction
Great wet grip
Decent dry performance
Comfortable ride quality
Good value for money
Cons
Slight noise on a dry pavement
Not available in all sizes
Continental VikingContact 7 outperforms 99% of tires in the Studless Ice & Snow category.
Continental VikingContact 7 Tread Pattern & Technical Specs
For drivers of sedans, crossovers, coupes, and minivans seeking increased winter traction through cutting-edge innovations, Continental created the VikingContact 7 studless ice and snow winter tire.
The VikingContact 7 is suitable for a range of winter weather since it is made to provide outstanding traction in slush, snow, and ice as well as solid wet performance and stable dry-road handling.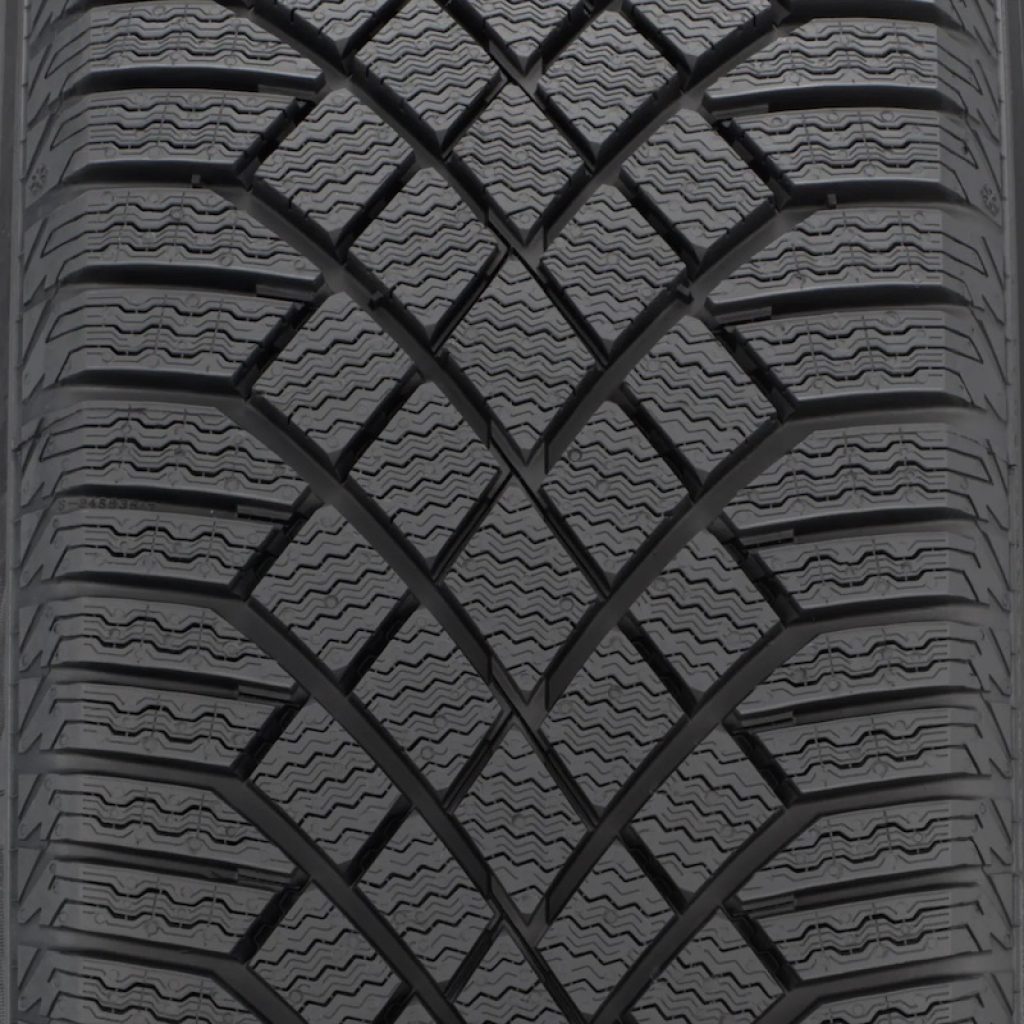 The VikingContact 7's unique Nordic formula uses canola oil to stay flexible and adaptive to ice or snowy conditions, and active grip silica improves wet performance and braking. To provide a clear channel for water and slush to be evacuated from beneath the contact patch, the compound is intelligently molded into a pattern with a network of grooves.
For secure tracking and high-speed handling, a lot of rubber is always on the road thanks to the improved void ratio. In addition to stabilizing the tread pattern, solid linkages and unique interlocked block bridges maintain the grooves open for water and slush drainage. The 3D sipes of the VikingContact 7 come in various thicknesses.
The broader sipes generate snow pockets that gather snow off the surface and hold it in the pattern, creating snow-to-snow traction for better performance. All the sipes provide biting edges for grip in slick situations. Grip To further improve traction on snow- and ice-covered roads edges on the exterior of the tread blocks effectively enhance the contact area of the tire by grabbing onto the snow.
The three-peak mountain snowflake (3PMSF) logo and severe snow service standards are also present in the VikingContact 7 Studless Ice & Snow tires.
It is highly recommended to use Continental VikingContact & only in a set of four tires.
Wet performance
The Continental VikingContact 7 is a great winter tire that offers excellent wet weather performance and good steering response. It's perfect for heavy rain and damp pavement conditions, with no hydroplaning or traction loss. If you're looking for a reliable and high-performing winter tire with great wet traction, the VikingContact 7 is a great option.
Dry performance
The Continental VikingContact 7 is a nice choice for drivers who are looking for a tire that will provide good dry condition traction and responsive steering. These tires offer good cornering stability and road feel, making them a decent option for those who want to enjoy driving on dry roads.
Comfort performance
The Continental VikingContact 7 winter tires are designed for a comfortable ride with low noise and good handling. The Continental VikingContact 7 provides a much quieter ride than traditional winter tires.
Ride quality is great, however, the tire may produce a little noise like all winter tires. Overall, the Continental VikingContact 7 is an ideal choice for those who want a comfortable ride without sacrificing performance.
Winter&snow performance
The Continental VikingContact 7 is a high-performance winter tire that provides excellent traction and handling in all snow and ice conditions. The tire's deep grooves quickly hard-pack snow to prevent slippage, while its advanced tread compound provides superb grip and cornering stability on icy roads. The VikingContact 7 is the perfect choice for those who demand the highest level of performance from their winter tires.
Summary
The Continental VikingContact 7 is a great winter tire that delivers a high level of grip and cornering stability both on ice and snow surfaces. On the wet, the Continental VikingContact 7 provides a nice steering response with no hydroplaning. The dry weather performance of the tire is good with decent steering and cornering stability.
The level of the ride quality of the VikingContact 7 is excellent, so the driver and passengers won't sacrifice riding comfort. If you are looking for a reliable winter tire that will guarantee you a high level of performance in any weather conditions, Continental VikingContact 7 is worth your attention.
Tire sizes & specifications
| Tire size | Load index/ Speed rating | UTQG | Max load | Max Inflation | Tread Depth | Tire Weight | Wheel Diameter | Rim Width Range | Measured Rim Width | Section Width | Tread Width | Overall Diameter | Revs Per Mile | Country | |
| --- | --- | --- | --- | --- | --- | --- | --- | --- | --- | --- | --- | --- | --- | --- | --- |
| 145/65R15 | 72T SL | | | 44 psi | 10/32″ | 13 lbs | 15 | 4-5″ | 4.5″ | 5.9″ | 4.7″ | 22.4″ | 927 | DE | |
| 175/65R15 | 88T XL | | | 51 psi | 10/32″ | 16 lbs | 15 | 5-6″ | 5″ | 7.2″ | 5.7″ | 24″ | 867 | SK | |
| 185/55R15 | 86T XL | | | 51 psi | 10/32″ | 15 lbs | 15 | 4.5-6″ | 5.5″ | 7.4″ | 6.2″ | 23″ | 903 | SK | |
| 185/60R15 | 88T XL | | | 51 psi | /32″ | 16 lbs | 15 | 5-6.5″ | 5.5″ | 7.4″ | 6.1″ | 23.7″ | 875 | SK | |
| 185/65R15 | 92T XL | | | 51 psi | 10/32″ | 18 lbs | 15 | 5-6.5″ | 5.5″ | 7.4″ | 6.1″ | 24.5″ | 849 | DE | |
| 195/55R15 | 89T XL | | | 51 psi | 10/32″ | 17 lbs | 15 | 5.5-7″ | 6″ | 7.9″ | 6.5″ | 23.4″ | 886 | SK | |
| 195/60R15 | 92T XL | | | 51 psi | 10/32″ | 19 lbs | 15 | 5-7″ | 6″ | 8″ | 6.4″ | 24.2″ | 858 | SK | |
| 195/65R15 | 95T XL | | | 51 psi | 10/32″ | 19 lbs | 15 | 5.5-7″ | 6″ | 7.9″ | 6.2″ | 25″ | 832 | DE | |
| 205/65R15 | 99T XL | | | 51 psi | 10/32″ | 22 lbs | 15 | 5.5-7.5″ | 6″ | 8.2″ | 6.7″ | 25.5″ | 815 | DE | |
| 205/70R15 | 100T XL | | | 51 psi | 10/32″ | 24 lbs | 15 | 10-11″ | 10.5″ | 11.9″ | 6.5″ | 26.3″ | 790 | DE | |
| 195/50R16 | 88T XL | | | 51 psi | 10/32″ | 18 lbs | 16 | 5.5-7″ | 6″ | 8.5″ | 6.6″ | 23.7″ | 877 | DE | |
| 195/55R16 | 91T XL | | | 51 psi | 10/32″ | 20 lbs | 16 | 5.5-7″ | 6″ | 7.9″ | 6.6″ | 24.4″ | 850 | SK | |
| 195/60R16 | 93T XL | | | 51 psi | 10/32″ | 20 lbs | 16 | 5.5-7″ | 6″ | 7.9″ | 6.5″ | 25.2″ | 824 | DE | |
| 205/55R16 | 94T XL | | | 51 psi | 10/32″ | 21 lbs | 16 | 5.5-7.5″ | 6.5″ | 8.4″ | 7″ | 24.9″ | 835 | DE | |
| 205/60R16 | 96T XL | | | 51 psi | 10/32″ | 21 lbs | 16 | 5.5-7.5″ | 6″ | 8.2″ | 6.8″ | 25.7″ | 809 | DE | |
| 215/55R16 | 97T XL | | | 51 psi | 10/32″ | 23 lbs | 16 | 6-7.5″ | 7″ | 8.9″ | 7.2″ | 25.3″ | 821 | SK | |
| 215/60R16 | 99T XL | | | 51 psi | 10/32″ | 23 lbs | 16 | 6-7.5″ | 6.5″ | 8.7″ | 7.1″ | 26.2″ | 794 | SK | |
| 215/65R16 | 102T XL | | | 51 psi | 10/32″ | 25 lbs | 16 | 6-7.5″ | 6.5″ | 8.7″ | 7.1″ | 27″ | 769 | DE | |
| 215/70R16 | 100T SL | | | 44 psi | 10/32″ | 28 lbs | 16 | 5-7″ | 6.5″ | 8.7″ | 6.8″ | 27.9″ | 746 | SK | |
| 225/55R16 | 99T XL | | | 51 psi | /32″ | 24 lbs | 16 | 0-0″ | | | 7.6″ | | | DE | |
| 225/60R16 | 102T XL | | | 51 psi | 10/32″ | 25 lbs | 16 | 6-8″ | 6.5″ | 9″ | 7.5″ | 26.6″ | 780 | DE | |
| 225/65R16 | 104T XL | | | 51 psi | /32″ | 28 lbs | 16 | 6-7.5″ | 6.5″ | 9″ | 7.4″ | 27.5″ | 755 | DE | |
| 225/70R16 | 107T XL | | | 51 psi | 10/32″ | 29 lbs | 16 | 6-7.5″ | 6.5″ | 9″ | 7.1″ | 28.4″ | 731 | DE | |
| 235/70R16 | 109T XL | | | 51 psi | /32″ | 31 lbs | 16 | 6-8″ | 7″ | 9.4″ | 7.4″ | 29″ | 718 | DE | |
| 245/70R16 | 111T XL | | | 51 psi | 10/32″ | 33 lbs | 16 | 6-8″ | 7″ | 9.8″ | 7.7″ | 29.5″ | 704 | SK | |
| 205/45R17 | 88T XL | | | 51 psi | 10/32″ | 19 lbs | 17 | 5.5-7.5″ | 6″ | 8.2″ | 7″ | 24.3″ | 856 | DE | |
| 205/50R17 | 93T XL | | | 51 psi | 10/32″ | 20 lbs | 17 | 5.5-7.5″ | 6.5″ | 8.4″ | 6.9″ | 25.1″ | 829 | SK | |
| 205/55R17 | 95T XL | | | 51 psi | 10/32″ | 22 lbs | 17 | 5.5-7.5″ | 6.5″ | 8.5″ | 6.8″ | 25.9″ | 803 | DE | |
| 215/45R17 | 91T XL | | | 51 psi | 10/32″ | 21 lbs | 17 | 7-8″ | 7″ | 8.5″ | 7.4″ | 24.6″ | 844 | DE | |
| 215/50R17 | 95T XL | | | 51 psi | 10/32″ | 24 lbs | 17 | 6-7.5″ | 7″ | 8.9″ | 7.3″ | 25.5″ | 816 | SK | |
| 215/55R17 | 98T XL | | | 51 psi | 10/32″ | 24 lbs | 17 | 6-7.5″ | 7″ | 8.9″ | 7.2″ | 26.3″ | 790 | SK | |
| 215/60R17 | 100T XL | | | 51 psi | 10/32″ | 25 lbs | 17 | 6-7.5″ | 6.5″ | 9.3″ | 7.1″ | 27.2″ | 765 | SK | |
| 215/65R17 | 103T XL | | | 51 psi | 10/32″ | 26 lbs | 17 | 6-7.5″ | 6.5″ | 8.7″ | 7″ | 28″ | 742 | DE | |
| 225/45R17 | 94T XL | | | 51 psi | 10/32″ | 21 lbs | 17 | 7-8.5″ | 7.5″ | 8.9″ | 7.7″ | 25″ | 832 | DE | |
| 225/50R17 | 98T XL | | | 51 psi | 10/32″ | 24 lbs | 17 | 6-8″ | 7″ | 9.2″ | 7.7″ | 25.9″ | 803 | DE | |
| 225/55R17 | 101T XL | | | 51 psi | 10/32″ | 24 lbs | 17 | 6-8″ | 7″ | 9.2″ | 7.6″ | 26.7″ | 777 | DE | |
| 225/65R17 | 106T XL | | | 51 psi | 10/32″ | 30 lbs | 17 | 6-8″ | 6.5″ | 9″ | 7.2″ | 28.5″ | 729 | SK | |
| 235/45R17 | 97T XL | | | 51 psi | 10/32″ | 24 lbs | 17 | 6.5-8.5″ | 7″ | 9.4″ | 8.1″ | 25.3″ | 820 | DE | |
| 235/55R17 | 103T XL | | | 51 psi | 10/32″ | 28 lbs | 17 | 6.5-8.5″ | 7.5″ | 9.6″ | 7.9″ | 27.2″ | 764 | SK | |
| 235/60R17 | 106T XL | | | 51 psi | 10/32″ | 30 lbs | 17 | 6.5-8.5″ | 7″ | 9.4″ | 7.8″ | 28.1″ | 739 | DE | |
| 235/65R17 | 108T XL | | | 51 psi | 10/32″ | 33 lbs | 17 | 6.5-8.5″ | 7″ | 9.4″ | 7.6″ | 29″ | 716 | DE | |
| 235/70R17 | 111T XL | | | 51 psi | 10/32″ | 35 lbs | 17 | 6-8″ | 7″ | 9.4″ | 7.4″ | 30″ | 694 | DE | |
| 245/45R17 | 99T XL | | | 51 psi | 10/32″ | 26 lbs | 17 | 7.5-9″ | 8″ | 9.6″ | 8.4″ | 25.7″ | 809 | SK | |
| 245/65R17 | 111T XL | | | 51 psi | 11/32″ | 35 lbs | 17 | 7-8.5″ | 7″ | 9.8″ | 7.9″ | 29.5″ | 703 | DE | |
| 245/70R17 | 114T XL | | | 51 psi | /32″ | 34 lbs | 17 | 6.5-8″ | 7″ | 9.8″ | 7.8″ | 30.5″ | 681 | DE | |
| 215/50R18 | 96T XL | | | 51 psi | 10/32″ | 24 lbs | 18 | 6-7.5″ | 7″ | 9.2″ | 7.3″ | 26.5″ | 785 | DE | |
| 225/40R18 | 92T XL | | | 51 psi | 10/32″ | 23 lbs | 18 | 7.5-9″ | 8″ | 9″ | 7.8″ | 25.1″ | 828 | SK | |
| 225/45R18 | 95T XL | | | 51 psi | 10/32″ | 24 lbs | 18 | 7-8.5″ | 7.5″ | 8.9″ | 7.7″ | 26″ | 800 | DE | |
| 225/50R18 | 99T XL | | | 51 psi | 10/32″ | 24 lbs | 18 | 6-8″ | 7″ | 9.2″ | 7.7″ | 26.9″ | 773 | DE | |
| 225/55R18 | 102T XL | | | 51 psi | 10/32″ | 27 lbs | 18 | 6.5-8.5″ | 7.5″ | 9.5″ | 7.6″ | 27.7″ | 749 | DE | |
| 235/40R18 | 95T XL | | | 51 psi | 10/32″ | 24 lbs | 18 | 8-9.5″ | 8.5″ | 9.5″ | 8.1″ | 25.4″ | 818 | SK | |
| 235/45R18 | 98T XL | | | 51 psi | 10/32″ | 24 lbs | 18 | 6.5-8.5″ | 7″ | 9.4″ | 8.1″ | 26.3″ | 789 | DE | |
| 235/50R18 | 101T XL | | | 51 psi | 10/32″ | 28 lbs | 18 | 6.5-8.5″ | 8″ | 9.5″ | 8″ | 27.3″ | 762 | SK | |
| 235/55R18 | 104T XL | | | 51 psi | 10/32″ | 31 lbs | 18 | 6.5-8.5″ | 7.5″ | 9.6″ | 7.8″ | 28.2″ | 737 | SK | |
| 235/60R18 | 107T XL | | | 51 psi | 10/32″ | 34 lbs | 18 | 6.5-8.5″ | 7″ | 9.4″ | 7.7″ | 29.1″ | 714 | SK | |
| 235/65R18 | 110T XL | | | 51 psi | 10/32″ | 34 lbs | 18 | 6.5-8.5″ | 7″ | 9.4″ | 7.7″ | 30″ | 692 | DE | |
| 245/40R18 | 97T XL | | | 51 psi | 10/32″ | 24 lbs | 18 | 8-9.5″ | 8.5″ | 9.8″ | 8.5″ | 25.7″ | 808 | SK | |
| 245/45R18 | 100T XL | | | 51 psi | 10/32″ | 26 lbs | 18 | 7.5-9″ | 8″ | 9.6″ | 8.4″ | 26.7″ | 779 | DE | |
| 245/60R18 | 109H XL | | | 51 psi | 11/32″ | 32 lbs | 18 | 7-8.5″ | 7″ | 9.8″ | 8.1″ | 29.6″ | 702 | DE | |
| 255/45R18 | 103T XL | | | 51 psi | 10/32″ | 31 lbs | 18 | 8-9.5″ | 8.5″ | 10″ | 8.8″ | 27″ | 768 | DE | |
| 255/60R18 | 112T XL | | | 51 psi | 11/32″ | 37 lbs | 18 | 7-9″ | 7.5″ | 10.2″ | 8.5″ | 30″ | 691 | DE | |
| 225/45R19 | 96T XL | | | 51 psi | 10/32″ | 25 lbs | 19 | 7-8.5″ | 7.5″ | 8.9″ | 7.7″ | 27″ | 770 | DE | |
| 235/55R19 | 105T XL | | | 51 psi | 10/32″ | 31 lbs | 19 | 6.5-8.5″ | 7.5″ | 9.6″ | 7.8″ | 29.2″ | 712 | SK | |
| 245/40R19 | 98T XL | | | 51 psi | 10/32″ | 25 lbs | 19 | 8-9.5″ | 8.5″ | 9.8″ | 8.5″ | 26.7″ | 778 | DE | |
| 245/45R19 | 102T XL | | | 51 psi | 10/32″ | 28 lbs | 19 | 7.5-9″ | 8″ | 9.6″ | 8.4″ | 27.7″ | 750 | SK | |
| 255/45R19 | 104T XL | | | 51 psi | 10/32″ | 30 lbs | 19 | 8-9.5″ | 8.5″ | 10″ | 8.8″ | 28″ | 741 | DE | |
| 255/50R19 | 107T XL | | | 51 psi | 10/32″ | 34 lbs | 19 | 7-9″ | 8″ | 10.4″ | 8.6″ | 29″ | 715 | DE | |
| 245/45R20 | 103T XL | | | 51 psi | /32″ | 27 lbs | 20 | 7.5-9″ | 8″ | 9.6″ | 8.4″ | 28.7″ | 724 | DE | |
| 255/35R20 | 97T XL | | | 51 psi | 10/32″ | 26 lbs | 20 | 8-10″ | 9″ | 10.2″ | 8.9″ | 27″ | 769 | DE | |
| 265/45R20 | 108T XL | | | 51 psi | 10/32″ | 35 lbs | 20 | 8.5-10″ | 9″ | 10.5″ | 9.1″ | 29.4″ | 707 | DE | |
| 285/45R22 | 114T XL | | | 51 psi | /32″ | 38 lbs | 22 | 0-0″ | | | 9.8″ | | | DE | |