Decided to replace your previous tires on your rims with bigger ones? Either due to some customization to give your truck or SUV a more aggressive look or for off road purposes? Then you may be wondering: what is the biggest tire for a 17 inch rim?
The maximum stock tire size for a 17-inch rim, as indicated by tire manufacturer data, is 345/40-17. For pickup trucks and SUVs, a common tire size option is 315/70R17.

The biggest aftermarket tire that can be put on a 17 inch rim is a 44 inch diameter tire, according to the custom projects database. Such a tire has a very wide section, meaning that it has to be used on a vehicle like a customized SUV or pickup truck.

Bigger than stock tire size changes usual vehicle behavior on the road, so the driver has to re-adapt driving style for new tires.

In some cases when you mount bigger tires on your vehicle, you have to install wheel spacers or a special lift kit (or both) to make them fit on your truck or SUV.
How to Find Out Which Tire Size Fits a 17-Inch Rim?
At first sight it might be puzzling, when you see such a huge variety of different tires, especially if you don't know what size you are looking for. If you want to stick to a stock, you can just check the parameters of the tires you previously had, if you are looking for bigger tires, it is advised to consult with a specialist, who will help you to find the biggest tire that can be put on your vehicle rim.
Keep in mind that the tire width has to be the exact same as your rim to fit it with no issues to make you feel safe and confident on any surface.
Here is the chart of the recommended stock tire sizes that fit 17-inch rims
| | | | |
| --- | --- | --- | --- |
| 115/95-17 | 215/65R17 | 245/60R17 | 285/40R17 |
| 125/70R17 | 215/70R17 | 245/65R17 | 285/65R17 |
| 125/80R17 | 225/40R17 | 245/70R17 | 285/70R17 |
| 135/80R17 | 225/45R17 | 245/75R17 | 285/75R17 |
| 135/90R17 | 225/50R17 | 255/40R17 | 295/35R17 |
| 145/70R17 | 225/55R17 | 255/45R17 | 295/70R17 |
| 145/80R17 | 225/60R17 | 255/50R17 | 305/65R17 |
| 155/70R17 | 225/65R17 | 255/55R17 | 305/70R17 |
| 155/80R17 | 225/75R17 | 255/60R17 | 315/35R17 |
| 155/90R17 | 235/40R17 | 255/65R17 | 315/70R17 |
| 165/80R17 | 235/45R17 | 255/70R17 | 335/35R17 |
| 165/90R17 | 235/50R17 | 255/75R17 | 33X12.5R17 |
| 195/40R17 | 235/55R17 | 255/80R17 | 345/40R17 |
| 195/45R17 | 235/60R17 | 255/85R17 | 34X10.5R17 |
| 205/40R17 | 235/65R17 | 265/40R17 | 35X11.5R17 |
| 205/45R17 | 235/70R17 | 265/60R17 | 35X12.5R17 |
| 205/50R17 | 235/75R17 | 265/65R17 | 37X12.5R17 |
| 205/55R17 | 235/80R17 | 265/70R17 | 37X13.5R17 |
| 215/35R17 | 235/85R17 | 275/35R17 | 38X12.5R17 |
| 215/40R17 | 245/35R17 | 275/40R17 | 39X13.5R17 |
| 215/45R17 | 245/40R17 | 275/55R17 | 40X13.5R17 |
| 215/50R17 | 245/45R17 | 275/60R17 | |
| 215/55R17 | 245/50R17 | 275/65R17 | |
| 215/60R17 | 245/55R17 | 275/70R17 | |
Knowing where the tire's diameter size is mentioned while looking for tire size will ensure you that the tire will fit the rims on your vehicle. The information can be found on the fuel tank lid, alongside the driver door or vehicle user`s owner manual.  
As an example, let's use parameters as: 225/60R17. The last number, which is 17 corresponds to the inner radius of the tire, and the radius of the rim.
Is It Possible That a 17-Inch Tire Won't Fit on a 17-Inch Rim?
Yes, it may happen. Even if new tires have the same diameter as your rims, their sidewall height and tread width may be different.

As a result if you try to mount such a 17-inch tire, it just won`t fit your wheel arches and you notice a rub noise while driving. To fix this, you can use lift kits or wheel spacers, before installing 17-inch tires.

If you just want to get a new set of tires for your vehicle, you can easily select the same tire parameters as you had with your previous tires. The info is carved on the tire bead. Here is an example: 225/60R17. Where 225 is a tread width in millimeters, 60 – sidewall height and 17 – the tire`s hole diameter in inches.

How big of a tire can fit on a 17-inch rim?
Mostly, the largest tire size which can be installed on a 17-inch rim depends on what you want to get.

If you are looking to make minimum technical changes to your truck or SUV –  the biggest tire you can mount has the 33-inch tire diameter. It is worth saying that you certainly have to additionally afford a leveling kit to make tires fit.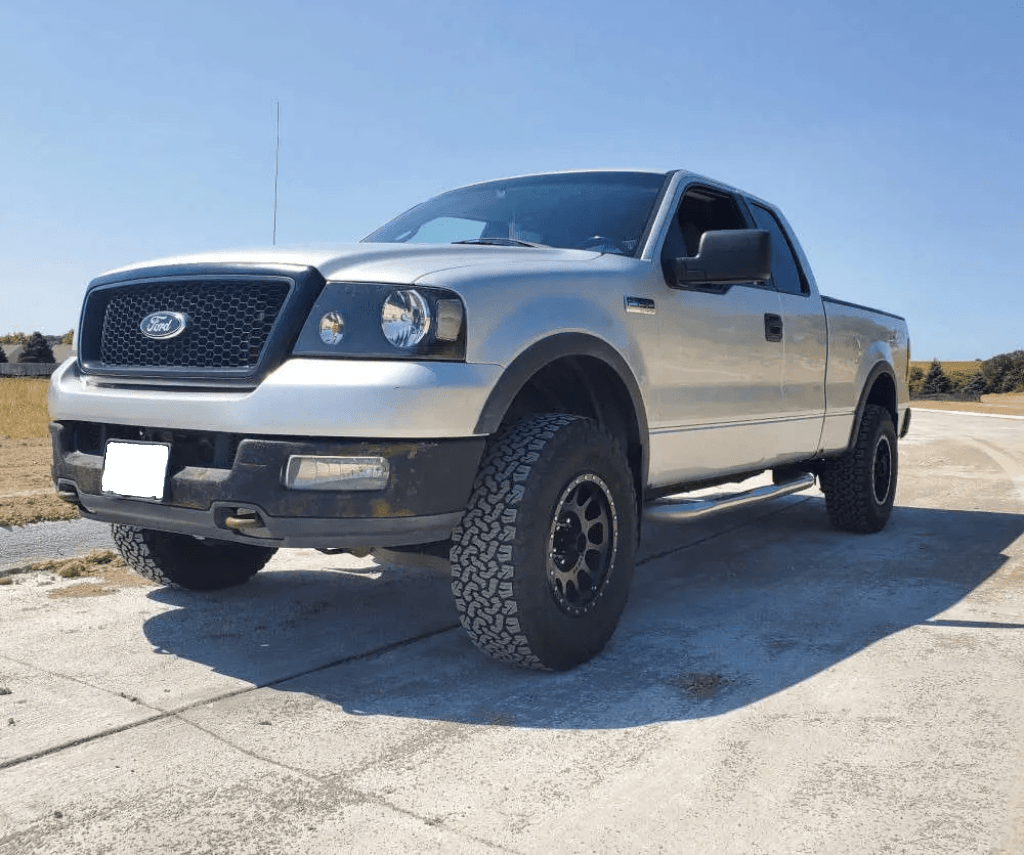 If you are building a custom truck project, the biggest tire for a 17-inch rim is a 44-inch tire. This is a huge tire with a high sidewall, so leveling kits, wheel spacers, suspension changes are the must. Such significant truck modification requires considerable effort, time and investment.
Will 35-inch tires fit on 17-inch rims?
Yes, 35-inch tires will fit perfectly on 17 inch rims providing you with decent performance. 
What Tire Can You Put On Your Specific Vehicle?
Many automakers have a list of tire sizes that are advised for car owners who desire to mount bigger tires on their vehicles.
Due to the kind and weight of the vehicle, a specific tire size is determined when you purchase it. For drivers who are looking for larger factory tires, the majority of auto manufacturers provide a chart of recommended tire sizes.

To ease the process of searching tire sizes, you can visit your vehicle's manufacturer website. However, not all vehicle manufacturers' webpages have such a feature. If so, you can contact the car manufacturer by email or leave a request. 
Before rushing to the tire shop, read some online forums related to your vehicle about mounting bigger tires. It will help you to understand if your truck or SUV performance is affected after installation of larger tires. 
Popular Questions
What's the biggest metric tire size for a 17-rim?
The largest tire that can be mounted on a 17-inch rim has the following specs, according to tire manufacturer data on tire sizing: 345/40-17. For pickup trucks and SUVs the most common parameters are: 315/70R17. The OEM tire sizes that suit 17-inch tires you can see in the special chart above.
Is it possible to install 35-inch tires on 17-inch rims?
Definitely. It is worth mentioning, that if you decide to mount 35″ tires on your 17-inch rims, you may need to use additionally wheel spacers and lift kits in order to prevent rubbing of the tire with the fenders, wheel well, or suspension.
What Tire Can You Put On Your Specific Vehicle?
The easiest way is to buy a set of tires with the same parameters you previously had on your truck or SUV. When you stick to the stock tire size, you keep to the recommendations of the car manufacturer. Additionally, your vehicle's performance and behavior are not affected.