Exceptional

Off-Road Maximum Traction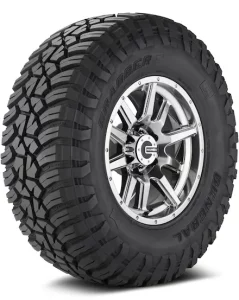 Off-road driving on regular highway tires is close to impossible. They not only expose you to safety risks but significantly lower the performance of your vehicle. SUVs, pickups, Jeeps, and some full-size tracks traverse the city streets and often the off-road terrains. Balancing performance on both fronts requires durable all-terrain tires like General Grabber X3.
This review uncovers the features of the Grabber X3 tires, advanced technologies used in their manufacture, warranty conditions, and performance characteristics on different roads. The Grabber X3 review provides an unbiased verdict to help you make better decisions when choosing maximum traction tires of any size for your vehicle.
Strong Sides
Excellent traction on rocky or dirty roads
Superb traction on mud
Durable internal and construction
Competitive and affordable pricing
Weak Sides
Generally noisy and uncomfortable on the highways
General Grabber X3 outperforms 100% of tires in the Off-Road Maximum Traction category.
What are the features of the General Grabber X3 All Terrain Plus?
Grabber X3 tires contain durable tread compounds that are molded into deeply voided symmetric patterns. They utilize chamfered blocks and notches to ensure maximum traction over loosely packed roads. The tires have several stone ejectors and deep evacuation channels to clear debris, mud, and small stones when offroading. 
General tires have enhanced the tire's safety and defense against hydroplaning when driving on wet roads or in winter conditions by using full-depth, well-positioned sipes. General Grabber X3 tires come with varying tread block pitches to keep the noise levels generated by the tires at manageable levels for improved ride quality and comfort.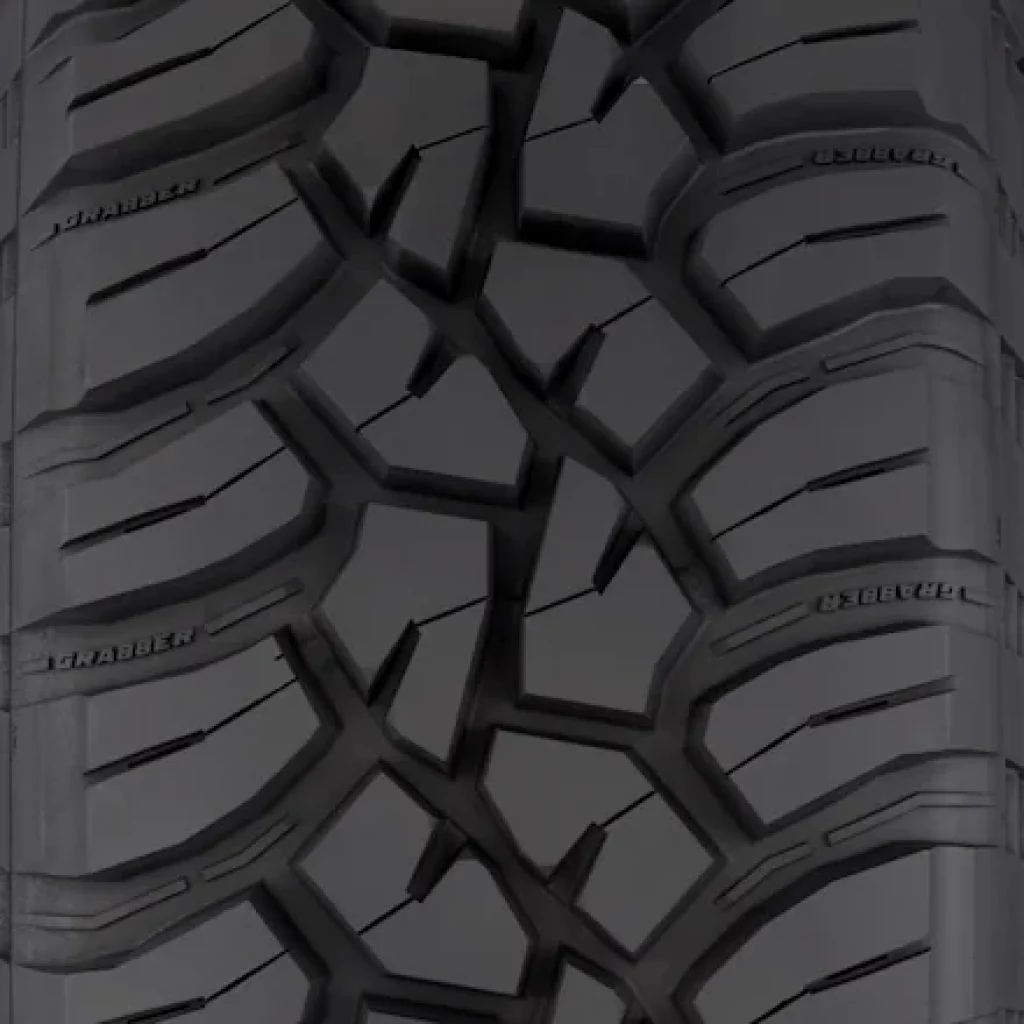 Enhancing the offroad adventure requires a tough tire that can withstand the abrasive nature of unpaved roads. Grabber X3 proves invaluable. Its internal construction relies on DURAGEN technology which combines high-strength steel elts and triple-plied internal casings. There is more; the external parts of the tires are protected against puncturing by incorporating deflection ribs and protective lugs on the sidewall.
Some Grabber X3 tires (select sizes) have Red-letter sidewalls for aesthetic purposes. Such tires require proper care to protect them from curb or road hazard damages. These tires are best suited for deep mud driving and may sometimes underperform over deep snow. Although they are oversized, they tend to have fewer biting edges and smoother lugs.
How long does the General Grabber X3 tire last?
General Tires does not offer a tread life warranty nor a manufacturer's road hazard warranty for Grabber X3. However, they have a uniformity warranty that covers the first year after purchase or 2/32" of the tread. The company caters to replacement costs for tire damages caused by defective materials or poor workmanship for the first 6-years after purchase. Customers enjoy a 45-day trial period with a cash-back guarantee.
General Grabber X3 tires do not have any tread wear or alignment indicators.
Wet performance
Grabber X3 tires offer reasonable wet traction on wet tarmac. The tires have additional sipes on the lugs that guarantee improved grip and traction for a predictable driving experience. The grooves are deep enough to facilitate the expulsion of water from the roads and protect the vehicle against hydroplaning. 
With all these features, Grabber X3 does not perform as well as all-terrain tires. Caution should be exercised when driving under rainy conditions.
Dry performance
General Grabber X3 enhances off-road capabilities by sacrificing highway driving comfort. The tires offer modest traction on dry tarmac. Steering response is reduced and cornering stability is lowered.
Car owners who frequently drive on the highway can bank on Grabber X3 tires to provide good dry traction, manageable handling, and predictable highway stability. It is a reliable tire for dry road driving, but caution should be exercised as the handling characteristics and braking distances vary.
Comfort performance
The tread blocks of General Grabber X3 tires have varying pitch sizes to reduce the noise levels on the roads. That said, noise levels remain an issue when driving on the highways. Aggressive tread patterns make it difficult for the tires to absorb road shocks and vibrations caused by bumps and road irregularities.
These tires are generally noisy and uncomfortable over the highways. Ride quality and comfort should not be a matter of concern for drivers who are interested in off-road driving.
Winter&snow performance
Overall, mud-terrain tires perform poorly on snowy roads. Although the tread patterns are optimized, they cannot guarantee safe driving in deep snow. That said, Grabber X3 ranks better than most mud-terrain tires when driving in light snow. They do not have sufficient sipes that can provide additional biting edges.
When driving on snowy roads, drivers struggle to handle the vehicles with marked unresponsiveness to braking and steering controls. For a predictable and safe winter driving experience, select the proper winter tires.
Off-road performance
General Grabber X3 ranks among the best off-road tires with exceptional performances when driving over muddy roads. The aggressive symmetrical tread pattern provides sufficient grip to allow handling on the usually tough off-roads. 
Driving on rocky roads should not be a problem if you are using Grabber X3. The tires are fitted with special stone and debris ejectors to facilitate the timely expulsion of small rocks, mud, and other debris from the grooves of the tire. That way, the tires retain traction over roads with small or bigger rocks.
The durable tread compounds, external sidewall protection, and deflection ribs protect the tires against puncturing and abrasion to improve off-road driving safety. The aggressive tread patterns are suitable for driving over dirt or sand roads. Grabber X3 tires are available in sizes between 15 and 20 inches to give multiple SUV and pickup drivers an ultimate off-roading experience.
Verdict – Are General Grabber X3 good?
General Grabber X3 tires are affordable alternatives for drivers looking for an ultimate off-road experience. They offer unmatched performance over muddy or rocky terrains. Aside from that, they use durable tread materials and have additional external protection features.
The only downside of using the tires is the relatively high noise levels and discomfort on the highway. If you are looking for a quality off-road tire, the Grabber X3 tire should top the list.
Tire sizes & specifications
| Tire size | Load index/ Speed rating | UTQG | Max load | Max Inflation | Tread Depth | Tire Weight | Wheel Diameter | Rim Width Range | Measured Rim Width | Section Width | Tread Width | Overall Diameter | Revs Per Mile | Country | |
| --- | --- | --- | --- | --- | --- | --- | --- | --- | --- | --- | --- | --- | --- | --- | --- |
| 31X10.5R15LT | 109Q C | | | 50 psi | 21/32″ | 52 lbs | 15 | 7-9″ | 8.5″ | 10.5″ | 8.2″ | 30.8″ | 674 | US | |
| 31X10.5R15LT | 109Q C | | | 50 psi | 21/32″ | 52 lbs | 15 | 7-9″ | 8.5″ | 10.5″ | 8.2″ | 30.8″ | 674 | US | |
| 33X10.5R15LT | 114Q C | | | 50 psi | 21/32″ | 57 lbs | 15 | 7-9″ | 8.5″ | 10.5″ | 8.2″ | 33″ | 630 | US | |
| 33X12.5R15LT | 108Q C | | | 35 psi | 21/32″ | 67 lbs | 15 | 8.5-11″ | 10″ | 12.5″ | 10.2″ | 32.8″ | 633 | US | |
| 35X12.5R15LT | 113Q C | | | 35 psi | 21/32″ | 75 lbs | 15 | 8.5-11″ | 10″ | 12.5″ | 10.1″ | 35″ | 594 | US | |
| LT265/75R16 | 112/109Q C | | | 50 psi | 18/32″ | 53 lbs | 16 | 7-8″ | 7.5″ | 10.5″ | 8.3″ | 31.6″ | 657 | US | |
| LT265/75R16 | 123/120Q E | | | 80 psi | 18/32″ | 61 lbs | 16 | 7-8″ | 7.5″ | 10.5″ | 8.2″ | 31.6″ | 657 | US | |
| LT285/75R16 | 126/123Q E | | | 80 psi | 18/32″ | 66 lbs | 16 | 7.5-9″ | 8″ | 11.3″ | 9″ | 32.8″ | 633 | US | |
| LT315/75R16 | 127/124Q E | | | 65 psi | 18/32″ | 74 lbs | 16 | 8-10″ | 8.5″ | 12.3″ | 9.9″ | 34.6″ | 600 | US | |
| LT255/75R17 | 111/108Q C | | | 50 psi | 18/32″ | 55 lbs | 17 | 6.5-8″ | 7″ | 10″ | 7.9″ | 32.3″ | 686 | US | |
| LT265/70R17 | 121/118Q E | | | 80 psi | 18/32″ | 59 lbs | 17 | 7-9″ | 8″ | 10.7″ | 8.3″ | 31.6″ | 657 | US | |
| LT265/70R17 | 121/118Q E | | | 80 psi | 18/32″ | 59 lbs | 17 | 7-9″ | 8″ | 10.7″ | 8.3″ | 31.6″ | 657 | US | |
| LT285/70R17 | 121/118Q E | | | 80 psi | 18/32″ | 66 lbs | 17 | 7.5-9″ | 8.5″ | 11.5″ | 9″ | 32.7″ | 635 | US | |
| LT295/70R17 | 121/118Q E | | | 80 psi | 18/32″ | 66 lbs | 17 | 7.5-10″ | 8.5″ | 11.8″ | 9.3″ | 33.3″ | 624 | US | |
| LT295/70R17 | 121/118Q E | | | 80 psi | 18/32″ | 66 lbs | 17 | 7.5-10″ | 8.5″ | 11.8″ | 9.3″ | 33.3″ | 624 | US | |
| LT315/70R17 | 121/118Q E | | | 65 psi | 18/32″ | 77 lbs | 17 | 8.5-10″ | 9.5″ | 12.7″ | 10″ | 34.4″ | 604 | US | |
| 33X12.5R17LT | 114Q D | | | 50 psi | 21/32″ | 72 lbs | 17 | 8.5-11″ | 10″ | 12.5″ | 10.1″ | 33″ | 630 | US | |
| 33X12.5R17LT | 114Q D | | | 50 psi | 21/32″ | 72 lbs | 17 | 8.5-11″ | 10″ | 12.5″ | 10.1″ | 33″ | 630 | US | |
| 35X12.5R17LT | 121Q E | | | 65 psi | 21/32″ | 77 lbs | 17 | 8.5-11″ | 10″ | 12.5″ | 10.1″ | 35″ | 594 | US | |
| 35X12.5R17LT | 121Q E | | | 65 psi | 21/32″ | 77 lbs | 17 | 8.5-11″ | 10″ | 12.5″ | 10.1″ | 35″ | 594 | US | |
| 35X12.5R17LT | 111Q C | | | 35 psi | 21/32″ | 65 lbs | 17 | 8.5-11″ | 10″ | 12.5″ | 10″ | 35″ | 594 | US | |
| 37X12.5R17LT | 124Q D | | | 50 psi | 21/32″ | 81 lbs | 17 | 8.5-11″ | 10″ | 12.5″ | 9.9″ | 36.8″ | 565 | US | |
| 37X12.5R17LT | 124Q D | | | 50 psi | 21/32″ | 81 lbs | 17 | 8.5-11″ | 10″ | 12.5″ | 9.8″ | 36.8″ | 565 | US | |
| LT265/70R18 | 124/121Q E | | | 80 psi | 18/32″ | 61 lbs | 18 | 7-9″ | 8″ | 10.7″ | 8.2″ | 32.6″ | 637 | US | |
| LT275/65R18 | 123/120Q E | | | 80 psi | 18/32″ | 61 lbs | 18 | 7.5-9″ | 8″ | 10.9″ | 8.8″ | 32.1″ | 647 | US | |
| LT275/70R18 | 125/122Q E | | | 80 psi | 18/32″ | 64 lbs | 18 | 7-8.5″ | 8″ | 10.8″ | 8.7″ | 33.2″ | 626 | US | |
| LT275/70R18 | 125/122Q E | | | 80 psi | 18/32″ | 64 lbs | 18 | 7-8.5″ | 8″ | 10.8″ | 8.6″ | 33.2″ | 626 | US | |
| LT295/70R18 | 129/126Q E | | | 80 psi | 18/32″ | 71 lbs | 18 | 7.5-10″ | 8.5″ | 11.8″ | 9.3″ | 34.5″ | 602 | US | |
| 33X12.5R18LT | 118Q E | | | 65 psi | 21/32″ | 69 lbs | 18 | 8.5-11″ | 10″ | 12.5″ | 10.7″ | 33″ | 630 | US | |
| 33X12.5R18LT | 118Q E | | | 65 psi | 21/32″ | 70 lbs | 18 | 8.5-11″ | 10″ | 12.5″ | 10.6″ | 33″ | 630 | US | |
| 35X12.5R18LT | 123Q E | | | 65 psi | 21/32″ | 76 lbs | 18 | 8.5-11″ | 10″ | 12.5″ | 10.1″ | 35″ | 594 | US | |
| 35X12.5R18LT | 123Q E | | | 65 psi | 21/32″ | 77 lbs | 18 | 8.5-11″ | 10″ | 12.5″ | 10.1″ | 35″ | 594 | US | |
| 37X12.5R18LT | 128Q E | | | 65 psi | 21/32″ | 79 lbs | 18 | 8.5-11″ | 10″ | 12.5″ | 9.8″ | 36.8″ | 565 | US | |
| LT275/65R20 | 126/123Q E | | | 80 psi | 18/32″ | 69 lbs | 20 | 7.5-9.5″ | 8″ | 11″ | 8.9″ | 34.1″ | 609 | US | |
| LT295/55R20 | 123/120Q E | | | 80 psi | 18/32″ | 72 lbs | 20 | 8-10″ | 9.5″ | 12.2″ | 10.4″ | 33″ | 630 | US | |
| LT295/65R20 | 129/126Q E | | | 80 psi | 18/32″ | 72 lbs | 20 | 8-10″ | 8.5″ | 11.8″ | 9.5″ | 35.4″ | 587 | US | |
| LT295/65R20 | 129/126Q E | | | 80 psi | 18/32″ | 72 lbs | 20 | 8-10″ | 8.5″ | 11.8″ | 9.5″ | 35.4″ | 587 | US | |
| LT305/55R20 | 121/118Q E | | | 65 psi | 18/32″ | 75 lbs | 20 | 8.5-11″ | 9.5″ | 12.4″ | 10.6″ | 33.5″ | 620 | US | |
| LT305/55R20 | 121/118Q E | | | 65 psi | 18/32″ | 74 lbs | 20 | 8.5-11″ | 9.5″ | 12.4″ | 10.6″ | 33.5″ | 620 | US | |
| 33X12.5R20LT | 114Q E | | | 65 psi | 21/32″ | 73 lbs | 20 | 8.5-11″ | 10″ | 12.5″ | 11.2″ | 32.8″ | 633 | US | |
| 35X12.5R20LT | 121Q E | | | 65 psi | 21/32″ | 82 lbs | 20 | 8.5-11″ | 10″ | 12.5″ | 10.4″ | 35″ | 594 | US | |
| 35X12.5R20LT | 121Q E | | | 65 psi | 21/32″ | 82 lbs | 20 | 8.5-11″ | 10″ | 12.5″ | 10.4″ | 35″ | 594 | US | |
| 37X13.5R20LT | 127Q E | | | 65 psi | 21/32″ | 87 lbs | 20 | 8.5-11″ | 11″ | 13.6″ | 11.2″ | 36.8″ | 565 | US | |
| 37X13.5R20LT | 127Q E | | | 65 psi | 21/32″ | 88 lbs | 20 | 8.5-11″ | 11″ | 13.6″ | 11.2″ | 36.8″ | 565 | US | |