Exceptional

On-/Off-Road All-Terrain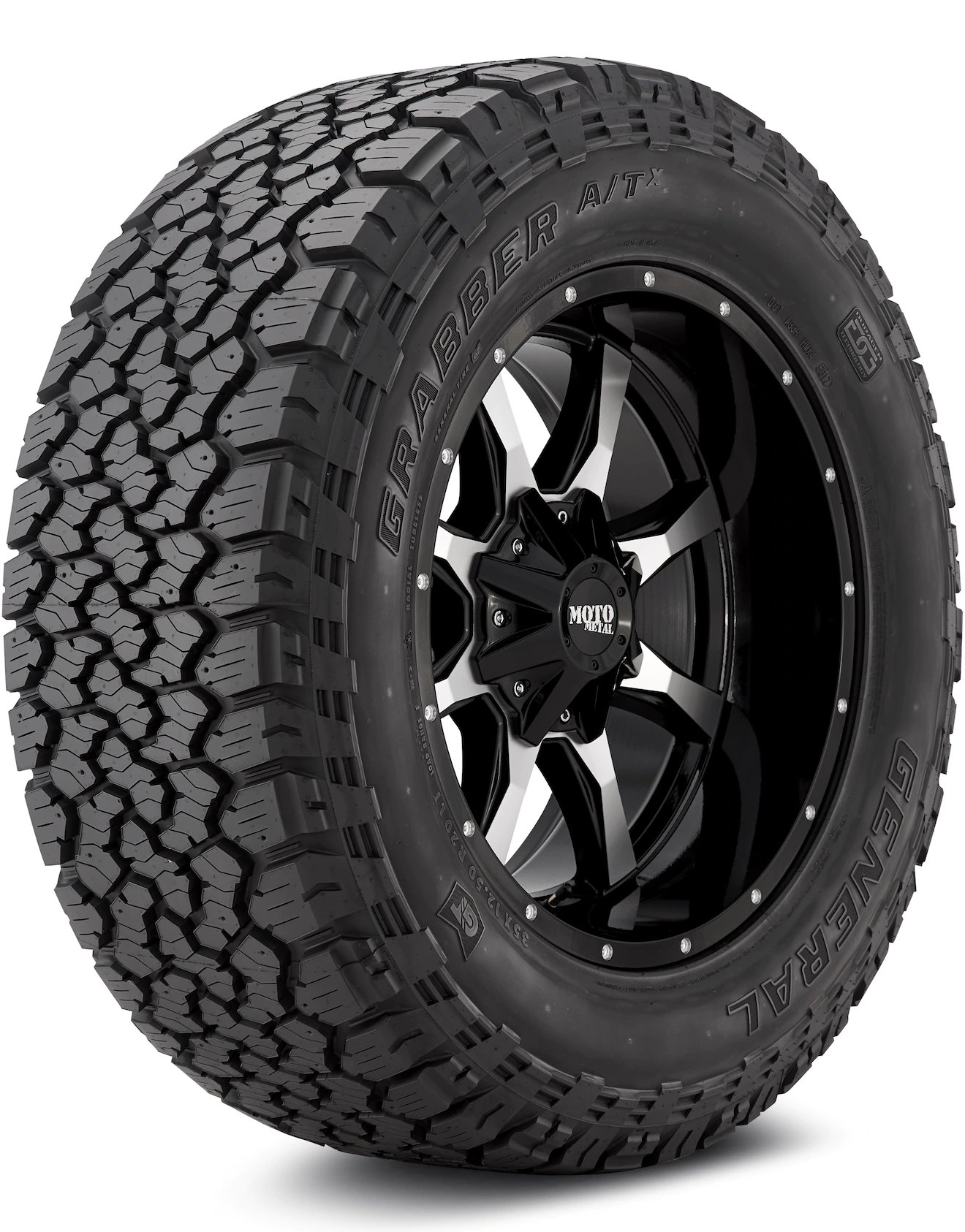 Strong sides
Offer exceptional ride comfort
Extended tread life and assured durability
Affordable brand in comparison with competing brands
Remarkable off-road performance
Not so good
Limited on-road capabilities
Finding a tire that blends durability, comfort, and excellent traction offer drivers comfort on the highway and the confidence to conquer rugged off-roads. Grabber A/TX is one of the all-terrain tires designed for minivans, SUVs, and light trucks. The tires are available in different sizes, ranging from 14 to 20-inch wheel diameters.
It is General Tire's product targeting off-road enthusiasts while guaranteeing excellent results for street or highway driving. This review dissects the technical capabilities of the Grabber A/TX tires, how they perform against other all-terrain brands and their operating characteristics under different driving conditions. 
General Grabber A/TX outperforms 100% of tires in the On-/Off-Road All-Terrain category.
What are the features of the Grabber A/TX?
Grabber A/TX utilizes Comfort Balance Technology which is essential for limiting noises on the road, keeping the ride comfortable. The technology incorporates absorbent layers under the treads of the tires. The acoustic absorption layer is complemented by an optimized tread pattern for even distribution of road surface noises.
The tread pattern plays a crucial role in extending the tread life. It provides a stiffened footprint which enhances the distribution of forces and external pressure acting on the treads. To enhance the self-cleaning characteristics of the tires, General Tires manufactures the Grabber A/TX with several debris ejectors located on alternating tread blocks. These ejectors expel chips and dirt, which exacerbates the risk of deflation.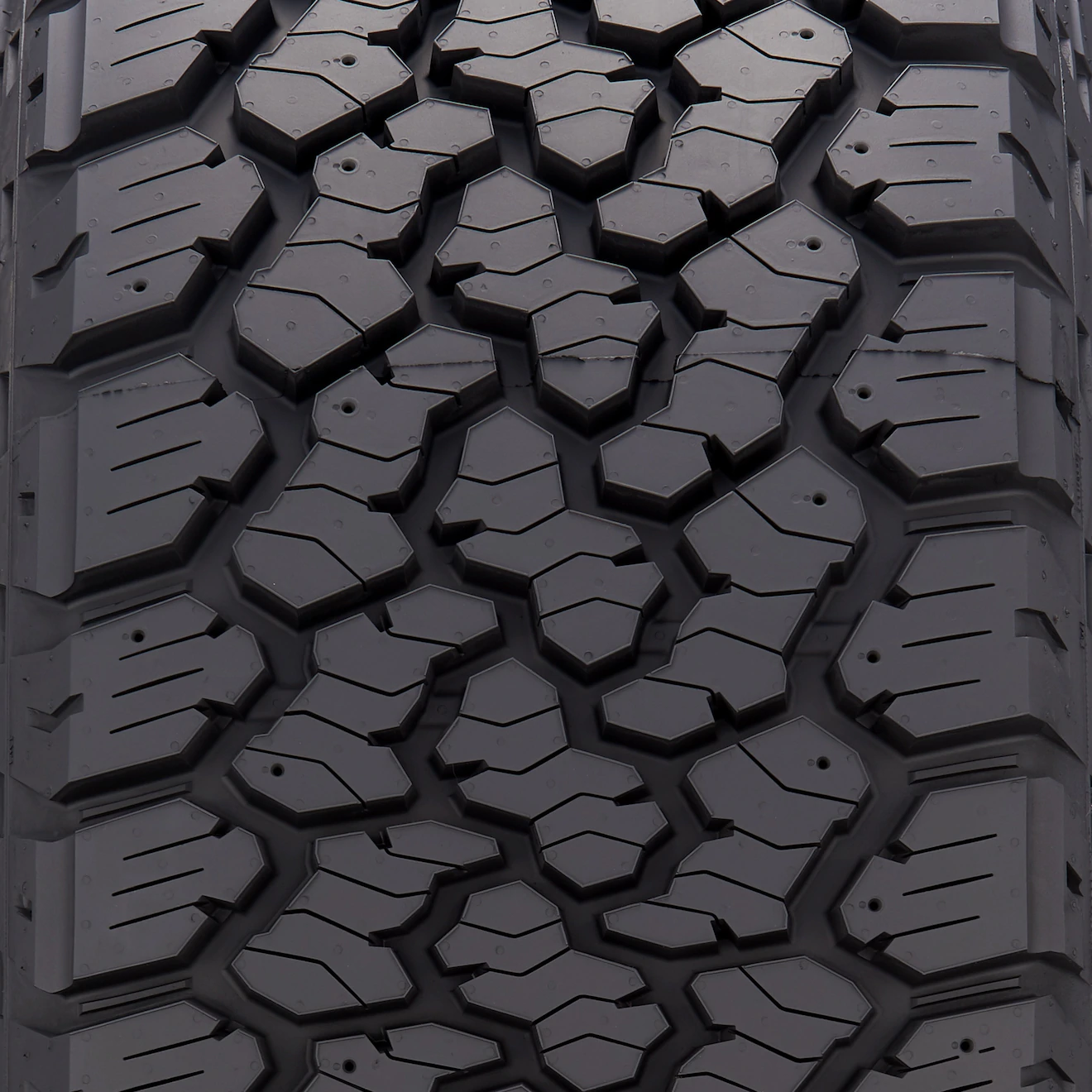 The sidewalls are equipped with Protection Lugs to minimize the abrasive impact of dirt. Traction is enhanced through the inclusion of deep treads, angular tread blocks, and evenly distributed sipes. There are provisions for fitting metallic studs to improve ice traction.
Grabber A/TX uses DuraGen Technology in the manufacturing process. Steel belts, polyester casings, and polyamide plies are used to strengthen the tire, extend the durability, and increase the load-bearing capacities of the tire. The polyester casings form part of comfort enhancement techniques.
Durability is at the center of Grabber A/TX's design. General Tires use the StabiliTread Technology to strike a balance between highway performance and uniform off-road treadwear. 
How long does the Grabber A/TX tire last?
General Tires offer an attractive warranty package. It has a limited treadwear warranty of 6 years or 60,000 miles (metric sizes), 50,000 miles (LT sizes). Buyers have 45 days to return new purchases. General Tires covers the repair and replacement costs for all defective Grabber A/TX tires for a maximum of 6 years or up to 60,000 miles. It also covers poor workmanship.
Grabber A/TX tires do not have a treadwear indicator. Drivers have to rely on individual observations to estimate the quality of treads. It is difficult to evaluate the uniformity of tread wear.
Off-road performance
Grabber A/TX is the go-to tire when it comes to off-roading. They perform well in multiple terrains, thanks to their aggressive, well-engineered tread pattern. It provides excellent traction and grips firmly on loose surfaces.
When driving on sandy roads or muddy surfaces, Grabber A/TX retains an impressive level of responsiveness to steering, remains stable, and has sufficient traction. The external construction of the tires permits timely expulsion of debris and dirt to retain an optimal contact patch at all times.
As a tire specialized for off-roading, Grabber A/TX's external construction comes with sufficient protection against abrasive chips and rocks. The sidewalls and the treads are reinforced using polyester casings which increase its resistance to puncture. Surprisingly, the tires have low noise levels even when cruising on the rugged off-road. They rank among the best off-road tires.
Wet performance
The Grabber A/TX tire boasts of a decent performance on wet roads. It has a superb grip on the road, providing modest traction and safety when driving in the rain. The tread patterns, deep grooves, and sipes offer sufficient means for evacuating surface run-offs and protect the vehicle against hydroplaning. They have decent braking distances on slippery surfaces.
Although the tires assure driving safety, their overall performance lags compared to all-terrain brands tailored for highway driving. When driving over muddy roads, the tires provide decent traction and reasonable handling.
Dry performance
Grabber A/TX is a monster when it comes to off-road driving. With that said, it remains a dependable partner when cruising on the highways. The tires offer reliable grip when cruising on the highway. The tread pattern maximizes the contact surface area and enhances traction. This is desirable as it makes cornering safer and handling easier.
At high speeds, the driver enjoys remarkable stability with outstanding braking characteristics. They respond promptly to steering controls. Although the tires are well suited for highway driving, their performance ranks lower when compared to those purposely manufactured for highway driving.
Comfort performance
General Tires have done a great job when it comes to noise control. Their Comfort Balance Technology helps the tires to achieve unmatched quietness. They are among the most comfortable all-terrain tires to drive on. The tread pattern cancels a reasonable amount of noise that is generated when driving. 
The ride quality is impressive. Plies used in the internal construction of the tires absorb most of the road shocks to keep the ride comfortable. Irregularities such as small bumps, road irregularities should not be a cause of concern. Surprisingly, the noise levels are low even when cruising at high speed on the highway. It beats most of the all-terrain competitors.
Winter&snow performance
These are not winter tires. Their performance is poor when used under harsh winter conditions. However, from experimental driving, they exhibit good performance on light snow. They also post good results when driven over deep snow. The aggressive tread patterns provide sufficient cutting edges to maintain wet traction.  
Are Grabber A/TX tires good?
An excellent tread life, optimized tread patterns, noise control mechanisms, durability-centered design, and excellent off-roading capabilities make Grabber A/TX a perfect choice for off-road enthusiasts. Their availability in multiple standard sizes and affordability makes them an attractive choice. They are highly recommended.
Grabber A/TX sizes & specifications
| Tire size | Load index/ Speed rating | UTQG | Max load | Max Inflation | Tread Depth | Tire Weight | Wheel Diameter | Rim Width Range | Measured Rim Width | Section Width | Tread Width | Overall Diameter | Revs Per Mile | Country | |
| --- | --- | --- | --- | --- | --- | --- | --- | --- | --- | --- | --- | --- | --- | --- | --- |
| 27X8.5R14LT | 95Q C | | | 50 psi | 16/32″ | 29 lbs | 14 | 6-7.5″ | 7″ | 8.6″ | | 26.9″ | 772 | US | |
| 205/75R15 | 97T SL | 640 A B | | 44 psi | 14/32″ | 28 lbs | 15 | 5-7″ | 5.5″ | 8″ | 6.6″ | 27.1″ | 766 | MX | |
| 215/75R15 | 100T SL | 640 A B | | 44 psi | 14/32″ | 30 lbs | 15 | 5.5-7″ | 6″ | 8.5″ | 7″ | 27.7″ | 750 | MX | |
| 225/70R15 | 100T SL | 640 A B | | 44 psi | 14/32″ | 31 lbs | 15 | 6-7.5″ | 6.5″ | 9″ | 7.3″ | 27.4″ | 758 | MX | |
| LT235/75R15 | 104/101S C | | | 50 psi | 16/32″ | 37 lbs | 15 | 6-7″ | 6.5″ | 9.3″ | 7.3″ | 28.9″ | 719 | MX | |
| 255/70R15 | 108T SL | 640 A B | | 44 psi | 14/32″ | 37 lbs | 15 | 6.5-8.5″ | 7.5″ | 10.2″ | 8.5″ | 29.1″ | 715 | MX | |
| 265/70R15 | 112T SL | 640 A B | | 44 psi | 14/32″ | 37 lbs | 15 | 7-9″ | 8″ | 10.7″ | 7.4″ | 29.6″ | 702 | US | |
| 30X9.5R15LT | 104S C | | | 50 psi | 16/32″ | 37 lbs | 15 | 6.5-8.5″ | 7.5″ | 9.4″ | 7.7″ | 30″ | 692 | MX | |
| 30X9.5R15LT | 104S C | | | 50 psi | 16/32″ | 37 lbs | 15 | 6.5-8.5″ | 7.5″ | 9.4″ | 7.7″ | 30″ | 692 | MX | |
| 31X10.5R15LT | 109S C | | | 50 psi | 16/32″ | 45 lbs | 15 | 7-9″ | 8.5″ | 10.6″ | 8.3″ | 31″ | 671 | MX | |
| 33X12.5R15LT | 108R C | | | 35 psi | 16/32″ | 58 lbs | 15 | 8.5-11″ | 10″ | 12.5″ | 10″ | 33″ | 630 | US | |
| 35X12.5R15LT | 113Q C | | | 35 psi | 16/32″ | 63 lbs | 15 | 8.5-11″ | 10″ | 12.5″ | 10″ | 35″ | 594 | US | |
| 215/65R16 | 98T SL | 640 A B | | 44 psi | 14/32″ | 31 lbs | 16 | 6-7.5″ | 6.5″ | 8.7″ | 7.2″ | 27″ | 769 | EC | |
| 215/70R16 | 100T SL | | | psi | /32″ | 31 lbs | 16 | 0-0″ | | | | | | EC | |
| 225/75R16 | 108T XL | 640 A B | | 51 psi | 14/32″ | 35 lbs | 16 | 6-7.5″ | 6″ | 8.8″ | 7.1″ | 29.3″ | 709 | US | |
| 235/70R16 | 106T SL | 640 A B | | 44 psi | 14/32″ | 36 lbs | 16 | 6-8″ | 7″ | 9.4″ | 7.7″ | 29″ | 718 | US | |
| LT235/85R16 | 120/116S E | | | 80 psi | 16/32″ | 50 lbs | 16 | 6-7.5″ | 6.5″ | 9.3″ | 7.4″ | 31.7″ | 655 | US | |
| LT245/75R16 | 120/116R E | | | 80 psi | 16/32″ | 48 lbs | 16 | 6.5-8″ | 7″ | 9.8″ | 7.7″ | 30.5″ | 682 | MX | |
| LT265/75R16 | 123/120R E | | | 80 psi | 16/32″ | 53 lbs | 16 | 7-8″ | 7.5″ | 10.5″ | 8.2″ | 31.6″ | 656 | US | |
| LT285/75R16 | 126/123R E | | | 80 psi | 16/32″ | 60 lbs | 16 | 7.5-9″ | 8″ | 11.3″ | 9″ | 32.8″ | 633 | US | |
| LT305/70R16 | 124/121R E | | | 65 psi | 16/32″ | 62 lbs | 16 | 8-9.5″ | 9″ | 12.2″ | 9.6″ | 32.8″ | 633 | US | |
| LT315/75R16 | 127/124R E | | | 65 psi | 16/32″ | 66 lbs | 16 | 8-11″ | 8.5″ | 12.3″ | 9.9″ | 34.6″ | 600 | US | |
| LT235/80R17 | 120/117R E | | | 80 psi | 16/32″ | 47 lbs | 17 | 6-7.5″ | 6.5″ | 9.3″ | 7.3″ | 31.8″ | 653 | MX | |
| 245/70R17 | 110T SL | 640 A B | | 44 psi | 14/32″ | 40 lbs | 17 | 6.5-8″ | 7″ | 9.8″ | 7.8″ | 30.5″ | 681 | US | |
| LT245/70R17 | 119/116S E | | | 80 psi | 16/32″ | 48 lbs | 17 | 6.5-8″ | 7″ | 9.8″ | 7.8″ | 30.5″ | 681 | MX | |
| LT245/75R17 | 121/118R E | | | 80 psi | 16/32″ | 49 lbs | 17 | 6.5-7.5″ | 7″ | 9.8″ | 7.7″ | 31.5″ | 660 | MX | |
| LT245/75R17 | 121/118S E | | | 80 psi | 16/32″ | 51 lbs | 17 | 6.5-7.5″ | 7″ | 9.8″ | 7.7″ | 31.5″ | 660 | US | |
| 255/70R17 | 112T SL | 640 A B | | 44 psi | 14/32″ | 42 lbs | 17 | 6.5-8.5″ | 7.5″ | 10.2″ | 8.2″ | 31.1″ | 669 | US | |
| LT265/70R17 | 112/109T C | | | 50 psi | 16/32″ | 46 lbs | 17 | 7-8.5″ | 8″ | 10.7″ | 8.4″ | 31.6″ | 657 | US | |
| 265/70R17 | 115T SL | 640 A B | | 44 psi | 14/32″ | 44 lbs | 17 | 7-9″ | 8″ | 10.7″ | 7.2″ | 31.6″ | 657 | US | |
| LT265/70R17 | 121/118S E | | | 80 psi | 16/32″ | 55 lbs | 17 | 7-8.5″ | 8″ | 10.7″ | 8.3″ | 31.6″ | 657 | US | |
| LT275/70R17 | 121/118R E | | | 80 psi | 16/32″ | 59 lbs | 17 | 7-8.5″ | 8″ | 11″ | 8.7″ | 32.2″ | 646 | US | |
| LT285/70R17 | 121/118S E | | | 80 psi | 16/32″ | 59 lbs | 17 | 7.5-9″ | 8.5″ | 11.5″ | 9″ | 32.7″ | 635 | US | |
| LT315/70R17 | 121/118S E | | | 65 psi | 16/32″ | 68 lbs | 17 | 8-11″ | 9.5″ | 12.7″ | 10.1″ | 34.4″ | 605 | US | |
| 35X12.5R17LT | 121R E | | | 65 psi | 16/32″ | 65 lbs | 17 | 8.5-11″ | 10″ | 12.5″ | 10″ | 35″ | 594 | US | |
| 37X12.5R17LT | 124R D | | | 50 psi | 16/32″ | 73 lbs | 17 | 8.5-11″ | 10″ | 12.5″ | 9.9″ | 37″ | 561 | US | |
| 37X12.5R17LT | 124R D | | | 50 psi | 16/32″ | 72 lbs | 17 | 8.5-11″ | 10″ | 12.5″ | 9.9″ | 37″ | 561 | US | |
| LT265/70R18 | 124/121S E | | | 80 psi | 16/32″ | 57 lbs | 18 | 7-9″ | 8″ | 10.7″ | 8.4″ | 32.6″ | 637 | US | |
| 275/65R18 | 116T SL | 640 A B | | 44 psi | 14/32″ | 45 lbs | 18 | 7.5-9.5″ | 8″ | 11″ | 9″ | 32.1″ | 648 | US | |
| LT275/65R18 | 123/120R E | | | 80 psi | 16/32″ | 60 lbs | 18 | 7.5-9″ | 8″ | 11″ | 8.8″ | 32.1″ | 648 | US | |
| LT275/70R18 | 125/122R E | | | 80 psi | 16/32″ | 61 lbs | 18 | 7-8.5″ | 8″ | 11″ | 8.6″ | 33.2″ | 627 | US | |
| LT285/60R18 | 122/119S E | | | 80 psi | 16/32″ | 57 lbs | 18 | 8-10″ | 8.5″ | 11.5″ | 9.7″ | 31.5″ | 660 | US | |
| LT285/65R18 | 125/122S E | | | 80 psi | 16/32″ | 59 lbs | 18 | 8-10″ | 8.5″ | 11.5″ | 9.2″ | 32.6″ | 637 | US | |
| 35X12.5R18LT | 123R E | | | 65 psi | 16/32″ | 65 lbs | 18 | 8.5-11″ | 10″ | 12.5″ | 9.9″ | 33″ | 630 | US | |
| LT265/60R20 | 121/118S E | | | 80 psi | 16/32″ | 61 lbs | 20 | 7.5-9.5″ | 8″ | 10.7″ | 8.9″ | 32.5″ | 639 | US | |
| LT275/55R20 | 115/112T D | | | 65 psi | 15/32″ | 57 lbs | 20 | 7.5-9.5″ | 8.5″ | 11.2″ | 9.5″ | 31.9″ | 651 | US | |
| 275/55R20 | 113T SL | 640 A B | | 44 psi | 14/32″ | 46 lbs | 20 | 7.5-9.5″ | 8.5″ | 11.2″ | 9.7″ | 31.9″ | 651 | US | |
| LT275/60R20 | 119/116S D | | | 65 psi | 16/32″ | 58 lbs | 20 | 7.5-9.5″ | 8″ | 11″ | 9.2″ | 33″ | 630 | US | |
| LT275/65R20 | 126/123S E | | | 80 psi | 16/32″ | 64 lbs | 20 | 7.5-9.5″ | 8″ | 11″ | 8.9″ | 34.1″ | 610 | US | |
| LT285/55R20 | 117/114T D | | | 65 psi | 15/32″ | 61 lbs | 20 | 8-10″ | 9″ | 11.7″ | 10″ | 32.3″ | 642 | US | |
| LT285/60R20 | 125/122S E | | | 80 psi | 16/32″ | 64 lbs | 20 | 8-10″ | 8.5″ | 11.5″ | 9.7″ | 33.5″ | 621 | US | |
| 305/50R20 | 120T XL | 640 A B | | 51 psi | 14/32″ | 50 lbs | 20 | 8.5-11″ | 9.5″ | 12.4″ | 11″ | 32″ | 649 | US | |
| LT305/55R20 | 121/118S E | | | 65 psi | 16/32″ | 65 lbs | 20 | 8.5-11″ | 9.5″ | 12.4″ | 10.6″ | 33.2″ | 626 | US | |
| LT325/60R20 | 126S E | | | 65 psi | 16/32″ | 74 lbs | 20 | 9-12″ | 9.5″ | 13″ | 11″ | 35.4″ | 588 | US | |
| 33X12.5R20LT | 114S E | | | 65 psi | 16/32″ | 66 lbs | 20 | 8.5-11″ | 10″ | 12.5″ | 11.1″ | 33″ | 630 | US | |
| 35X12.5R20LT | 121R E | | | 65 psi | 16/32″ | 70 lbs | 20 | 8.5-11″ | 10″ | 12.5″ | 10.6″ | 35″ | 594 | US | |
| 37X13.5R20LT | 127R E | | | 65 psi | 16/32″ | 82 lbs | 20 | 8.5-11″ | 11″ | 13.6″ | 11″ | 36.8″ | 561 | US | |