Decent

On-/Off-Road All-Terrain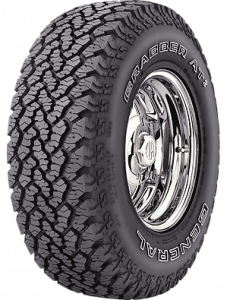 Off-road driving is like a test in which owners of pickup trucks and SUVs test the capabilities of their vehicles. The main components in this activity are passability, endurance, and reliability not only of the iron friend but also the tires on which it moves on the mud, sand, rocks, and dirt. The General Grabber AT 2 all-terrain tire is an excellent example of such a path.
The General Grabber AT2 fits perfectly for pickup trucks and SUVs drivers who want to feel confident in every situation.
Now let's move on to the strong and weak sides of the General Grabber AT 2.
Positive
High off-road qualities
Reliable thread and strong tire frame
Good tire cut and puncture protection
Applicable on the pave
Affordable price
Negatives
Dry traction is worse than in other all-terrain tires
Quite noisy on a dry surface
Handling while cornering
General Grabber AT 2 outperforms 93% of tires in the On-/Off-Road All-Terrain category.
What are the features of the General Grabber AT 2?
Thanks to an aggressive self-cleaning thread pattern which is accompanied by five rows of independent blocks one can be sure in traction whether it's dry, dirt, wet or snowy surface depending the season!
The General AT2  has chip- and tear resistance which certainly adds durability during everyday exploitation.
For the wet or snowy weather conditions the AT2 tire is equipped with multiple traction edges and sipes providing decent grip, stability and predictability of the vehicle.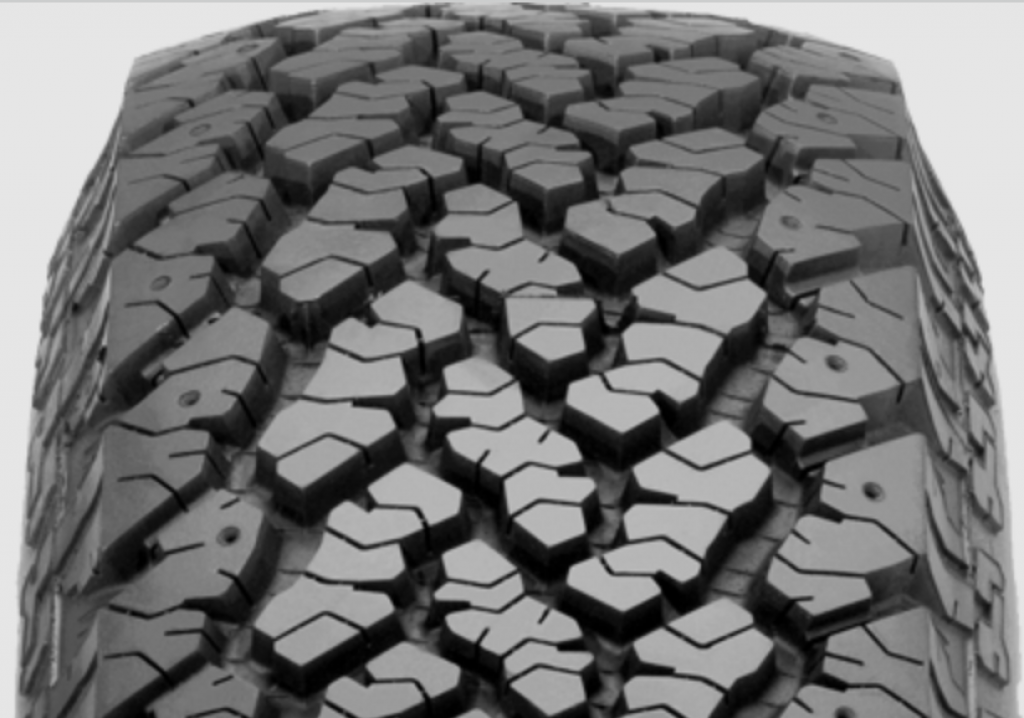 On the highway the aggressive thread pattern remains relatively quiet thanks to computer optimization and twin steel belts allowing the tire to take over the noise.
The General Grabber AT 2 is equipped with Traction Ridges and Rim Protector Flange. 
Traction ridges at the base of each groove provide additional traction and prevent you from getting stuck.
The rim protection flange protects the rims from damage and dirt with a built-in protective cover.
The all-season tire General Grabber AT 2 was released in 2007, and it is still in demand among the owners of SUVs and pickup trucks. This is facilitated by the tire's reliability, durability, and affordability.
How long does General Grabber At 2 tires last?
One of the most worrying and crucial aspects of every tire is its duration of use.
According to the manufacturer's official website, a treadwear warranty is 60.000 miles or six years of exploitation. 
Usually, General Tire provides its tires with an easy RTM (Replacement Tire Monitor – these are the letters imprinted on the middle circumferential rib on the tire) and VAI (Visual Alignment Indicators) systems. However, the all-terrain tires AT 2 lack the mentioned tread wear indicators. 
Despite that fact, many drivers note the high wear resistance of the tread provided by the DuraGen Technology.
Wet performance
In rainy weather, every driver wants to be confident in the capabilities of the selected tires. Many all-terrain tires can have issues with traction on wet roads compared with specialized all-season touring tires.
The Grabber AT 2 tires' hydroplaning resistance is on a decent level. The deep tread allows water to channel away from the wheel efficiently, so your traction will be excellent even in heavy rain. Stopping is quick, and you will rarely notice that you are driving on a wet road vs. a dry one. The Grabber AT 2 will give you driving confidence in rain conditions.
Dry performance
The tread of AT 2 is more aggressive than needed for everyday usage. However, it shows itself perfectly on dry roads by providing a safe driving experience. 
The General company has emphasized a reliable tire which you can use every day while commuting to work, meeting all your needs. The General Grabber AT 2 has shown good steering results, although the handling is not as precise as an all-season tire. The steering response of the AT 2 is predictable, but sometimes it lacks grip and precision while passing corners on a dry surface.
Nonetheless, as for off-road tires, this is a pretty good result.
Comfort performance
When choosing vehicle tires, many owners pay attention to how they will affect the driving noise quality.
The General Grabber AT 2 is more intended for off-road use, although it is applicable on paved roads. The aggressive pattern of this tire makes you hear every howl when the speed is higher than 20 mph. The tire swallows all the bumps on the road without vibrations and makes additional noise which may influence drivers' and passengers' acoustic comfort.
If you are using AT 2 for long journeys, you can be sure that they provide you with reliability and a decent quality ride.
Winter&snow performance
The Grabber AT2 tire is suitable for snowy roads and ice. The 5-row tread pattern, combined with Duragen technology, provides high passability in the snowy terrain. 
The tread blocks feature multiple traction edges and sipes and are molded to accept optional metallic studs to increase wintry weather traction.
AT2 shows itself better in deep rather than dense snow. The clutch with a snow-covered surface is high, braking at a decent level, and cornering is precise and controlled.
It is worth mentioning that some General Grabber AT2 tires meet industry severe snow conditions and have a three-peak mountain snowflake (3PMSF) symbol. Some of them may not have this indicator, meaning they are not intended for "severe snow conditions."
Off-road performance
The General Grabber AT 2 are all-terrain tires, so any off-road test for them is like a piece of cake. If you need to drive on rough terrain, you can be sure of the reliability and passability of the tire.
The high profile and aggressive pattern allow you to move confidently on sand, dirt, mud, and rocks without getting stuck and reducing tire pressure. In addition, the unique composition of the AT 2 rubber creates additional protection for the tire from unexpected punctures or cuts of the tire.
The AT 2 tire also performs well on steep slopes and hills. On the ascents and descents, the vehicle has controllability and predictability. Integrated nylon steel belts absorb shocks and vibration, creating additional protection for the tire against rapid wear. AT 2 is the perfect solution if you often have to move in harsh off-road conditions.
Are General Grabber AT 2 tires good?
General Grabber AT 2 tires is an excellent example of reliability at an affordable price. 
The thickness of the tread provides high passability in any area. The handling and traction on the snow are also impressive.
If you are looking for tires that will last a long time and won't let you down at an unexpected moment, you should pay attention to General Grabber AT 2.
Tire sizes & specifications
| Tire size | Load index/ Speed rating | UTQG | Max load | Max Inflation | Tread Depth | Tire Weight | Wheel Diameter | Rim Width Range | Measured Rim Width | Section Width | Tread Width | Overall Diameter | Revs Per Mile | Country | |
| --- | --- | --- | --- | --- | --- | --- | --- | --- | --- | --- | --- | --- | --- | --- | --- |
| 27X8.5R14LT | 95Q C | | | 50 psi | 16/32″ | 30 lbs | 14 | 6-7.5″ | 7″ | 8.6″ | 7″ | 26.8″ | 778 | MX | |
| 255/70R15 | 108S SL | 640 A B | | 44 psi | 16/32″ | 39 lbs | 15 | 6-8.5″ | 7.5″ | 10.2″ | 8.6″ | 29.1″ | 716 | CZ | |
| 30X9.5R15LT | 104S C | | | 50 psi | 16/32″ | 38 lbs | 15 | 6.5-8.5″ | 7.5″ | 9.5″ | 7.7″ | 29.8″ | 701 | MX | |
| 31X10.5R15LT | 109S C | | | 50 psi | 16/32″ | 43 lbs | 15 | 7-9″ | 8.5″ | 10.5″ | 8.6″ | 30.8″ | 678 | MX | |
| 33X12.5R15LT | 108Q C | | | 35 psi | 16/32″ | 52 lbs | 15 | 8.5-11″ | 10″ | 12.5″ | 10″ | 32.8″ | 636 | US | |
| 215/65R16 | 98T SL | 640 A B | | 44 psi | 14/32″ | 29 lbs | 16 | 6-7.5″ | 6.5″ | 8.7″ | NA | 27″ | 772 | CZ | |
| 225/75R16 | 108S XL | 640 A B | | 51 psi | 16/32″ | 34 lbs | 16 | 6-7.5″ | 6″ | 8.8″ | 7.5″ | 29.3″ | 712 | US | |
| 235/70R16 | 106T SL | 640 A B | | 44 psi | 13/32″ | 33 lbs | 16 | 6.5-8″ | 7″ | 9.4″ | 7.3″ | 29.2″ | 714 | US | |
| 255/70R16 | 111S SL | 640 A B | | 44 psi | 16/32″ | 41 lbs | 16 | 6.5-8.5″ | 7.5″ | 10.2″ | NA | 30.1″ | 693 | US | |
| 265/70R16 | 112S SL | 640 A B | | 44 psi | 16/32″ | 44 lbs | 16 | 7-9″ | 8″ | 10.7″ | 8.7″ | 30.9″ | 675 | US | |
| LT295/75R16 | 123/120Q D | | | 65 psi | 16/32″ | 58 lbs | 16 | 7.5-9.5″ | 8″ | 11.6″ | 9.6″ | 33.4″ | 621 | US | |
| LT295/75R16 | 123/120Q D | | | 65 psi | 16/32″ | 58 lbs | 16 | 7.5-9.5″ | 8″ | 11.6″ | 9.6″ | 33.4″ | 621 | US | |
| LT235/80R17 | 120/117Q E | | | 80 psi | 16/32″ | 48 lbs | 17 | 6-7.5″ | 6.5″ | 9.3″ | NA | 31.8″ | 656 | MX | |
| LT245/75R17 | 121/118R E | | | 80 psi | 16/32″ | 50 lbs | 17 | 6-7″ | 7″ | 9.7″ | 7.5″ | 31.5″ | 659 | US | |
| LT245/75R17 | 121/118R E | | | 80 psi | 16/32″ | 50 lbs | 17 | 6-7″ | 7″ | 9.7″ | 7.5″ | 31.5″ | 659 | US | |
| 265/65R17 | 112S SL | 640 A B | | 44 psi | 16/32″ | 41 lbs | 17 | 7.5-9.5″ | 8″ | 10.7″ | NA | 30.6″ | 693 | US | |
| 265/65R17 | 112T SL | 640 A B | | 44 psi | 16/32″ | 42 lbs | 17 | 7.5-9.5″ | 8″ | 10.7″ | NA | 30.6″ | 693 | CZ | |
| LT285/70R17 | 121/118R E | | | 80 psi | 16/32″ | 59 lbs | 17 | 7.5-9″ | 8.5″ | 11.5″ | 9″ | 32.7″ | 635 | US | |
| 265/70R18 | 116S SL | 640 A B | | 44 psi | 16/32″ | 45 lbs | 18 | 7-9″ | 8″ | 10.7″ | 8.5″ | 32.6″ | 637 | US | |
| 35X12.5R18LT | 118Q D | | | 50 psi | 16/32″ | 67 lbs | 18 | 8.5-11″ | 10″ | 12.5″ | 10.2″ | 34.8″ | 597 | US | |
| 305/50R20 | 120T XL | 640 A B | | 51 psi | 16/32″ | 53 lbs | 20 | 8.5-11″ | 9.5″ | 12.4″ | 10.9″ | 32″ | 652 | CZ | |
| 35X12.5R20LT | 121Q E | | | 65 psi | 16/32″ | 69 lbs | 20 | 8.5-11″ | 10″ | 12.5″ | 10.7″ | 34.8″ | 597 | US | |