Mounting larger tires on a truck requires consideration of various factors, including the type of front suspension it has. Independent front suspension trucks have size limitations compared to solid or active front axles.

The majority of IFS trucks and SUVs can operate with a 33-inch tire. However, some minor changes might need to be made to the truck.

Before starting this task, you must decide your primary use for the truck.

In this article, we will take a closer look at what size of tires you can mount on your truck with a leveling kit, consider the advantages and disadvantages of leveling your truck, and cover some truck examples of different leveled trucks and the best biggest tires for them. 
Can You Get Bigger Tires with Leveling Kits?
Indeed, installing leveling kits adds more space to the truck's wheel wells. The tire your vehicle can accommodate depends on your preferences and the result you want to have.

Generally speaking, if your truck is on a reduced chassis, you can purchase larger tires, but occasionally you'll want a little more grip.

Considering how your truck is set up, you can also acquire bigger front or back tires. Installing a two-inch leveling kit typically gives the most favorable results.
Which Size Tires Can You Mount on Your Truck with a 2″ Leveling Kit?
The biggest tire size that may be installed on many contemporary IFS trucks is a (33.3″) or 295/70 r17 when used with a 1.75-2″ leveling kit.

Additionally, for better clearance at the UCA, you need rims with a minimal offset of +9. If your tire size is smaller than that, you'll need to choose a narrower tire, such as a (32.7″) or 285/70/17, before you begin experiencing problems with the truck`s ground clearance and rubbing fenders with a tire.

These are just overall thoughts; every truck has its allowances and restrictions, so the biggest tire option may be wide.
| Tire Size | Popularity |
| --- | --- |
| 33″x12.5″ | 36,07% |
| 35″x12.5″ | 14,33% |
| 33.2″x12″ | 6,63% |
| 32″x12″ | 3,68% |
| 33″x10.8″ | 2,65% |
| 32.3″x11.2″ | 2,28% |
| 31.9″x10.8″ | 2,28% |
| 32.8″x12″ | 2,24% |
| 32.7″x11.2″ | 2,22% |
| 31.6″x10.4″ | 1,63% |
What Size Tires Can I Put On My Truck with a 4" Leveling Kit?
Your biggest tire upgrade possibilities are far more varied if you choose a 4″ leveling kit. You may need to install a diff drop kit to lower the CV angles if the truck suspension is an IFS to decrease the probability of eating CVs wherever you go off-road.

To configure your caster angles correctly with a 4″ lift, you'll need to attach an aftermarket adjustable UCA and, if necessary, readjust your torsion keys. Additionally,  modify your bump stops to avoid scraping while off-roading.

One of the greatest tire options for your aftermarket wheels with a positive offset to provide better clearance from the UCA has the following parameters: 315/70/17 or 34.4 inches.

Trucks running SFAs can accommodate 35-inch tires with tire parameters like 35X11.5R18 or 35X12.5R18, meaning that you don't have to do any cutting work. If your vehicle is equipped with front crash bars, it is recommended to take them off to provide more clearance.
Leveling Kits: Can They Harm Your Truck?
Before buying and installing a level kit on your truck, knowing what is waiting for you, in this case, is good.

Most trucks have a further stock configuration: the front end is made to be lower than the back via a design element called the rake. A rake is present in trucks with high rear ends. 
When the truck is unloaded, its aerodynamics are enhanced. Additionally, when filled with cargo, it aids in leveling the truck.
The weight of the trailer or truck bed induces the rear to drop when driving off-road. To avoid this, leveling kits raise the front of your truck.

Leveling kit upgrade has a lot of benefits and drawbacks. Leveling kits fitting requires understanding their function and skills for removing the vehicle`s suspension components. Some of the kits have a difference in inches they provide you to increase your front-end height.

Although you may purchase a kit that accomplishes the same thing, shock extenders are the greatest option if you're on a tight budget.

These appliances can also make your factory shocks last longer. If you're not planning to empty your wallet, using shock extenders can be affordable.

Any suspension lift kit that raises your truck higher than 3 inches typically necessitates the purchase of a new shock absorber to fill the space between the shock's top and bottom mounting positions. Most of the manufacturers include additional shock absorbers in these situations.
What are the pros and cons of leveling kits?
Pros of the leveling kits:
Allows installing bigger tires. You will raise the truck's body off the axles by fitting a front-end leveling kit. This enables you to fit bigger tires without being concerned about whether they would scrape when making turns.

Gives more ground clearance. A leveling kit will provide 1-3 inches of extra ground clearance. Assisting in preventing stones and other dirt from harming the bottom of your car is advantageous if you intend to off-road. If you have a taller front end, you won't bottom out on steep hills.

Enhances equipment capabilities. A front-end lift kit will assist in balancing the weight if you want to mount a winch on the front of your car. Doing this keeps the front end from dropping out, and the added weight stops the wheels from rubbing the front fender or bumper.
Cons of leveling kits:
Increases fuel mileage. The suspension is balanced by placing a front-end leveling kit, which increases wind resistance. Fuel efficiency is reduced due to the higher resistance and drag. Though, the change in gas mileage might not be very noticeable.

Does not affect the truck's outlook. A lift kit and a leveling kit are frequently confused. Instead of a lift kit, a leveling kit won't significantly change your truck's appearance. Leveling kits usually have a restriction of 3 inches maximum for the front end. Typically, this is insufficient to provide a noticeable visual truck height increase.
Changes truck`s stock configuration. Leveling kit increases the height of the front end and affects suspension. It means that you may additionally have to make your headlight adjustments and adapt your driving style to the new modification so that you can use your leveled truck daily.
Ball Joints: Are Leveling Kits Damaging Them?
Ball joints can soon wear down due to improper suspension alignment. However, leveling kits are not always to blame. Changes in ride height can harm a vehicle's suspension parts by causing excessive movement and looseness.
Leveling kits should not damage a truck's ball joints if installed correctly. However, improper installation or poor-quality leveling kits can cause premature wear and tear on the ball joints.
When a leveling kit is installed, the geometry of the suspension system is altered, which can affect the angle at which the ball joints operate. If the slope is too steep or shallow, it can cause stress on the ball joints and lead to premature wear and failure.

Flawless sideways motion is provided by functioning ball joints. They must not sway, rise, or even twist. Any unusual motion could indicate that you need a new ball joint.

The heat that results from using leveling kits could be another concern. Although most vehicles don't get heated when a leveling kit is added, the brake and steering components do.

Ball joints and other suspension parts suffer significantly from this heat. Ball joints are most vulnerable to damage when added to a suspension that has already experienced wear and tear. A faulty ball joint can cause uneven tire wear and noise.
Leveling kits are typically far less expensive than lift kits but do not have the same leveling capabilities.

Your truck will ride higher rather than lower if you use a proper leveling kit. This can be a decent answer for someone unclear about what they are doing. However, it's important to double-check before mounting a leveling kit to your vehicle.
What is the Biggest Tire Size You Can Put on Trucks with a 2-inch Leveling Kit (Some Examples)
2015 Chevrolet Silverado LTZ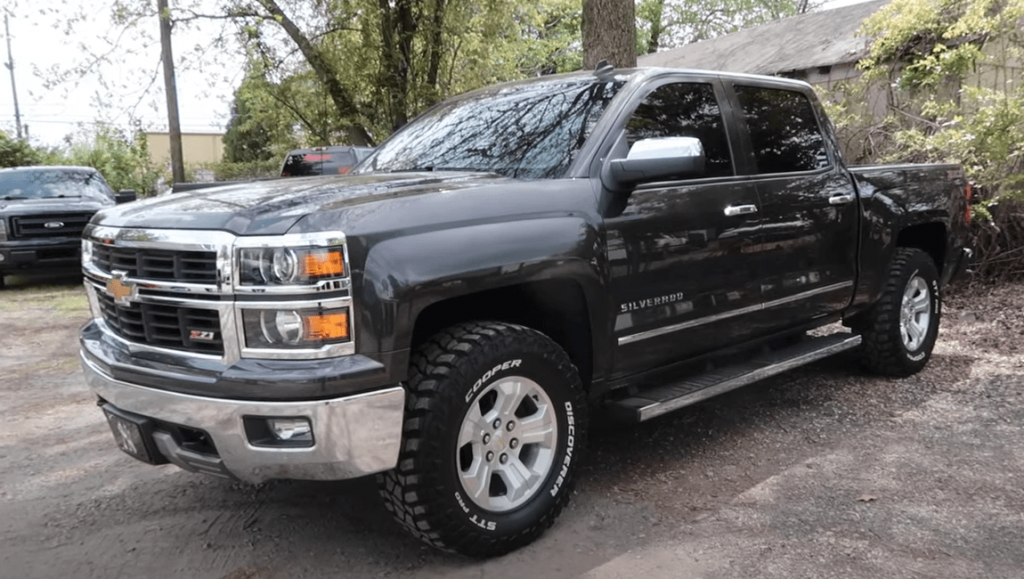 The largest tire that you can mount on a 2-inch leveled 2015 Chevrolet Silverado LTZ is a 35-inch tire with the following parameters: 295/70R18. Such an upgrade can be performed on a truck with a stock wheel and offset.

The tire doesn't rub the front bumper, so you won't have to make any trimming to it. On the back, closer to the front door, the tire makes minor rubbing, meaning you must trim the fender liner.
2020 Toyota Tacoma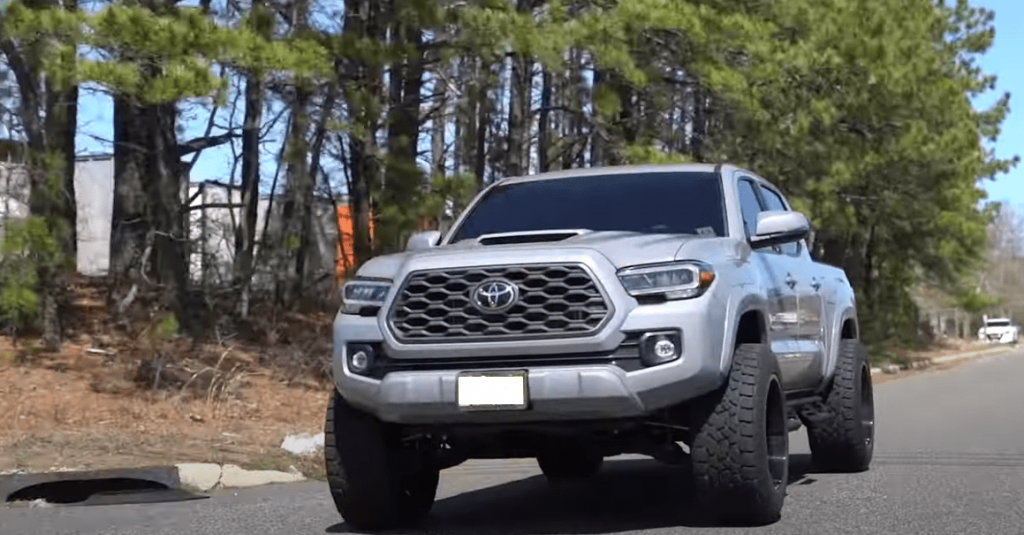 If you are wondering about the biggest tire you can fit in the wheel wells of your 2-inch leveled Tacoma, here is an answer: 32.8 inches or 295/55R20.

However, you definitely have to perform fender trimming and pinch weld works. It is necessary to exploit your truck daily without facing any unpleasantries like tire rubbing of the vehicle`s body components.
Also, don`t forget to make some cuts to Tacoma`s fender lining and remove front mudflaps, so the tires can spin without getting into contact with them. 
2004 GMC Sierra 1500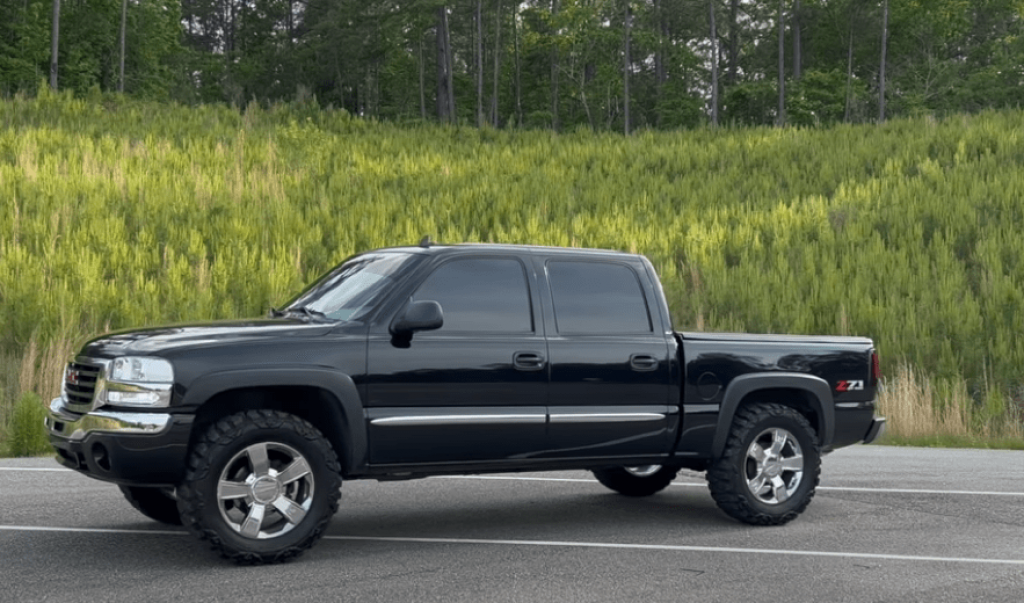 It is worth mentioning the biggest tire, in this case, mounted on a stock rim, will inevitably rub this vehicle. The largest tire possible that can be mounted on a Sierra 1500 is 35X12.5R20.

With this configuration, wheel spacer installation is unnecessary, and the truck retains its offset (close to a factory). The tire rubs the front bumper and the fender liner.

To fix this, you have to make some trimming to your GMC`s front bumper so that the tires won't rub it. You might encounter rubbing mostly at the back fender liner when you make full lock-to-lock steering.
2019 Dodge Ram 1500 Bighorn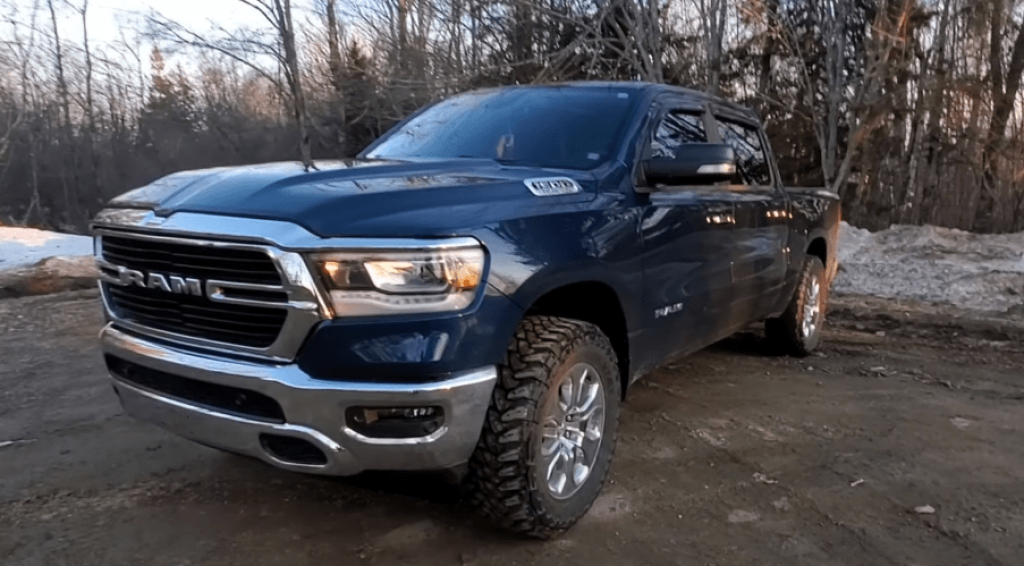 A leveled Dodge Ram 1500 can accommodate 35X12.5R20. In this case, you don't have to remove a mud flap or make any hammering of your inner fender liner.

You should also have a 2-inch kit and 0.25-inch spacers installed on your truck to fit these tires. Wheel spacers are necessary to prevent tires from rubbing Ram`s control arm and damaging ball joints.
The 35×12.R20 tire only rubs when you turn your wheel to the left or right or when hitting a bump or pothole, which is big enough.
2015 Ford F150 4×4 FX4 Lariat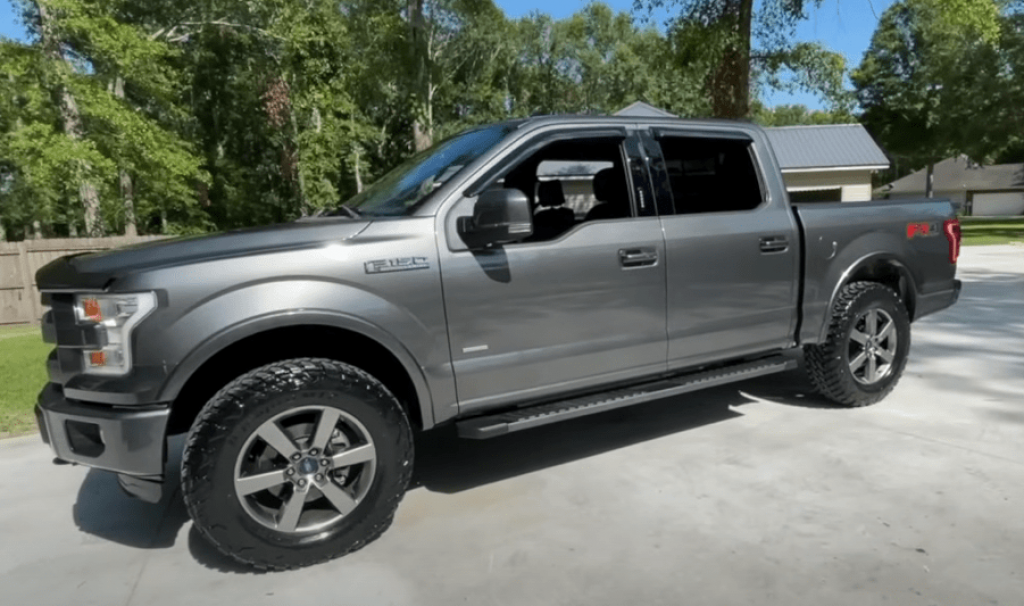 The largest tire that can be mounted on a 2.5-inch leveled F150 is a 35-inch tire; in parameters, it looks like 295/65R20.

This tire option for the Ford truck has a lot of advantages.

First, the tire doesn`t bulge and sits pretty flush. Second, the tire produces no rubbing at all! Also, it means that you won't have to buy spacers to prevent tires from getting into contact with crash bars or wheel wells.

Moreover, when the wheels are turned full lock to lock, there is no tire scraping or rubbing. The riding comfort is preserved if you are using your truck mainly on even surfaces, while for off-roading minor trimming might be needed.
To Sum Up
A leveling kit is undoubtedly one of the most affordable and relatively easy ways to assist you in accommodating larger tire sizes on trucks.

Most IFS trucks and SUVs can run on a 33″ tire. However, they may need to undergo some minor modifications to fit them.
The tire size you can mount on your truck with a leveling kit depends on various factors like the truck itself, tire size chosen, level kit setup, and of course, individual tastes and desires one wants to achieve.