On weekends nothing can be better for an off-road enthusiast than to get behind the steering wheel of a beloved truck or SUV and ride somewhere to nature away from the city and rat race.

Whether this off-road trip is for fun or on purpose, it requires wheels to drive, usually where it is especially needed – in challenging areas. This is what mud tires for trucks or SUVs were once invented for.

A mud tire is an excellent option for those looking to add more off-road capability to their jeep, SUV, or truck.
So, what is the most aggressive mud tire from the list below? If you are out of time and want a quick answer, here it is.
The most aggressive mud tire on our list is the BFGoodrich Mud-Terrain T/A KM3. These tires offer solid off-road grip on various surfaces, including mud, rocks, and dirt.
But the mud tire market is filled with various options, making selecting the most aggressive mud tire a bit complicated.
In our article, we will consider the purpose of mud tires, their features, and types, and of course, provide you with a list of the best, most aggressive mud tires on the market with their most potent and weakest sides.
Mud Terrain Tires, What Are They?
Mud tires are more dimensional, have a unique tread structure (aggressive design with large tread blocks and extensive open grooves), and are made from a particular rubber compound for conquering the most challenging terrain. 
This, of course, is mainly about suburban sections of the path, including untrodden dirt and rocky waypoints, mud and clay, grass in its various mud-wet forms, sandy embankments, and crushed stone and pebble coatings, ground hardened after rain and loose soil and marshland. 
As you might guess from the scope of application, mud tires have been created for jeeps, pickups, and SUVs – therefore, when talking about "mud" or "swamp" tires, they mean precisely off-road models and for the corresponding vehicles. It is believed that passenger cars do not need such tires.
Mud tires exist in various sizes, ranging from 15 to 24 inches in diameter and up to 44 inches in height. They typically have 12 to 17 millimeters of tread and can be identified by their massive, rough tread pattern.
What Are the Features of Mud Tires?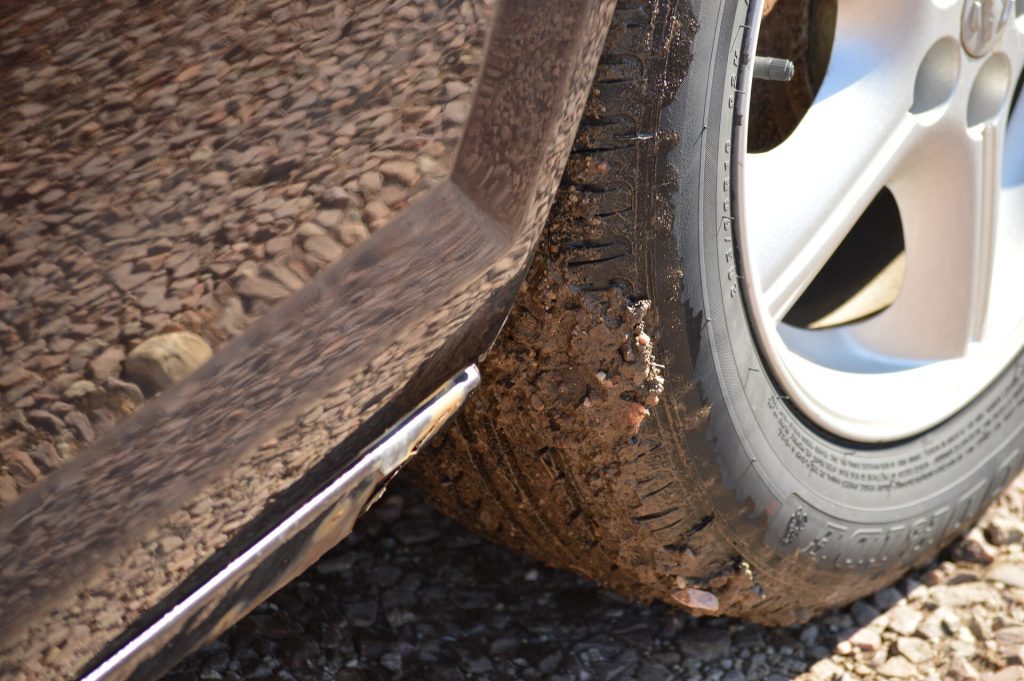 Mud tires are characterized by aggressive tread and side lugs. These features can improve flotation and prevent vehicles from getting stuck when driving through mud. The marking of such rubber is M / T, which means Mud terrain.
Moving on asphalt on such tires is problematic: they are noisy, have an increased braking distance, and wear out quickly. In addition, mud terrain rubber manufacturers set a speed limit of 100 miles per hour.
Another nuance is the increased fuel consumption due to the wide contact patch with the road. The service life of mud tires with the proper operation (as intended) averages 40 thousand miles.
What Are the Types of Mud Tires?
Mud tires are created for drivers who need increased cross-country ability on slushy and loose, snowy and sandy, muddy and rocky off-road, if not all. Most mud tires are equipped with a characteristic "bite" tread pattern that assists in passing through various road obstacles.

However, mud tires can be divided into two categories: mud terrain and all terrain tires.
Mud Terrain Tires. Real mud rubber has pronounced lugs (protrusions from the shoulders for better riding on loose surfaces), a few, and vast contact blocks, usually devoid of lamellas in every possible way. This is the best choice for frequent trips to areas with a lot of dirt, stones, and uneven surfaces.
All Terrain Tires. Often they are less aggressive in pattern, some models do not even have lugs to increase off-road patency, and sometimes blocks are reinforced with internal slots – lamellas. 
But, again, each specific manufacturer puts something of its own into the concept of rubber, which, judging by the name All-Terrain (or AT for short), should also cope well with off-road (but, mainly, we are talking about moderate off-road and slushy dirt ), and usually behave and comfortably on asphalt.
Top 8 The Best Mud Tires For Your Vehicle
1. BFGoodrich Mud-Terrain T/A KM3
The BFGoodrich KM3 tire is an excellent example of decent traction and durability, allowing drivers to wander wherever they wish.
Made for the mud: 5% improved grip in the soil. BFG's Terrain-Attack tread pattern will help you navigate through mud and uneven ground. Large tread blocks with Muck-Phobic Bars evacuate compacted dirt for ongoing traction, and the tire is made to give outstanding grip from any angle of approach.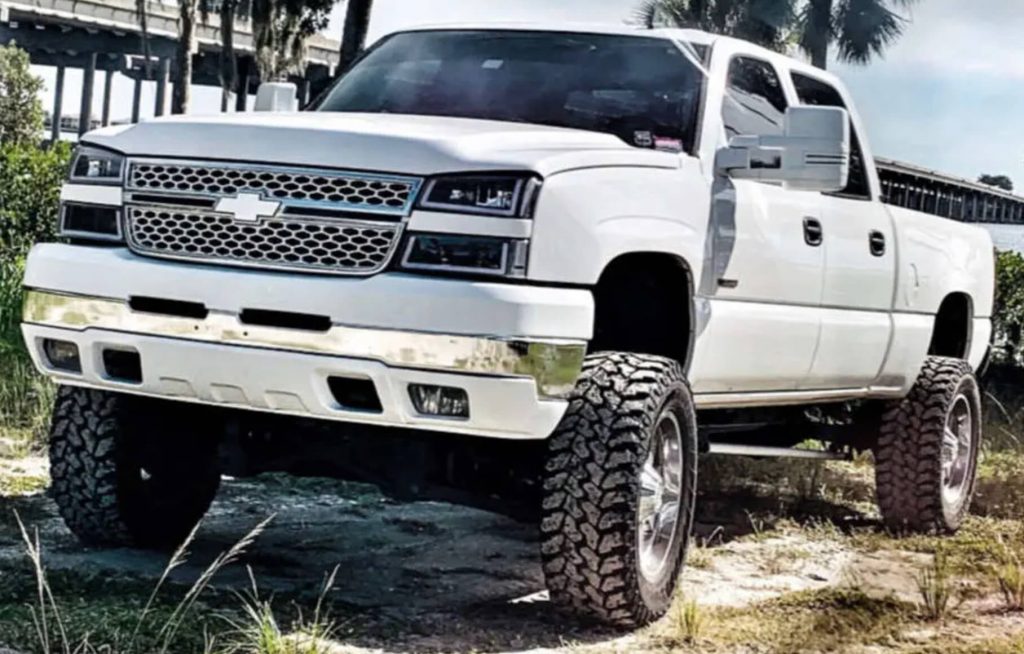 Built for climbing: 8% improved grip on rocks. With a cutting-edge Krawl-TEK compound that enhances traction on rocky and slippery surfaces, overcome the roughest terrain on Earth.
Additionally, a Linear Bend Zone enables the tire to flex and engulf objects in aired-down driving conditions.
Strong sides
Decent off-road features
Stable traction and reliable grip
Long-lasting tread life
Weak sides
Steering and braking responses are moderate
2. Firestone Destination M/T2
The Destination M/T2 is Firestone's tire was developed for jeeps, pickup trucks, full-size SUVs, and custom off-road vehicle drivers who aspire to have maximum offroad and mud capabilities, whatever the situation is.
The rubber composition used in the Destination M/T2 has been sculpted into an aggressive tread pattern with high chip- and tear resistance.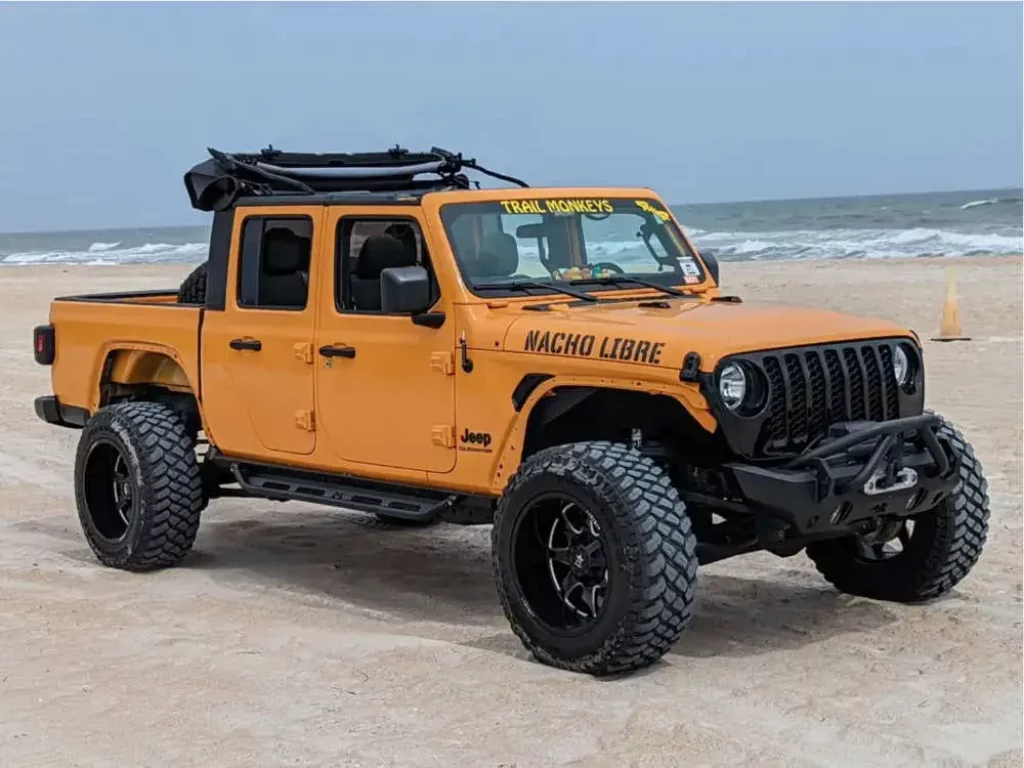 These tires, designed for off-road use, feature a 3-ply sidewall with mud and stone rejector technology.
Destination M/T2 has massive tread blocks with 23-degree attack angles for the best-dragging power on a sloping surface.
Strong sides
Excellent grip on every surface
High chip and tear resistance
Pleasant ride
Weak sides
3. Goodyear Wrangler MT/R with Kevlar
The Wrangler MT/R with Kevlar provides exceptional 4WD performance in challenging circumstances for seasoned off-road drivers. 
The MT/R with Kevlar features an aggressive asymmetric tread design for extra grip and traction and a layer of DuPont Kevlar technology in the sidewalls, making this tire tough enough to overcome any terrain.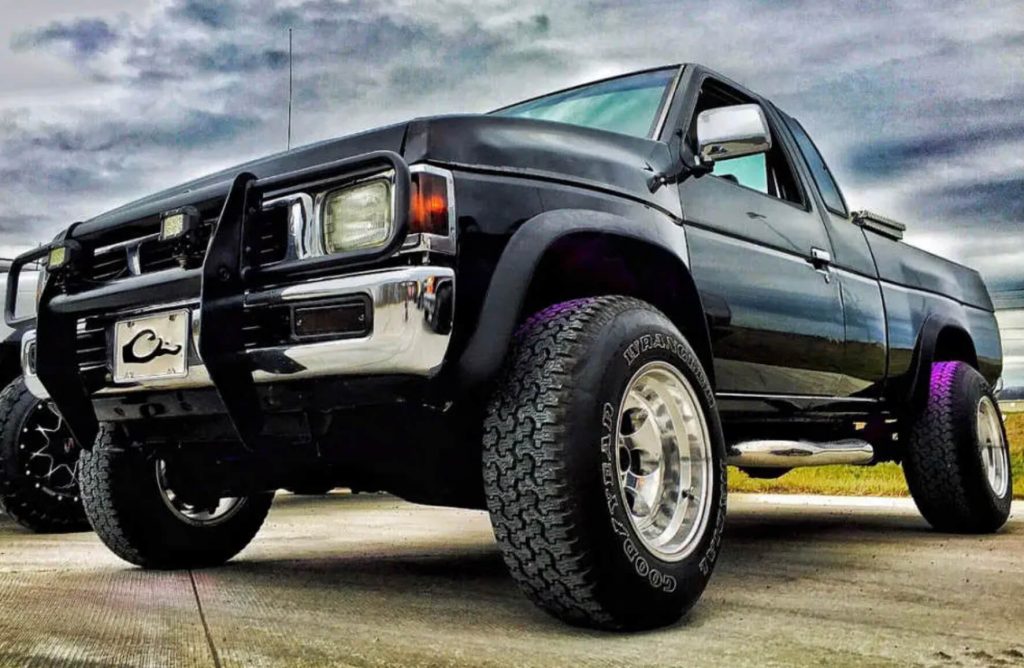 Goodyear MT/R with Kevlar incorporates unique traction ridges, which, alongside the aggressive tread pattern, help provide off-road traction in wet or muddy conditions.

Advanced Silica Tread Compound, used in the MT/R with Kevlar, enhances the tire`s off-road traction and on-road wet grip, adding confidence on slick surfaces and getting maximum performance from the tires.
Strong sides
Great off-road capability
Nice tread self-cleaning features
High level of wet and slick grip
Weak sides
Absence of treadwear warranty
4. Mickey Thompson Baja Claw TTC
The Mickey Thompson Baja Claw TTC can boast outstanding off-road and decent highway traction, especially passing through mud and uneven surfaces.

Decoupled side biters considerably reduce sidewall damage by enabling the sidewall to adjust to the terrain, increasing off-road traction.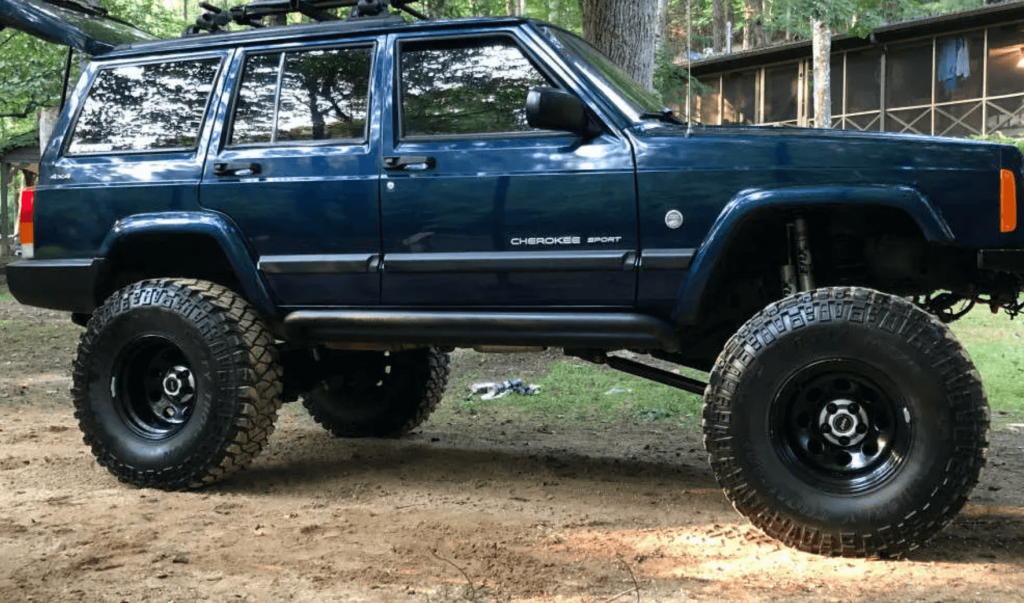 Mud pockets reduce friction to prevent mud from getting stuck in the gaps. For optimal effectiveness, deep shoulder lugs and fitted concave blades remove dirt.

Compared to previous PowerPly tires, the new PowerPly XD adds up to 50% more denier cord for even better puncture protection, handling, and sharper steering responsiveness.
Strong Sides
Outstanding off-road performance
Improved chip and tear resistance
Great mud traction
Weak sides
5. Cooper Discoverer STT Pro
The Discoverer STT PRO was created to deliver excellent grip and performance on the harshest terrains it faces. The unique design of the tread and compound provide you with comfortable and decent road capability without compromising off-road traction.

To meet the most challenging and unpredictable surface conditions, the tire is equipped with 3-Ply Armor-Tek3, silica tread compound, aggressive 3-2 center rib design, side-biters, and more.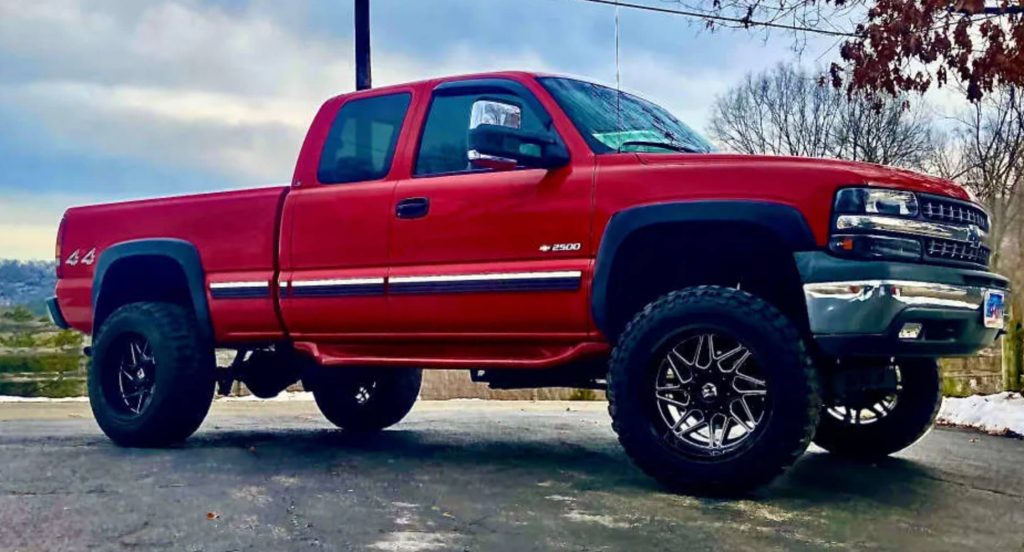 The Cooper STT Pro can easily tackle muddy terrain because of the asymmetrical scallops on the alternate lugs that channel dirt into the mud scoops.

The inner tread ribs' alternating 3-2 pattern provides several significant performance advantages, including decreased road noise, improved stability and handling, and enhanced soft surface (trail) and mud traction.
Strong sides
Outstanding for intense use
Perfect off-road traction
Reliable and comfortable
Weak sides
Produces some noise on the road
6. General Grabber X3
The General Grabber X3 was created for Jeep, SUV, and pickup truck owners who are fond of testing their vehicle`s off-road capabilities and need a tire with robust off-road ability to assist them in any adventures they may encounter. 
The Grabber X3 is an affordable, aggressive, all-season mud tire. Thanks to Duragen Technology, the tire obtains more strengthening and higher durability combined with excellent off-road performance, a smooth ride on the road, and a strong appearance.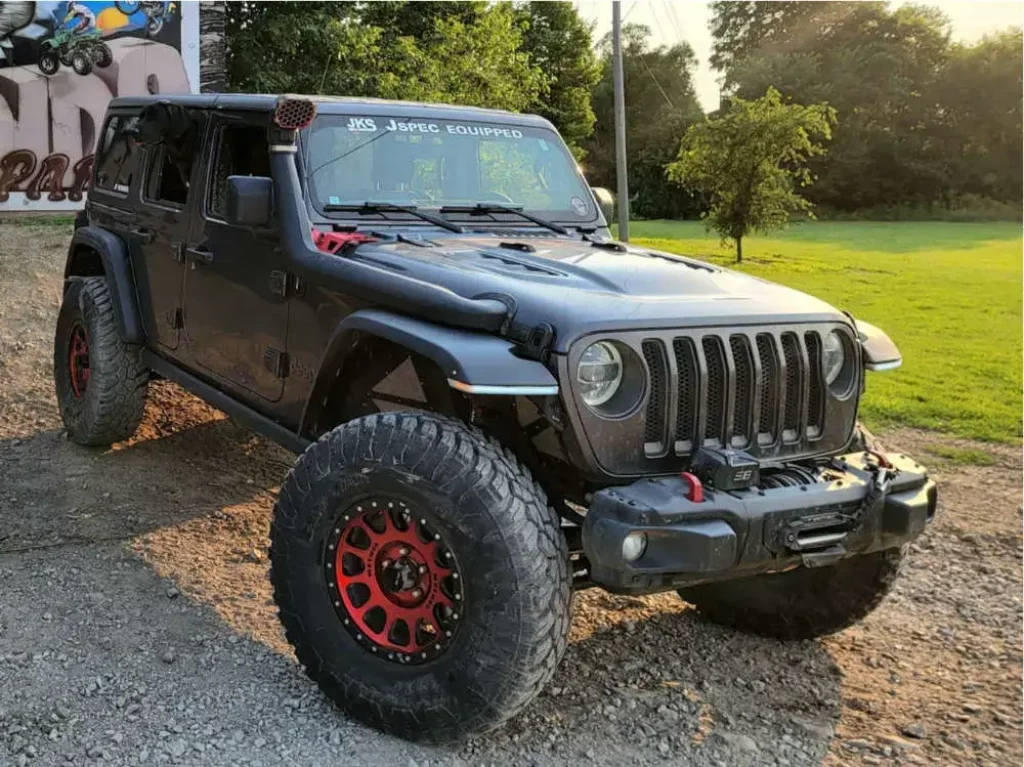 A bold and aggressive mud-terrain tire with an open tread design that deflects sand, gravel, and mud delivers extremely effective off-road performance.

The handling in deep soil was enhanced thanks to Open Trade Design. Three-ply power casing made with the usage of Duragen technology. It allows you to deflate your tire to ease the process of passing through rocks and decrease damage to the tire.
Strong sides
Excellent off-road features
Great mud grip and traction
Comfortable  ride
Weak sides
The noise level is relatively high
7. Pro Comp Xtreme MT2
The Pro Comp Xtreme MT2 radial is intended for full-size trucks and SUVs used both on and off-road. The new Xtreme MT2 provides the durability and grip required to complete any task, whether moving huge loads or traversing rugged terrain. 
Additionally, it provides better self-cleaning performance in snow and mud. These tires feature shoulder blocks that quickly shovel away silt and sand. This helps enhance the traction on off-road surfaces.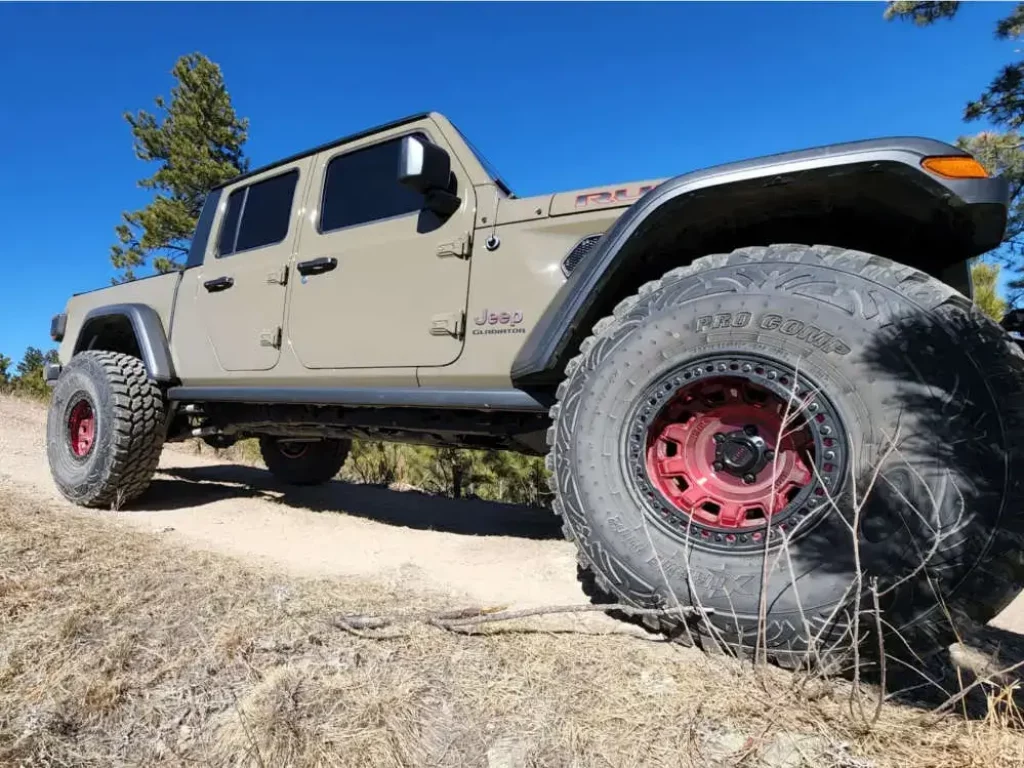 The Xtreme MT2 Tires feature a 3-ply sidewall and thick rubber construction to increase puncture resistance. The large tread blocks with an open tread style promote self-cleaning in messy situations.
Strong sides
High level of puncture resistance
Great stability and braking
Good tire cleaning capabilities
Weak sides
Not suitable for everyday usage
8. Milestar Patagonia M/T Mud-Terrain Radial Tire
The PATAGONIA M/T was created to face challenges like rock climbing, exploring the desert, mud bogging, playing in the dunes, or leisurely driving along mountain routes. 
The elevated tread design is developed to provide aggressive biting edges while offering self-cleaning. Off-center, asymmetrical tread blocks improve on-road performance and increase traction.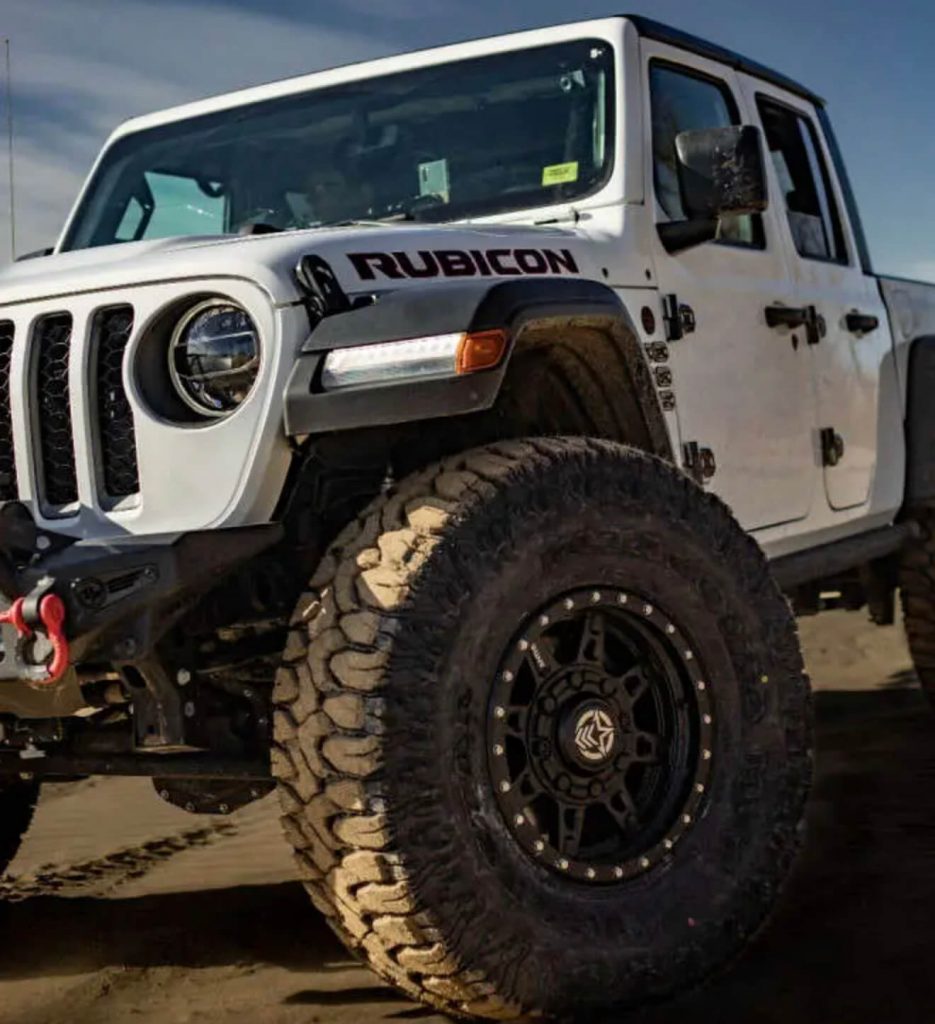 The 3-ply sidewall of the PATAGONIA M/T offers further resistance against impact damage, while stone ejectors, who assist with rock crawling and all-terrain exploration, prevent stones from getting stuck in the tread.

One of the undoubtful advantages of the Milestar Patagonia M/T is their relative quietness on the highway despite the aggressiveness of the tire.
Strong sides
High off-road performance
Decent grip and traction
Great damage resistance
Weak sides
How much do mud tires last?
Mud tires usually have a 40,000-mile lifespan, comparable to common pavement tires. The longevity of mud tires, however, may be impacted by such factors as driving style, off-road surfaces, and inflation.
How to choose a mud tire for my vehicle?
To define which mud tire suits you best, consider surface (with low or much mud), price category (budget or premium tire segment, and the result you want to get.

To ease the process, visit countless forums about your vehicle concerning the installation of mud tires. There are different variations and thoughts about this or that particular mud tire. Or you can pick up one from the list above and have an experience.
To Wrap Everything Up
Installation of the most aggressive mud tires on your truck or SUV can bring you joy and additional confidence off-road. Mud tires can prevent your vehicle from being stuck and assist you in getting out of the mud, swamp, or rocks.
Selection of the most aggressive mud tire is an individual process that depends on the performance you want to get, the tread thickness you want, and the price you are ready to pay for the mud tire.