In the USA a vast majority of pickup truck owners modify their vehicles. One of the most desirable changes is an installing of the biggest tires possible. 
Larger tires increase truck`s ground clearance which is used either for better off-road capabilities like passing through complicated or bumpy areas or just for aesthetic purposes creating aggressive and muscular truck appearance.

Without a lift kit, 95% of trucks can fit a 33 inch tire. On the majority of IFS (Independent Front Suspension) vehicles, trimming of fender liners and wheel arches as well as modifications to torsion keys may be required.
Wheel spacers and 2-inch leveling kits can be installed to increase clearance from the UCA (Upper Control Arms).

The most widespread and cost-effective approach to increase vehicle`s clearance for larger tires is by applying a 2 inch leveling kit.

Each truck has it`s allowances or restrictions for mounting larger tires. Additionally, compared to a truck with a solid front axle or live front axle configuration, a truck with independent front suspension has several tire size limitations.
The majority of IFS trucks and SUVs can accommodate a 33 inch tire, however a few minor changes to the truck might be necessary.

The biggest tire that can be installed on your vehicle depends on the purposes you are exploiting your vehicle. You have to take into consideration whether you need a bigger tire for extreme off-road use, tugging or carrying heavy loads. 
Or you may be thinking of making your truck look unique and renewed with bigger tires. In any case you should ask yourself: how far you are ready to go –  with minimum or drastic intrusion to your vehicle's body or suspension.
If you are planning to install larger tires on your rims (OEM or aftermarket) it is good to make measurements of your backspacing and offset first, to determine if tires will contact with suspension and other truck components.
What is the Biggest Tire I Can Mount on My Truck Without Lifting?
There are a huge variety of different tire sizes which complicates the process of determining what is the biggest tire you can put on your truck. If you are not ready to make any intrusion to your truck`s body and suspension to accommodate biggest tire possible, you have two options:
If you need the biggest tire possible for daily usage, simply peep into your vehicle user's manual and find a section which tells what is the largest tire can be installed to your vehicle according to the manufacturer.
If you want to mount a tire slightly bigger than factory one, it is good to know, what might be waiting for you in this case. Visit some of the online forums connected to your truck which will help you to find out about the biggest tire you can mount on your truck without any body or suspension works.
Below we will consider some trucks and biggest tires possible that can be applied on them with stock configuration.
Biggest tire for stock Dodge Ram 2500 Cummins & Power Wagon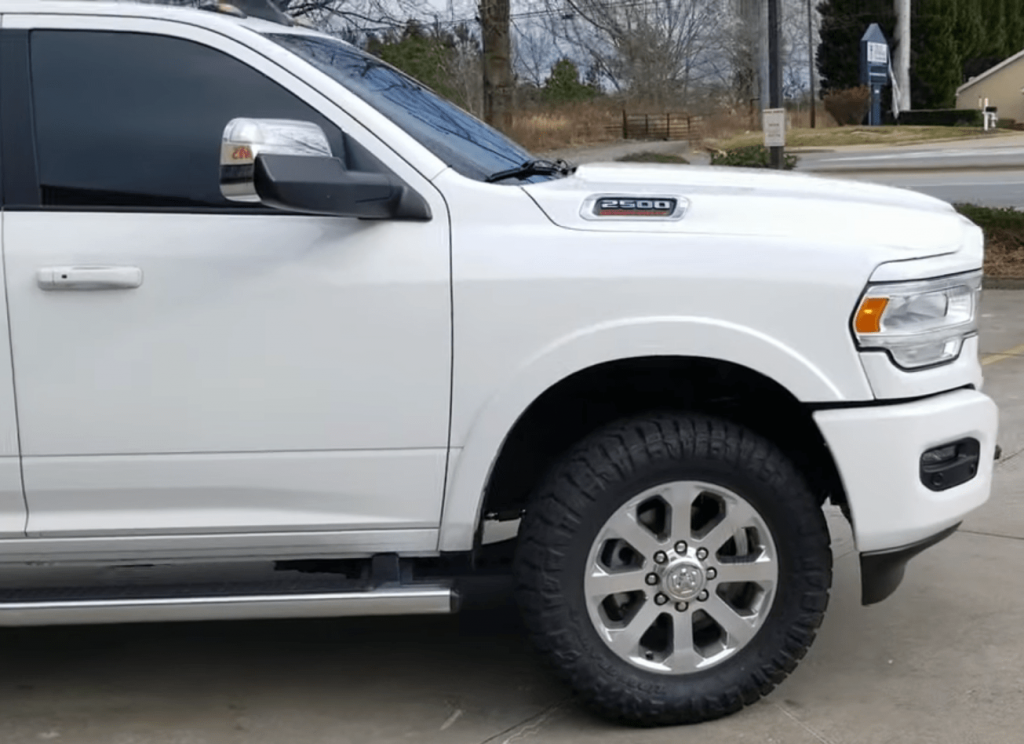 If you want to put a tire on your truck without lifting or trimming you can apply a 35×12.50 inch tire.
It means that you`ll have full lock to lock and no rubbing on any of the column components. It doesn`t really matter what rim you have, 17 or 18 inch you can apply this tire that`s on Power Wagon 2500, 3500 – it fits all of them. You`ll only have to adjust your speedometer for new tires. Such a tire will provide you with confidence whether you are off-roading or using your truck daily.
It is worth noting that you can run an even bigger 37 inch tire on a stock Ram wheel. In more broader parameters it looks like: 37×12.50. Such a tire will rub a bit your truck`s sway bar and radius arm. A slight rubbing may occur also on the inside fender liner.
Biggest tire for stock GMC Sierra (2019-2023)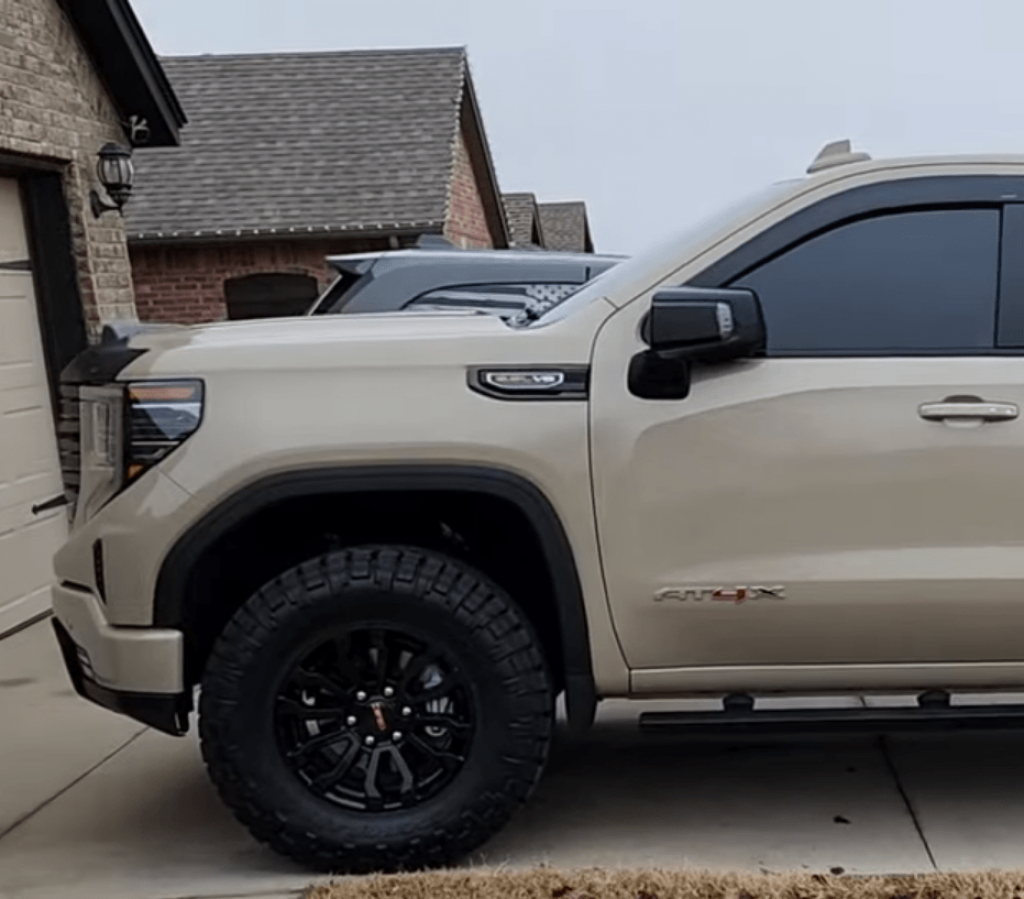 The biggest tire that can be installed on a GMC Sierra with stock suspension and rims, is 35.08 by 11.03 or 285/75R18.

This tire may rub a bit on a full lock backwards over a bump and if you apply this biggest tire on your factory rims, prepare to do minor trimming on the wheel well liner and mudflap (or you can simply remove the latter).

However, the tire may still rub due to Sierra`s wheel wells which are not circular, meaning that you`ll have to make some cuts of the front bumper`s lip angle piece for about three quarters of an inch.
Biggest tire for stock Toyota Tacoma 2020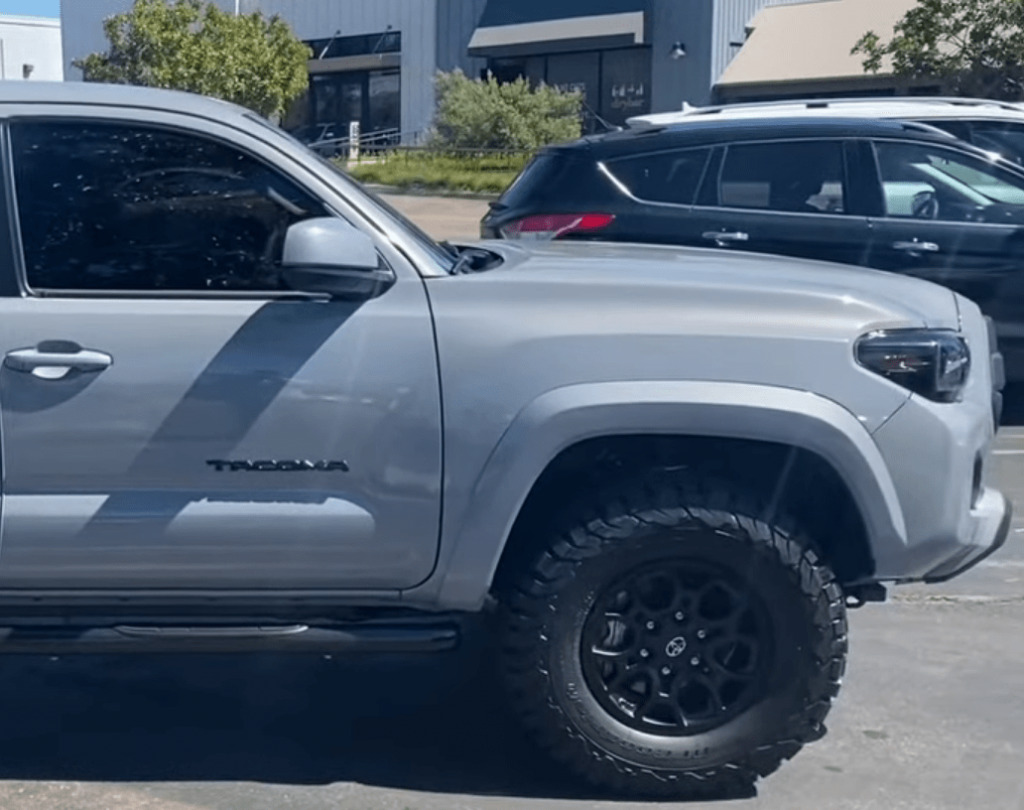 A 31.6 inch tire can fit a 2020 Toyota Tacoma with no spacers or lift kit installed. The biggest tire parameters for Tacoma are the following: 265/75R16. 
Such tires won't rub fenders or require their trimming, however they also won't add much more ground clearance. It is worth mentioning that the tire rubs stock mud flaps so it is recommended to take them off from the wheel arch.
However, when you turn the front tires to the left and right, they don't scrape and produce rubbing noise. 
Biggest tire for stock Toyota Tundra (2007-2021)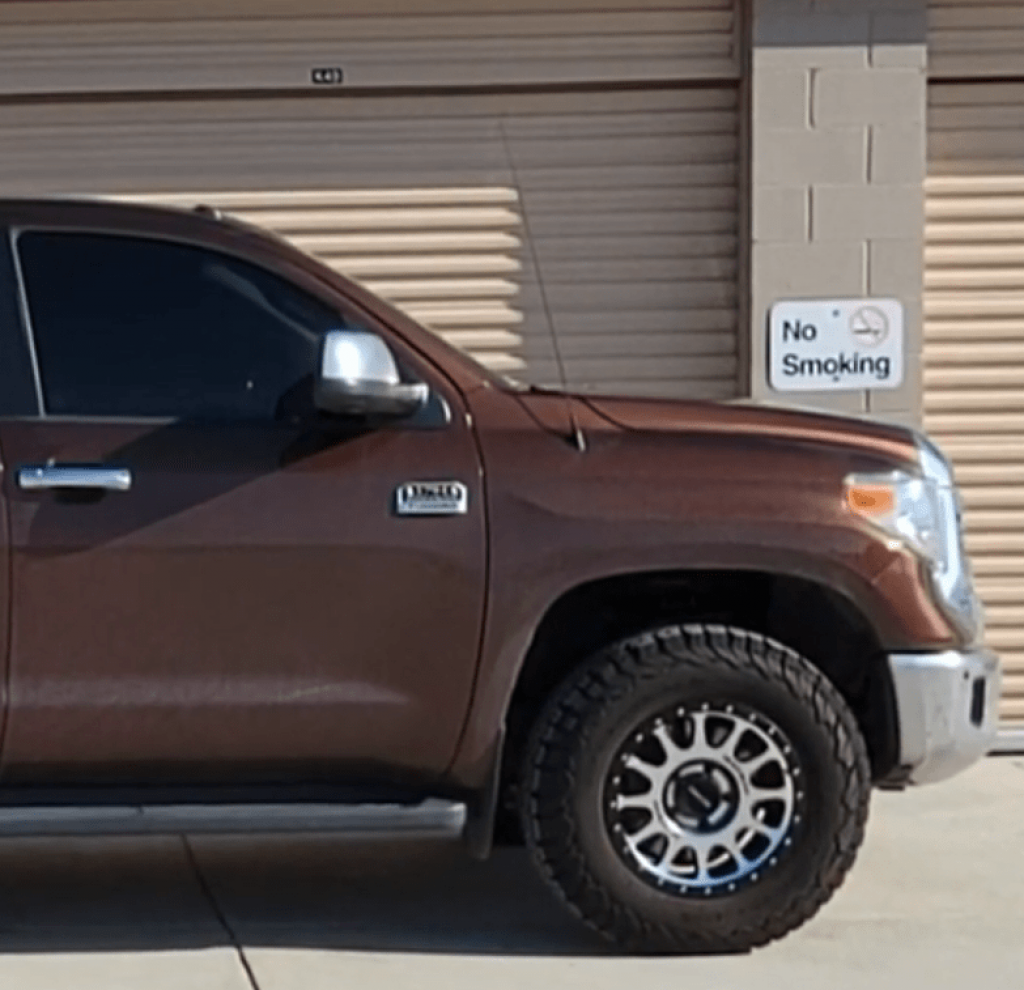 The best biggest tire option for a Tundra truck without lifting is a 33 inch tire with the following parameters: 275/70R18.

Keep in mind that for better lock to lock driving experience it is recommended to remove front air deflectors and brackets that secure them. There is no need to take off mud flaps since tires don't rub them.

With 33 inch tires which have such parameters you don't have to make any fender trimming or worry that they`ll rub other components of your truck.
What is The Biggest Tire I Can Mount On My Truck With a Lift Kit?
If you want to go further with bigger tires, you can increase your vehicle height from 2 to 4 inches with the help of the body or suspension lift kit.

Certainly, for slightly bigger tires installation you inevitably have to make side modifications for your truck, but before you have to ask yourself: How far can I go? Is it really worth it?

Both kits have their advantages and disadvantages which we will consider below.
Body lift kit advantages:
Much more ground clearance (good for offroading and passing through obstacles)
Quite affordable price (from 100$ to 700$)
Body lift kit disadvantages:
Lift kit installation sometimes takes extra time (varies on the truck, kit and person or people who perform the job)

Changes center of trucks gravity (especially fells when steering and cornering)
Suspension kit advantages
Gives an opportunity to install the largest tire possible due to higher flexibility for height adjutments (while body lift kit has limitations to 4 inches)
Suspension kit disadvantages
Higher maintenance costs (the way how and where you use your truck also affects it)
Change in riding comfort (due to more rigid suspension)

In any case, it is up to you to decide whether you want to run such a serious truck modification.
Wrapping Up
The biggest tire that can be installed on the majority of the unlifted trucks is a 33 inch tire.

Such aspects as the way and surfaces you are using your truck, how far are you ready to go with the modifications and truck itself may influence the biggest tire for your vehicle.