Decent

Off-Road Maximum Traction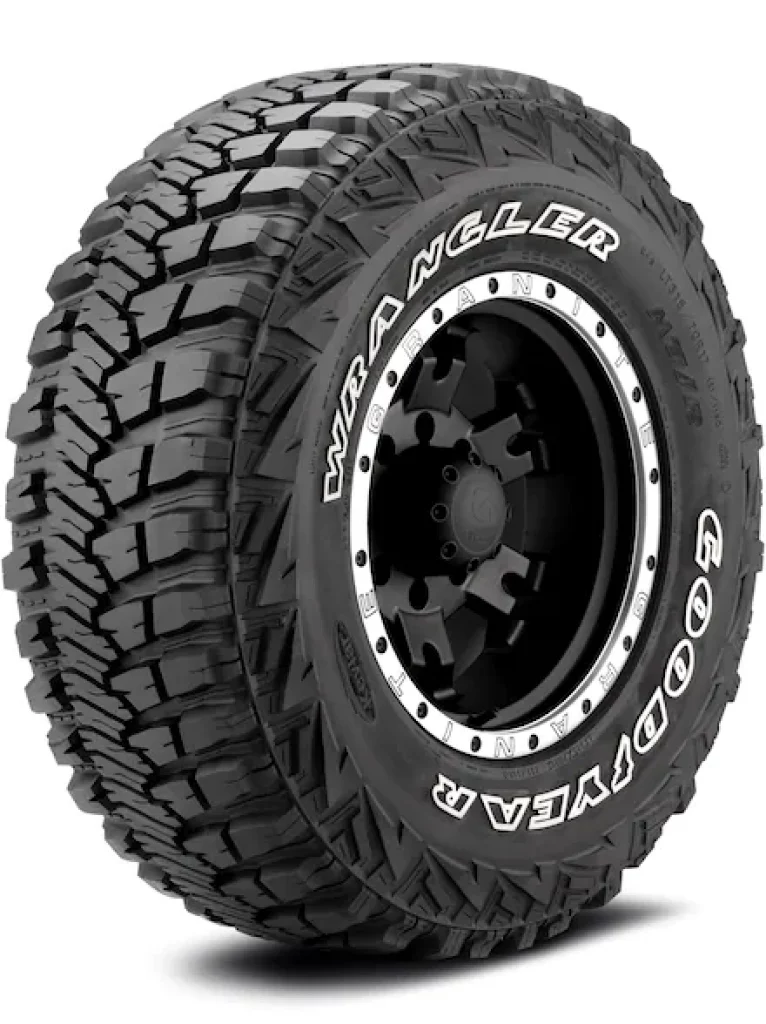 Light truck, SUV, and pickup owners often find themselves in rough terrains when driving through the unpaved off-road. In an ideal situation, drivers have to own multiple sets of tires for highway commuting, off-road and seasonal driving. It is a costly endeavor. To bring out the best performances of their vehicles, drivers go for all-terrain tires.
This review discusses the technical specifications of Goodyear Wrangler MT/R with Kevlar tires and their performance characteristics on different roads. It also provides invaluable purchase advice to assist drivers who want to purchase mud-terrain tires.
Positives
Advanced technology and manufacturing material for extended durability
Superb performance in different terrains
Remarkable winter performance
Outstanding comfort and ride quality
Negatives
Expensive compared to most mud-terrain tires
Goodyear Wrangler MT/R with Kevlar outperforms 88% of tires in the Off-Road Maximum Traction category.
What are the features of the Goodyear Wrangler MT/R with Kevlar? 
Goodyear Wrangler MT/R with Kevlar tires are designed to balance off-road traction and routine highway driving by using asymmetric tread patterns. The treads are molded from rubber compounds containing high silica contents. It improves the durability of the tires and increases their resistance to abrasion. The tires utilize Mud-Flow Geometry Design to improve the self-cleaning capabilities of the tires for optimum off-road performance. The technology optimizes the positioning of alternate shoulder blocks and additional treads on the upper side of the sidewalls.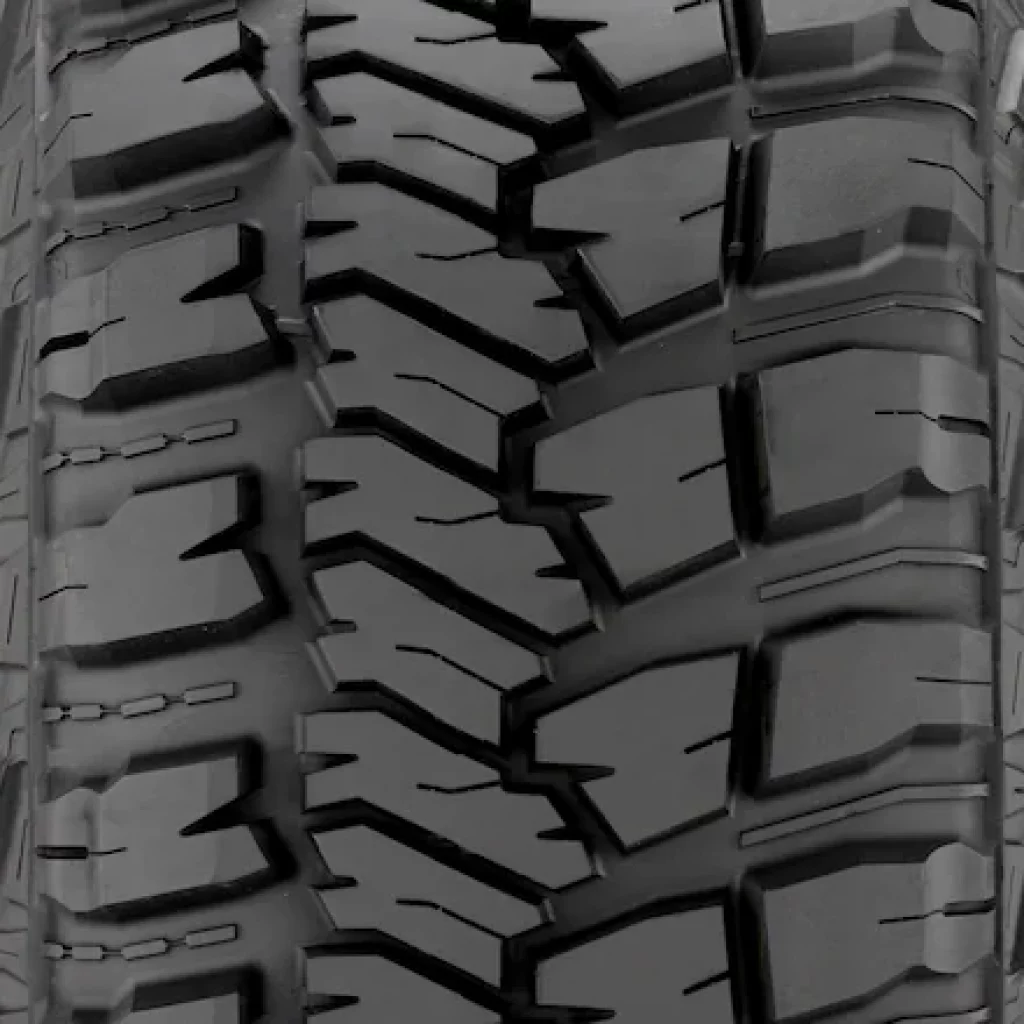 The tires utilize Goodyear's Dupont Kevlar material which improves the strength of the tires. It stabilizes the sidewalls to improve straight-line stability. The innovative tire material reinforces the sidewalls of the tire, providing it with sufficient defense mechanisms against punctures and chip cuts.
Overall, the tires are highly voided with deep grooves that are vital for driving under wet conditions. Utilizing Dupont Kevlar materials increases the strength of the tire by 5 times as compared to steel-reinforced tires. It also increases the resistance to puncturing by approximately 35%. Goodyear Wrangle MT/R tires are available in different sizes that range from 16 to 20 inches. They have large lugs and often fewer sipes making them unsafe for driving under extreme winter conditions.
How long does the Goodyear Wrangler MT/R with Kevlar tire last? 
Goodyear does not offer a tread life or road hazard warranty for mud-terrain tire products. They offer a uniformity warranty which is limited to the first year of purchase or 2/32" of treadwear. 
Goodyear caters to all replacement or repair costs for a maximum of six years for all tire defects caused by low-quality production material or poor workmanship at their approved stores. There are no visual treadwear indicators fitted on Wrangler MT/R with Kevlar Tires as is the norm with all-terrain tires. 
Wet performance
The asymmetric tread patterns play a crucial role in enhancing the performance of the tires under wet conditions. Wrangler MT/R with Kevlar tires contain large lugs on the outside with smaller lugs on the inside. These lugs contain sipes that provide additional biting edges. They guarantee optimum wet traction.
These sipes and the deep voids between the tread blocks evacuate surface runoffs to protect the vehicle against hydroplaning. With good traction characteristics, drivers can enjoy quality control and handling when driving over spools of water. The treads of the tires are made from silica materials which enhance overall wet traction.
Dry performance
Goodyear Wrangler MT/R with Kevlar handles high-speed highway driving perfectly well. Drivers can cruise on the dry tarmac with certainty thanks to the asymmetric tread patterns of the tires. They grip firmly on the road. Dupont Kevlar material enhances the stability of the sidewalls making it easy to negotiate corners even when ferrying huge loads.
The tires are responsive to steering controls and have remarkable braking distances.
Comfort performance
For a mud-terrain tire, you should expect some unbearable road noises. Goodyear Wrangler MT/R tires with Kevlar ranks among the best mud-terrain tires that are silent on dry tarmac. The asymmetric tread pattern limits the levels of noise. Dupont Kevlar material absorbs most road stresses, vibrations, and shocks for impressive ride quality and comfort.
Winter&snow performance
Goodyear Wrangler MT/R tires have exhibited mild results when driven over snowy roads. On light snow, the tires offer sufficient traction. The vehicle remains responsive to steering controls and handling is modest.
When driving in deep snow (over 20 inches), the handling becomes difficult. The vehicle struggles to drive through the snow and becomes unresponsive to steering controls. Icy roads are equally challenging. By comparison, Wrangler MT/R with Kevlar performs better than any other mud-terrain tire when exposed to winter conditions. 
Off-road performance
Wrangler MT/R with Kevlar is best suited for off-road driving adventures. The sidewalls feature 3-plies of Kevlar materials that are opposed to each other. The geometric arrangement of the plies protects the sidewalls against pictures and abrasive cuts. The resistance to puncturing makes the tires drivable over rocky surfaces, hard-packed roads, or unpaved country roads. Treads grip firmly to rocks and boulders of varying sizes with reasonable traction.
Getting stuck on mud, sand or loosely packed roads is a thing of the past when driving with Wrangler MT/R tires. They contain wraparound treads on the sidewalls which cut into the loose surface and grip firmly to avoid spinning. The loose material and debris are cleared from the grooves using the mud-flow geometry to retain maximum traction surfaces when driving on muddy roads.
The outer lugs of the tire contain lateral channels which are vital for removing mud from the tire. They enhance the self-cleaning capabilities of Wrangler MT/R tires. Reinforced tread materials and internal casing ensure that the tires can be driven in the harshest off-road environments.
Are Goodyear Wrangler MT/R with Kevlar good? 
Goodyear Wrangler MT/R with Kevlar is a great choice for drivers who want to maintain excellent highway performances and experience the offerings of the off-road terrains. The tires perform well on different roads, with excellent wet and dry traction. They are among the most silent mud-terrain tires when driven on the highway or street. Although they are costly, drivers can rely on them to offer long-lasting all-terrain performance.
Tire sizes & specifications
| Tire size | Load index/ Speed rating | UTQG | Max load | Max Inflation | Tread Depth | Tire Weight | Wheel Diameter | Rim Width Range | Measured Rim Width | Section Width | Tread Width | Overall Diameter | Revs Per Mile | Country | |
| --- | --- | --- | --- | --- | --- | --- | --- | --- | --- | --- | --- | --- | --- | --- | --- |
| 31X10.5R15LT | 109Q C | | | 50 psi | 19/32″ | 47 lbs | 15 | 7-9″ | 8.5″ | 10.5″ | 8.2″ | 30.8″ | 675 | US | |
| 32X11.5R15LT | 113Q C | | | 50 psi | 19/32″ | 55 lbs | 15 | 8-10″ | 9″ | 11.4″ | 9.1″ | 31.8″ | 654 | US | |
| 33X12.5R15LT | 108Q C | | | 35 psi | 19/32″ | 60 lbs | 15 | 8.5-11″ | 10″ | 12.5″ | 10″ | 32.8″ | 634 | US | |
| 35X12.5R15LT | 113Q C | | | 35 psi | 21/32″ | 67 lbs | 15 | 8.5-11″ | 10″ | 12.5″ | 10.5″ | 34.8″ | 598 | US | |
| LT235/85R16 | 120/116Q E | | | 80 psi | 19/32″ | 52 lbs | 16 | 6-7.5″ | 6.5″ | 9.3″ | 7.1″ | 32″ | 650 | US | |
| LT235/85R16 | 120/116Q E | | | 80 psi | 19/32″ | 52 lbs | 16 | 6-7.5″ | 6.5″ | 9.3″ | 7.1″ | 32″ | 650 | US | |
| LT245/75R16 | 120/116Q E | | | 80 psi | 19/32″ | 50 lbs | 16 | 6.5-8″ | 7″ | 9.8″ | 7.3″ | 30.7″ | 676 | US | |
| LT265/75R16 | 123/120Q E | | | 80 psi | 19/32″ | 55 lbs | 16 | 7-8″ | 7.5″ | 10.5″ | 8.2″ | 31.9″ | 651 | US | |
| LT285/75R16 | 126/123Q E | | | 80 psi | 19/32″ | 60 lbs | 16 | 7.5-9″ | 8″ | 11.3″ | 8.2″ | 33.1″ | 628 | US | |
| LT305/70R16 | 124/121Q E | | | 65 psi | 19/32″ | 62 lbs | 16 | 8-9.5″ | 9″ | 12.2″ | 9.5″ | 33.1″ | 628 | US | |
| LT315/75R16 | 121Q D | | | 50 psi | 19/32″ | 67 lbs | 16 | 8-10″ | 8.5″ | 12.3″ | 9.9″ | 34.8″ | 597 | US | |
| LT245/70R17 | 119/116Q E | | | 80 psi | 19/32″ | 49 lbs | 17 | 6.5-8″ | 7″ | 9.8″ | 7.5″ | 30.8″ | 675 | US | |
| LT245/75R17 | 121/118Q E | | | 80 psi | 19/32″ | 53 lbs | 17 | 6.5-7.5″ | 7″ | 9.8″ | 7.6″ | 31.7″ | 655 | US | |
| LT255/75R17 | 111/108Q C | | | 50 psi | 19/32″ | 52 lbs | 17 | 6.5-8.5″ | 7″ | 10″ | 7.5″ | 32.3″ | 644 | US | |
| LT265/70R17 | 121/118Q E | | | 80 psi | 18/32″ | 55 lbs | 17 | 7-8.5″ | 8″ | 10.7″ | 8.5″ | 31.9″ | 651 | US | |
| LT275/70R17 | 121/118Q E | | | 80 psi | 19/32″ | 57 lbs | 17 | 7-8.5″ | 8″ | 11″ | 8.4″ | 32.4″ | 640 | US | |
| LT275/80R17 | 121/118Q D | | | 65 psi | 21/32″ | 60 lbs | 17 | 7.5-9″ | 8″ | 11″ | 8.5″ | 34.3″ | 600 | US | |
| LT285/70R17 | 121/118Q D | | | 65 psi | 19/32″ | 58 lbs | 17 | 7.5-9″ | 8.5″ | 11.5″ | 9″ | 33″ | 630 | US | |
| LT305/70R17 | 119/116Q D | | | 50 psi | 19/32″ | 64 lbs | 17 | 8-9.5″ | 9″ | 12.2″ | 9.2″ | 34.1″ | 609 | US | |
| LT315/70R17 | 121/118Q D | | | 50 psi | 19/32″ | 67 lbs | 17 | 8.5-10″ | 9.5″ | 12.7″ | 10.4″ | 34.7″ | 600 | US | |
| 33X10.5R17LT | 118Q D | | | 65 psi | 21/32″ | 57 lbs | 17 | 7-9″ | 8.5″ | | 8.1″ | 33″ | | US | |
| 35X12.5R17LT | 111Q C | | | 35 psi | 21/32″ | 64 lbs | 17 | 8.5-11″ | 10″ | 12.5″ | NA | 34.8″ | 598 | US | |
| 37X12.5R17LT | 124Q D | | | 50 psi | 19/32″ | 72 lbs | 17 | 8.5-11″ | 10″ | 12.5″ | 9.8″ | 36.8″ | 565 | US | |
| 38X14.5R17LT | 121Q D | | | 50 psi | 19/32″ | 85 lbs | 17 | 10-12″ | 12″ | 14.7″ | 11.7″ | 37.8″ | 550 | US | |
| 40X13.5R17LT | 121Q C | | | 35 psi | 19/32″ | 86 lbs | 17 | 8.5-11″ | 11″ | 13.6″ | 10.1″ | 39.8″ | 522 | US | |
| LT275/65R18 | 113/110Q C | | | 50 psi | 19/32″ | 54 lbs | 18 | 7.5-9″ | 8″ | 11″ | 8.5″ | 32.3″ | 643 | US | |
| LT275/70R18 | 125/122Q E | | | 80 psi | 19/32″ | 62 lbs | 18 | 7-8.5″ | 8″ | 11″ | 8.7″ | 33.4″ | 621 | US | |
| LT285/75R18 | 129/126P E | | | 80 psi | 19/32″ | 65 lbs | 18 | 7.5-9.5″ | 8.5″ | 11.3″ | 9″ | 35.1″ | 592 | US | |
| LT295/70R18 | 129/126Q E | | | 80 psi | 18/32″ | 68 lbs | 18 | 7.5-10″ | 8.5″ | 11.8″ | 9.6″ | 34.8″ | 598 | US | |
| 33X10.5R18LT | 116Q D | | | 65 psi | 21/32″ | 56 lbs | 18 | 7-9″ | 8.5″ | 10.5″ | 8″ | 32.5″ | | US | |
| 35X12.5R18LT | 123Q E | | | 65 psi | 18/32″ | 70 lbs | 18 | 8.5-11″ | 10″ | 12.5″ | 10.3″ | 34.8″ | | US | |
| 37X13.5R18LT | 124Q D | | | 50 psi | 21/32″ | 76 lbs | 18 | 8.5-11″ | 11″ | 13.6″ | 9.8″ | 37″ | 566 | US | |
| LT275/65R20 | 126/123Q E | | | 80 psi | 19/32″ | 62 lbs | 20 | 7.5-9.5″ | 8″ | 11″ | NA | 34.3″ | 605 | US | |
| LT285/65R20 | 127/124Q E | | | 80 psi | 19/32″ | 63 lbs | 20 | 8-10″ | 8.5″ | 11.5″ | NA | 34.8″ | 597 | US | |
| 33X12.5R20LT | 114Q E | | | 65 psi | 18/32″ | 64 lbs | 20 | 8.5-11″ | 10″ | 12.5″ | 10.1″ | 32.8″ | | US | |
| 35X12.5R20LT | 121Q E | | | 65 psi | 18/32″ | 71 lbs | 20 | 8.5-11″ | 10″ | 12.5″ | 10.5″ | 34.8″ | | US | |
| 37X12.5R20LT | 126Q E | | | 65 psi | 18/32″ | 72 lbs | 20 | 8.5-11″ | 10″ | 12.5″ | 9.8″ | 37.1″ | 566 | US | |