Decent

On-/Off-Road All-Terrain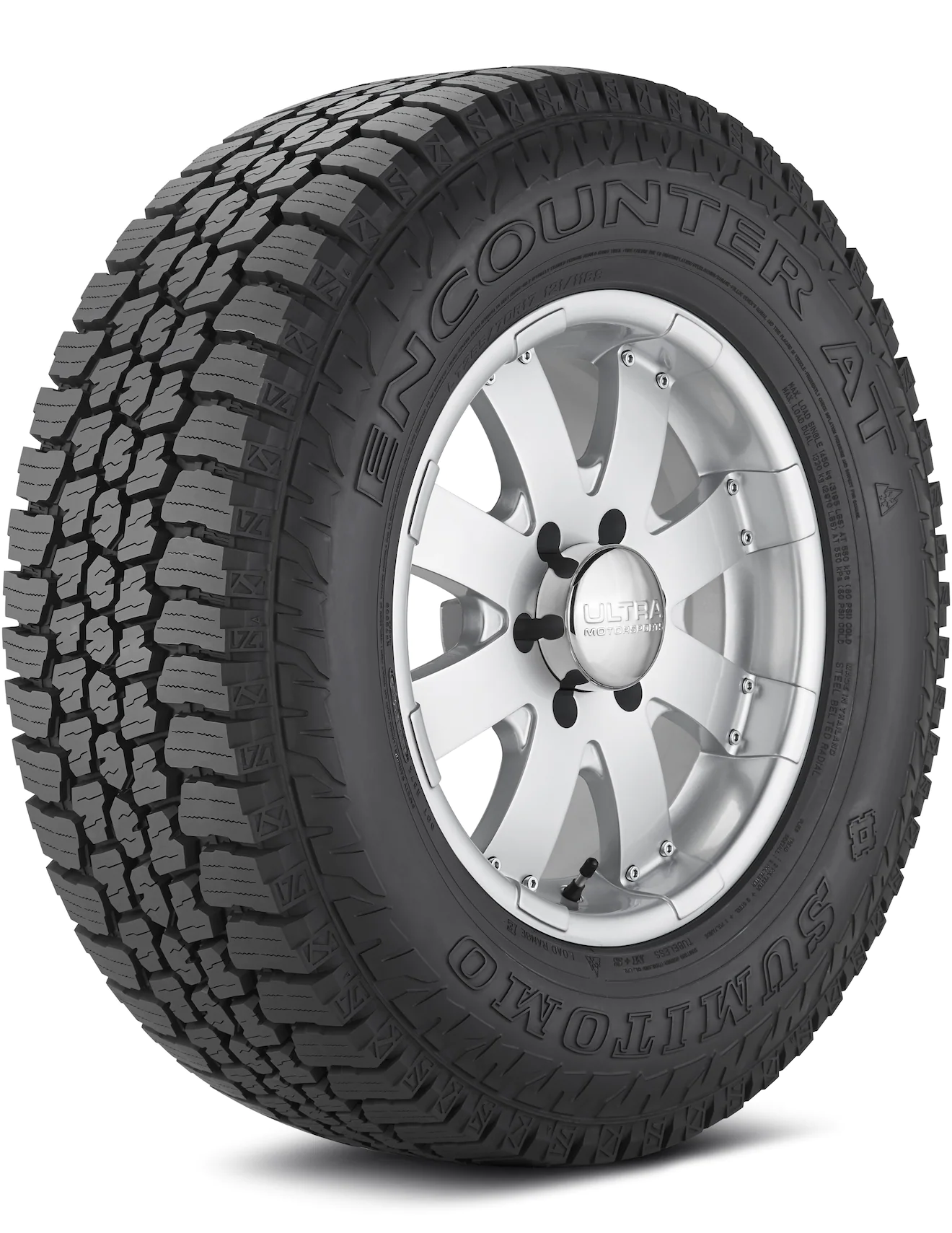 Strong sides
Cheaper than most all-terrain brands
Excellent wet and dry traction
Modest performance in different terrains with winter capabilities
Drive anywhere without compromising the comfort, safety, and durability of your tires. That may seem like a tall order. Fortunately, Sumitomo Encounter AT all-terrain tire permits you to navigate any kind of road.
The Japanese Company Sumitomo has made a mark for itself in the all-terrain tire market by introducing Encounter AT tires. This review uncovers the specs and design features that enable these affordable tires to conquer the rough terrains and still offer remarkable highway performance.
The tires are available in sizes between 15 and 20-inch wheel diameters, thus being an excellent choice for SUVs, Crossovers, and pickup trucks.
Sumitomo Encounter AT outperforms 95% of tires in the On-/Off-Road All-Terrain category.
What are the features of the Sumitomo Encounter A/T?
The tire tread is molded from an all-terrain, wear-resistant compound to enhance performance on most surfaces. The tires have a rugged tread pattern that gives them an aggressive look.
To boost the traction capabilities of the tire, Sumitomo uses an open tread design on Encounter A/T. It has open shoulders and center blocks that contain stepped edges. The open shoulders are vital for enhancing the stability of the tires over different driving speeds.
Sumitomo Encounter A/T tires feature wide circumferential grooves (four), utilized for evacuating surface runoffs. Sufficient water expulsion protects the vehicle against hydroplaning. The four circumferential grooves and well-positioned block sipes increase the biting edges to navigate slippery or snowy roads. 
Encounter A/T tires, tailored for winter use, have independent tread blocks and sets of zigzagging sipes in their shoulders to increase their snow traction capabilities. To reinforce the tires for a superb off-roading experience, Sumitomo constructs the internal casing of Encounter A/T using two-ply polyester strips.
They also use a pair of high-strength steel belts. Spiraling nylon reinforcements form part of tire stabilizers and improve the comfort capabilities of Sumitomo Encounter A/T.
How long does the Sumitomo Encounter AT tire last? 
Like most brands, Sumitomo has proven itself as a company that manufactures long-lasting tire products. This is reflected in their warranty policies. For instance, the company offers a limited tread life warranty for five years after purchase or the first 60,000 miles of tire operation.
The uniformity warranty covers the initial 2/32" of the tread wear. It also comes with a workmanship and material defect warranty that lasts for five years after purchase. Customers enjoy a 30-day free return policy on all tire products.
Encounter A/T tires have standard tread wear indicators in the form of small rubber strips embedded in circumferential grooves.
Off-road performance
The symmetric tread patterns on Sumitomo Encounter A/T tires contribute to improved traction capabilities to permit off-road navigation. Wide tread blocks, deep grooves, and sipes provide extra contact surfaces that increase the tires' traction on dirt and sandy roads. These design features assist the tires in driving through moderately muddy roads.
Encounter A/T tires have well-positioned stone ejectors to expel debris from the tire's grooves, ensuring that a sufficient footprint is retained when driving on hard-packed or gravel roads.
Rocky roads do not pose much of a challenge for Sumitomo Encounter A/T tires. However, performance levels drop as the size of rocks grows. The rigid internal construction provides the tires with sufficient protection against punctures by abrasive surfaces, chips, and stone cuts.
Wet performance
Encounter A/T tires have a set of four deep grooves and large lateral channels between blocks to allow efficient evacuation of surface runoffs. It protects the vehicle against hydroplaning and improves the braking capabilities.
The tires come with additional lateral grooves that extend the effective biting edges to enhance grip on the road. Large tread blocks ensure that the tires retain a continuous yet sufficient footprint on the wet road surface.
With sufficient wet traction, drivers can handle their vehicles with ease. The tires remain responsive on wet and slippery roads and do not pose any challenges when cornering.
Dry performance
Sumitomo Encounter A/T performs well on dry pavements. The tread compound is molded to form symmetrical tread patterns that maximize the contact surface areas of the tires.
Encounter A/T tires grip firmly on the road and maintain excellent highway stability to allow high-speed driving.
By keeping an even footprint on the road, driving becomes predictable. Braking occurs over short distances, and responsiveness to steering controls is crisp.
Overall, predictable handling and shorter braking distances make these tires safe at high speed, dry surface driving.
Comfort performance
All-terrain tires have an aggressive look which partly impedes noise control and ride comfort capabilities. Sumitomo Encounter A/T faces the same challenges. Much focus has been placed on off-roading capabilities.
On the highway, the tires are a little noisy. The roar of the tread as it hits the tarmac can be heard within the vehicle. At lower speeds, the noise levels are lower. In terms of ride comfort and quality, the tires are likely to conform to surface irregularities.
They transfer vibrations and surface shocks from the roads onto the car compartment. For an affordable, all-terrain tire, the quality of the ride and the noise levels are within manageable limits.
Winter&snow performance
Encounter A/T tires have large tread blocks on the shoulder of the tire. They are complemented by 3D sipes and zigzag grooves, which guarantee sufficient biting edges to provide the extra grip and traction needed to wade over light snow. Traction is sufficient; tires remain responsive to steering and offer predictable handling.
Sumitomo Encounter A/T is not a winter tire but exhibits modest capabilities when used for winter driving.
Are Sumitomo Encounter AT good? 
Sumitomo Encounter A/T is a competitively priced all-terrain tire with good off-road and highway performance. The tires are stable, have good traction, and can perform favorably in winter conditions. If you are looking to purchase an all-terrain tire at an affordable budget, you should consider Sumitomo Encounter A/T.
Tire sizes & specifications
| Tire size | Load index/ Speed rating | UTQG | Max load | Max Inflation | Tread Depth | Tire Weight | Wheel Diameter | Rim Width Range | Measured Rim Width | Section Width | Tread Width | Overall Diameter | Revs Per Mile | Country | |
| --- | --- | --- | --- | --- | --- | --- | --- | --- | --- | --- | --- | --- | --- | --- | --- |
| 235/75R15 | 105T SL | 660 A B | | 51 psi | 12/32″ | 35 lbs | 15 | 6-8″ | 6.5″ | 9.2″ | 7.5″ | 29″ | 729 | TH | |
| 235/75R15 | 109T XL | 660 A B | | 50 psi | 13/32″ | 35 lbs | 15 | 6-8″ | 6.5″ | 9.3″ | 7.5″ | 29″ | 729 | TH | |
| 31X10.5R15LT | 109R C | | | 50 psi | 17/32″ | 50 lbs | 15 | 7-9″ | 8.5″ | 10.8″ | 8.4″ | 30.4″ | 697 | TH | |
| LT225/75R16 | 115/112R E | | | 80 psi | 16/32″ | 41 lbs | 16 | 6-7″ | 6″ | 8.6″ | 7.2″ | 29.3″ | 713 | TH | |
| 235/70R16 | 106T SL | 660 A B | | 51 psi | 12/32″ | 38 lbs | 16 | 6-8″ | 7″ | 9.4″ | 7.9″ | 29″ | 729 | TH | |
| LT235/85R16 | 120/116R E | | | 80 psi | 17/32″ | 45 lbs | 16 | 6-7.5″ | 6.5″ | 9.4″ | 7.3″ | 31.7″ | 658 | TH | |
| 245/70R16 | 107T SL | 660 A B | | 51 psi | 12/32″ | 40 lbs | 16 | 6.5-8″ | 7″ | 9.8″ | 8.2″ | 29.7″ | 714 | TH | |
| LT245/75R16 | 120/116R E | | | 80 psi | 17/32″ | 47 lbs | 16 | 6.5-8″ | 7″ | 9.7″ | 7.7″ | 30.3″ | 688 | TH | |
| 245/75R16 | 111T SL | 660 A B | | 51 psi | 12/32″ | 39 lbs | 16 | 6.5-8″ | 7″ | 9.7″ | 7.8″ | 30.5″ | 694 | TH | |
| 255/70R16 | 111T SL | 660 A B | | 51 psi | 12/32″ | 42 lbs | 16 | 6.5-8.5″ | 7.5″ | 10.1″ | 8.5″ | 30.2″ | 701 | TH | |
| 265/70R16 | 112T SL | 660 A B | | 51 psi | 13/32″ | 46 lbs | 16 | 7-9″ | 8″ | 10.8″ | 8.9″ | 30.8″ | 689 | TH | |
| 265/75R16 | 116T SL | 660 A B | | 51 psi | 12/32″ | 46 lbs | 16 | 7-9″ | 7.5″ | 10.6″ | 8.4″ | 31.7″ | 669 | TH | |
| LT265/75R16 | 123/120R E | | | 80 psi | 17/32″ | 55 lbs | 16 | 7-8″ | 7.5″ | 10.5″ | 8.4″ | 31.5″ | 664 | TH | |
| LT285/75R16 | 126/123R E | | | 80 psi | 18/32″ | 61 lbs | 16 | 7.5-9″ | 8″ | 11.3″ | 9.1″ | 32.7″ | 640 | TH | |
| 235/70R17 | 108T XL | 660 A B | | 50 psi | 12/32″ | 40 lbs | 17 | 6-8″ | 7″ | 9.4″ | 7.9″ | 30.1″ | 700 | TH | |
| 235/75R17 | 109T SL | 660 A B | | 51 psi | 12/32″ | 40 lbs | 17 | 6-8″ | 6.5″ | 9.3″ | 7.5″ | 31.3″ | 674 | TH | |
| LT235/80R17 | 120/117R E | | | 80 psi | 17/32″ | 47 lbs | 17 | 6-7.5″ | 6.5″ | 9.1″ | 7.2″ | 31.8″ | 655 | TH | |
| 245/65R17 | 107T SL | 660 A B | | 51 psi | 12/32″ | 39 lbs | 17 | 7-8.5″ | 7″ | 9.6″ | 8.4″ | 29.6″ | 719 | TH | |
| 245/70R17 | 110T SL | 660 A B | | 51 psi | 12/32″ | 42 lbs | 17 | 6.5-8″ | 7″ | 9.8″ | 8.2″ | 30.7″ | 689 | TH | |
| LT245/70R17 | 119/116S E | | | 80 psi | 17/32″ | 49 lbs | 17 | 6.5-8″ | 7″ | 9.8″ | 8.3″ | 30.8″ | 676 | TH | |
| LT245/75R17 | 121/118R E | | | 80 psi | 17/32″ | 49 lbs | 17 | 6.5-7.5″ | 7″ | 9.6″ | 7.7″ | 31.7″ | 659 | TH | |
| 255/65R17 | 110T SL | 660 A B | | 51 psi | 12/32″ | 42 lbs | 17 | 7-9″ | 7.5″ | 10.2″ | 8.6″ | 30.1″ | 707 | TH | |
| 255/70R17 | 112T SL | 660 A B | | 51 psi | 12/32″ | 43 lbs | 17 | 6.5-8.5″ | 7.5″ | 10.2″ | 8.5″ | 31.1″ | 679 | TH | |
| 265/65R17 | 112T SL | 660 A B | | 51 psi | 12/32″ | 43 lbs | 17 | 7.5-9.5″ | 8″ | 10.6″ | 9″ | 30.6″ | 697 | TH | |
| LT265/70R17 | 121/118S E | | | 80 psi | 17/32″ | 54 lbs | 17 | 7-8.5″ | 8″ | 10.8″ | 8.9″ | 31.9″ | 653 | TH | |
| 265/70R17 | 115T SL | 660 A B | | 51 psi | 13/32″ | 46 lbs | 17 | 7-9″ | 8″ | 10.8″ | 8.9″ | 31.7″ | 666 | TH | |
| LT285/70R17 | 121/118S E | | | 80 psi | 18/32″ | 60 lbs | 17 | 7.5-9″ | 8.5″ | 11.9″ | 9.6″ | 32.8″ | 637 | TH | |
| P285/70R17 | 117T SL | 660 A B | | 51 psi | 13/32″ | 52 lbs | 17 | 7.5-9.5″ | 8.5″ | 11.6″ | 9.6″ | 32.9″ | 645 | TH | |
| LT315/70R17 | 121/118S E | | | 65 psi | 19/32″ | 74 lbs | 17 | 8-11″ | 9.5″ | 13″ | 10.4″ | 34.7″ | 604 | TH | |
| 255/70R18 | 113T SL | 660 A B | | 51 psi | 12/32″ | 46 lbs | 18 | 6.5-8.5″ | 7.5″ | 10.2″ | 8.6″ | 32.2″ | 654 | TH | |
| 265/60R18 | 110T SL | 660 A B | | 51 psi | 12/32″ | 43 lbs | 18 | 7.5-9.5″ | 8″ | 10.5″ | 9″ | 30.6″ | 694 | TH | |
| 265/65R18 | 114T SL | 660 A B | | 51 psi | 12/32″ | 45 lbs | 18 | 7.5-9.5″ | 8″ | 10.6″ | 9.1″ | 31.5″ | 675 | TH | |
| LT265/70R18 | 124/121S E | | | 80 psi | 17/32″ | 59 lbs | 18 | 7-9″ | 8″ | 10.9″ | 8.9″ | 32.8″ | 634 | TH | |
| 265/70R18 | 116T SL | 660 A B | | 51 psi | 13/32″ | 49 lbs | 18 | 7-9″ | 8″ | 10.7″ | 8.9″ | 32.8″ | 644 | TH | |
| 275/65R18 | 116T SL | 660 A B | | 51 psi | 13/32″ | 51 lbs | 18 | 7.5-9.5″ | 8″ | 10.8″ | 9.3″ | 32.1″ | 662 | TH | |
| LT275/65R18 | 123/120S E | | | 80 psi | 18/32″ | 58 lbs | 18 | 7.5-9″ | 8″ | 10.8″ | 9.4″ | 32.1″ | 651 | TH | |
| LT275/70R18 | 125/122S E | | | 80 psi | 18/32″ | 62 lbs | 18 | 7-8.5″ | 8″ | 11.1″ | 9.3″ | 33.4″ | 624 | TH | |
| LT285/65R18 | 125/122S E | | | 80 psi | 18/32″ | 62 lbs | 18 | 8-10″ | 8.5″ | 11.4″ | 9.7″ | 32.5″ | 644 | TH | |
| LT325/65R18 | 127/124R E | | | 65 psi | 19/32″ | 78 lbs | 18 | 9-12″ | 9.5″ | 13.2″ | 11.1″ | 34.7″ | 604 | TH | |
| LT265/60R20 | 121/118R E | | | 80 psi | 17/32″ | 55 lbs | 20 | 7.5-9.5″ | 8″ | 10.2″ | 9″ | 32.7″ | 636 | TH | |
| 275/55R20 | 117T XL | 660 A B | | 50 psi | 12/32″ | 48 lbs | 20 | 7.5-9.5″ | 8.5″ | 10.9″ | 9.4″ | 31.9″ | 661 | TH | |
| 275/60R20 | 115T SL | 660 A B | | 51 psi | 12/32″ | 49 lbs | 20 | 7.5-9.5″ | 8″ | 10.8″ | 9.3″ | 33″ | 640 | TH | |
| LT275/65R20 | 126/123S E | | | 80 psi | 18/32″ | 63 lbs | 20 | 7.5-9.5″ | 8″ | 10.8″ | 9.5″ | 34.2″ | 611 | TH | |
| LT285/55R20 | 121/119R E | | | 80 psi | 18/32″ | 59 lbs | 20 | 8-10″ | 9″ | 11.3″ | 10″ | 32.5″ | 640 | TH | |
| LT285/60R20 | 125/122R E | | | 80 psi | 18/32″ | 62 lbs | 20 | 8-10″ | 8.5″ | 11.3″ | 9.6″ | 33.5″ | 622 | TH | |
| LT305/55R20 | 121/118S E | | | 65 psi | 18/32″ | 67 lbs | 20 | 8.5-11″ | 9.5″ | 12.3″ | 10.7″ | 33.2″ | 628 | TH | |
| LT325/60R20 | 121/118S D | | | 50 psi | 19/32″ | 79 lbs | 20 | 9-12″ | 9.5″ | 12.8″ | 11.3″ | 35.4″ | 589 | TH | |
| 35X12.5R20LT | 121Q E | | | 65 psi | 19/32″ | 75 lbs | 20 | 8.5-11″ | 10″ | 12.9″ | 11″ | 34.7″ | 604 | TH | |