Decent

Ultra High Performance All-Season

The Goodyear Eagle Exhilarate is a great example of an excellent dry and wet traction tire. Although snow and ice grip may not be the strongest sides of the tire, its good tread reliability, ride comfort, and price make it worth buying.
Goodyear Eagle Exhilarate Tread Pattern & Technical Specs
The Eagle Exhilarate is Goodyear's Ultra High-Performance All-Season tire created for drivers of contemporary muscle cars, sports sedans, and sporty coupes who are searching for tires that deliver precise handling and grip on high speeds in dry conditions along with decent weather traction, including rain and light snow.
The Eagle Exhilarate is an all-season compound that is molded into an asymmetric, five-rib tread pattern. The combination of ActiveBraking Technology, which uses an innovative tread block design to enhance and improve contact with the road during hard braking, and Goodyear's ActiveGrip Technology, which ensures even pressure distribution in the footprint, results in better handling and braking traction in both dry and wet conditions.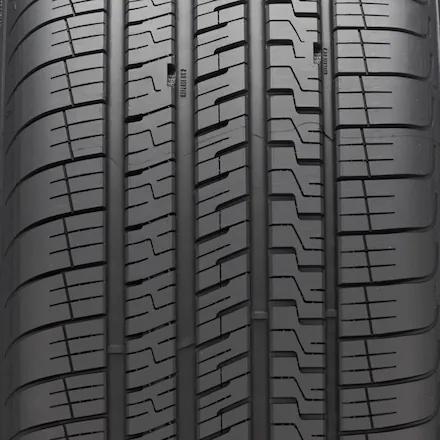 Wide lateral notches and four circumferential grooves remove water from the footprint to assist hydroplaning resistance, while the high-silica tread compound enhances wet traction. The tread pattern's sipes and grooves help in enhancing traction in slick situations, including ice and in light snow.
The Eagle Exhilarate's internal structure comprises a two-ply polyester cord casing, lightweight steel belt wire, and strengthening plies made of polyamide and polyester to boost high-speed capability.
Wet performance
The Goodyear Eagle Exhilarate tires are designed for excellent wet performance, offering great traction and hydroplaning resistance on the wet surface even at highway speeds. These tires also handle well in tight corners, making them a great choice for those who want superb handling in rainy conditions.
Dry performance
The Goodyear Eagle Exhilarate offers amazing summer performance, making it a great choice for an All-Season tire. The dry traction is great, with no torque steer with excellent cornering stability. The steering response is noteworthy; the car corners much better and feels more responsive to driver input.
Comfort performance
The Goodyear Eagle Exhilarate provides good ride comfort with improved steering response, cornering alongside lower road noise. However, the tires may generate some noise on rough pavement and highway roads. Overall, the noise level of the Goodyear Eagle Exhilarate is acceptable.
Winter & Snow performance
The Goodyear Eagle Exhilarate is a tire that can be used in winter. It offers satisfactory traction and control on light snow and ice surfaces. However, this tire is not a good choice for everyday usage in winter due to its low wintertime capabilities.
Summary
The Goodyear Eagle Exhilarate is a great tire for those who are looking for excellent grip and handling on dry and wet surfaces. It also has a good tread life, making it a nice choice for those who want a reliable tire for their car. However, winter driving is not the strongest side of the tire, as it does not have good traction in snow and ice.
Additionally, it is quite noisy on rough pavement highway roads. If you are looking for a tire that is good in wet and dry with good dire comfort, the Goodyear Eagle Exhilarate is a great choice.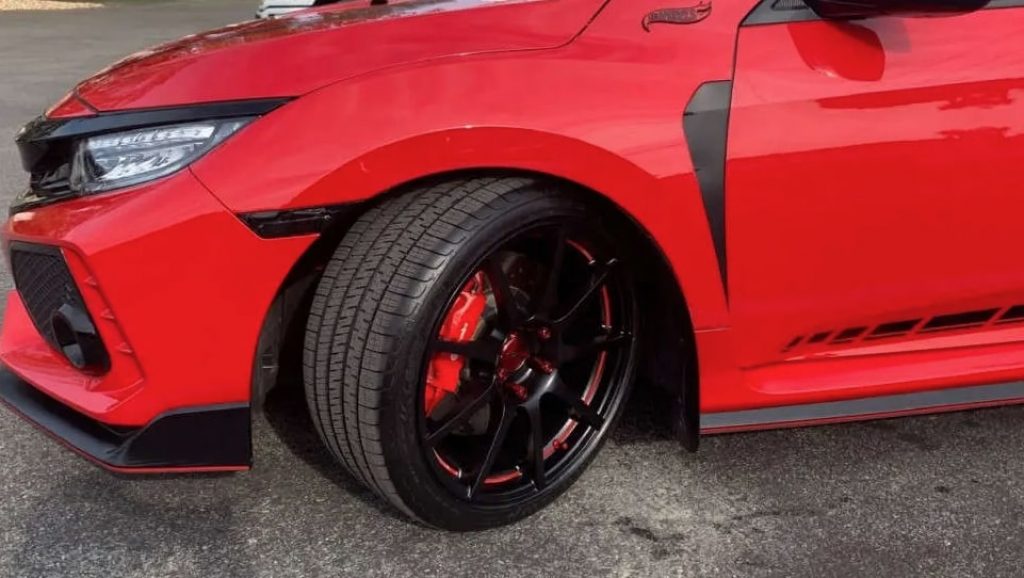 Tire sizes & specifications
| Tire size | Load index/ Speed rating | UTQG | Max load | Max Inflation | Tread Depth | Tire Weight | Wheel Diameter | Rim Width Range | Measured Rim Width | Section Width | Tread Width | Overall Diameter | Revs Per Mile | Country | |
| --- | --- | --- | --- | --- | --- | --- | --- | --- | --- | --- | --- | --- | --- | --- | --- |
| 215/45ZR17 | 91W XL | 500 AA A | | 50 psi | 10/32″ | 21 lbs | 17 | 7-8″ | 7″ | 8.4″ | 7.1″ | 24.7″ | 848 | US | |
| 225/45R17 | 94W XL | 500 AA A | | 50 psi | 10/32″ | 21 lbs | 17 | 7-8.5″ | 7.5″ | 8.9″ | 7.4″ | 25″ | 837 | US | |
| 245/45ZR17 | 99Y XL | 500 AA A | | 50 psi | 10/32″ | 24 lbs | 17 | 7.5-9″ | 8″ | 9.6″ | 8.1″ | 25.7″ | 814 | US | |
| 225/40R18 | 92Y XL | 500 AA A | | 50 psi | 10/32″ | 22 lbs | 18 | 7.5-9″ | 8″ | 9.1″ | 7.6″ | 25.1″ | 833 | US | |
| 225/45ZR18 | 95Y XL | 500 AA A | | 50 psi | 10/32″ | 24 lbs | 18 | 7-8.5″ | 7.5″ | 8.9″ | 7.4″ | 25.9″ | 806 | US | |
| 225/50ZR18 | 95W SL | 500 AA A | | 51 psi | 10/32″ | 24 lbs | 18 | 6-8″ | 7″ | 9.2″ | 7.3″ | 26.9″ | 777 | US | |
| 235/40ZR18 | 95Y XL | 500 AA A | | 50 psi | 10/32″ | 23 lbs | 18 | 8-9.5″ | 8.5″ | 9.5″ | 8″ | 25.4″ | 823 | US | |
| 245/35R18 | 92Y XL | 500 AA A | | 50 psi | 10/32″ | 23 lbs | 18 | 8-9.5″ | 8.5″ | 9.8″ | 8.4″ | 24.8″ | 844 | US | |
| 245/40R18 | 97Y XL | 500 AA A | | 50 psi | 10/32″ | 24 lbs | 18 | 8-9.5″ | 8.5″ | 9.8″ | 8.2″ | 25.7″ | 813 | US | |
| 245/45ZR18 | 100Y XL | 500 AA A | | 50 psi | 10/32″ | 25 lbs | 18 | 7.5-9″ | 8″ | 9.6″ | 7.9″ | 26.7″ | 784 | US | |
| 255/35ZR18 | 94Y XL | 500 AA A | | 50 psi | 10/32″ | 25 lbs | 18 | 8.5-10″ | 9″ | 10.2″ | 8.9″ | 25″ | 836 | US | |
| 255/40R18 | 99Y XL | 500 AA A | | 50 psi | 10/32″ | 26 lbs | 18 | 8.5-10″ | 9″ | 10.2″ | 8.6″ | 26″ | 803 | US | |
| 275/35R18 | 95Y SL | 500 AA A | | 51 psi | 10/32″ | 26 lbs | 18 | 9-11″ | 9.5″ | 10.9″ | 9.3″ | 25.6″ | 818 | US | |
| 275/40ZR18 | 99Y SL | 500 AA A | | 51 psi | 10/32″ | 27 lbs | 18 | 9-11″ | 9.5″ | 10.9″ | 9.2″ | 26.7″ | 784 | US | |
| 225/40R19 | 93Y XL | 500 AA A | | 50 psi | 10/32″ | 23 lbs | 19 | 7.5-9″ | 8″ | 9.1″ | 7.8″ | 26.1″ | 801 | US | |
| 225/45R19 | 96W XL | 500 AA A | | 50 psi | 10/32″ | 24 lbs | 19 | 7-8.5″ | 7.5″ | 8.9″ | 7.4″ | 27″ | 775 | US | |
| 235/35ZR19 | 91Y XL | 500 AA A | | 50 psi | 10/32″ | 24 lbs | 19 | 8-9.5″ | 8.5″ | 9.5″ | 8.2″ | 25.5″ | 821 | US | |
| 235/40R19 | 96Y XL | 500 AA A | | 50 psi | 10/32″ | 24 lbs | 19 | 8-9.5″ | 8.5″ | 9.5″ | 8.1″ | 26.4″ | 791 | US | |
| 245/35R19 | 93Y XL | 500 AA A | | 50 psi | 10/32″ | 25 lbs | 19 | 8-9.5″ | 8.5″ | 9.8″ | 8.2″ | 25.8″ | 810 | US | |
| 245/40R19 | 98Y XL | 500 AA A | | 50 psi | 10/32″ | 26 lbs | 19 | 8-9.5″ | 8.5″ | 9.8″ | 8.2″ | 26.7″ | 782 | US | |
| 245/45ZR19 | 102Y XL | 500 AA A | | 50 psi | 10/32″ | 26 lbs | 19 | 7.5-9″ | 8″ | 9.6″ | 8″ | 27.7″ | 755 | US | |
| 245/50R19 | 105W XL | 500 AA A | | 50 psi | 10/32″ | 29 lbs | 19 | 7-8.5″ | 7.5″ | 10″ | 7.9″ | 28.7″ | 728 | US | |
| 255/35ZR19 | 96Y XL | 500 AA A | | 50 psi | 10/32″ | 26 lbs | 19 | 8.5-10″ | 9″ | 10.2″ | 8.8″ | 26″ | 803 | US | |
| 255/40ZR19 | 100Y XL | 500 AA A | | 50 psi | 10/32″ | 27 lbs | 19 | 8.5-10″ | 9″ | 10.2″ | 8.5″ | 27.1″ | 773 | US | |
| 255/45ZR19 | 104Y XL | 500 AA A | | 50 psi | 10/32″ | 27 lbs | 19 | 8-9.5″ | 8.5″ | 10″ | 8.3″ | 28.1″ | 745 | US | |
| 255/50R19 | 107W XL | 500 AA A | | 50 psi | 10/32″ | 29 lbs | 19 | 7-9″ | 8″ | 10.4″ | 8.1″ | 29.1″ | 718 | US | |
| 265/35ZR19 | 98Y XL | 500 AA A | | 50 psi | 10/32″ | 27 lbs | 19 | 9-10.5″ | 9.5″ | 10.7″ | 9″ | 26.3″ | 795 | US | |
| 275/35R19 | 100Y XL | 500 AA A | | 50 psi | 10/32″ | 27 lbs | 19 | 9-11″ | 9.5″ | 10.9″ | 9.6″ | 26.6″ | 787 | US | |
| 285/35ZR19 | 99Y SL | 500 AA A | | 51 psi | 10/32″ | 29 lbs | 19 | 9.5-11″ | 10″ | 11.4″ | 9.8″ | 26.9″ | 777 | US | |
| 245/40R20 | 99Y XL | 500 AA A | | 50 psi | 10/32″ | 27 lbs | 20 | 8-9.5″ | 8.5″ | 9.8″ | 8.4″ | 27.7″ | 754 | US | |
| 245/45ZR20 | 103Y XL | 500 AA A | | 50 psi | 10/32″ | 27 lbs | 20 | 7.5-9″ | 8″ | 9.6″ | 8″ | 28.7″ | 729 | US | |
| 265/35R20 | 99Y XL | 500 AA A | | 50 psi | 10/32″ | 29 lbs | 20 | 9-10.5″ | 9.5″ | 10.7″ | 9.2″ | 27.3″ | 765 | US | |
| 275/30ZR20 | 97Y XL | 500 AA A | | 50 psi | 10/32″ | 27 lbs | 20 | 9-10.5″ | 9.5″ | 10.9″ | 9.8″ | 26.5″ | 787 | US | |
| 275/35R20 | 102Y XL | 500 AA A | | 50 psi | 10/32″ | 29 lbs | 20 | 9-11″ | 9.5″ | 10.9″ | 9.4″ | 27.6″ | 758 | US | |
| 275/40R20 | 106Y XL | 500 AA A | | 50 psi | 10/32″ | 31 lbs | 20 | 9-11″ | 9.5″ | 10.9″ | 8.9″ | 28.7″ | 729 | US | |
| 275/45R20 | 110Y XL | 500 AA A | | 50 psi | 10/32″ | 32 lbs | 20 | 8.5-10.5″ | 9″ | 10.8″ | 8.9″ | 29.8″ | 702 | US | |