Exceptional

On-/Off-Road All-Terrain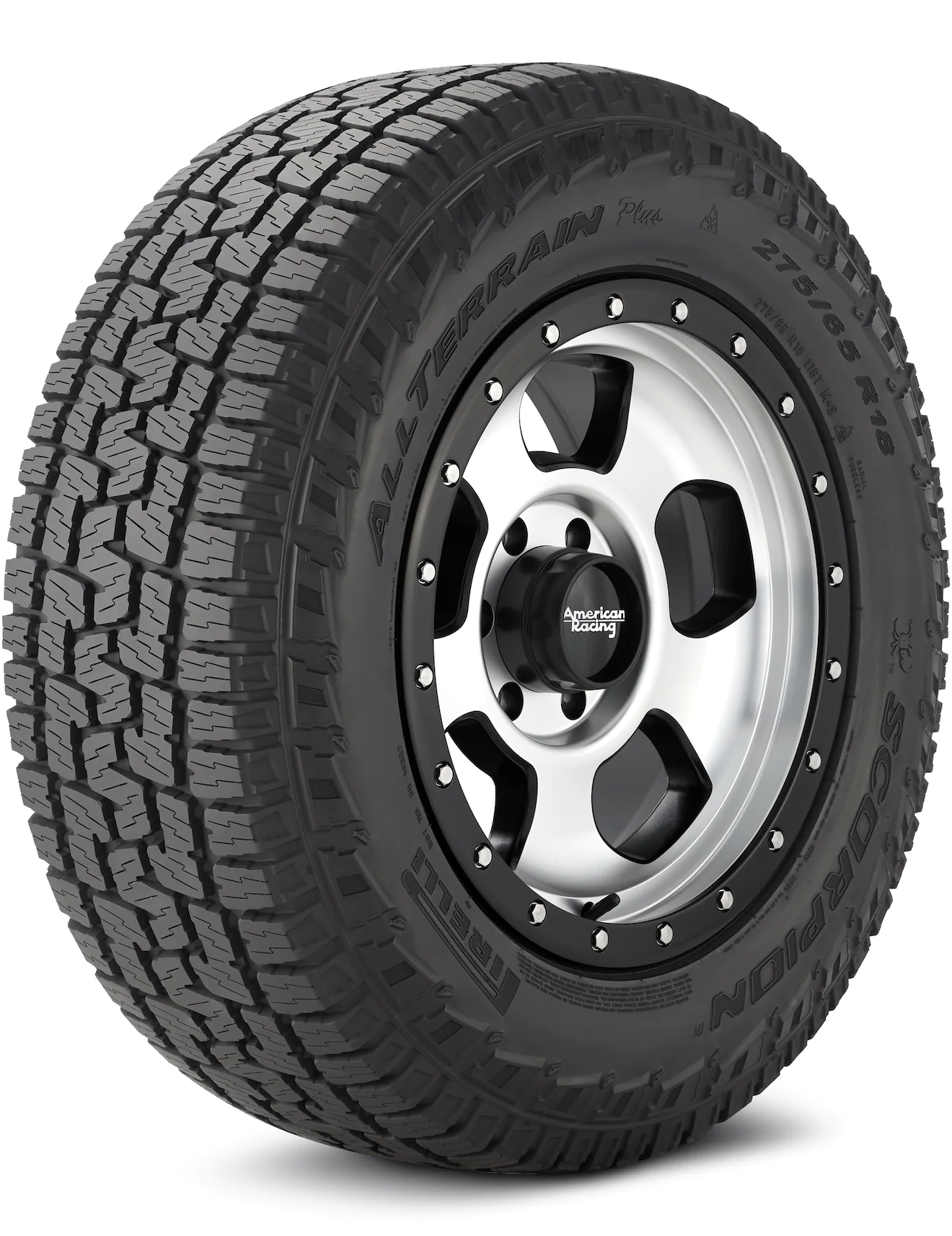 Strong sides
Superb traction over snowy and wet roads
Excellent defense against hydroplaning
Highly responsive to steering controls on dry surfaces
Excellent braking characteristics on wet and dry roads
Generally stable on the highway
Not so good
Relatively weaker sidewalls that can deflate on rough roads
A bit noisy on rough terrains
Pirelli Scorpion All Terrain Plus tires are designed to provide superb traction that conquers the rough off-roads while offering satisfactory highway handling, braking, and steering response. These tires are suitable for crossovers, SUVs, light trucks, and pickup trucks.
What makes these tires stand out in a market with diverse competitors? This review explores the design features, performance under different road conditions, and their tread life. Off-road driving experiences vary from highway driving.
Drivers have to balance vehicle performance with aspects such as handling and traction over the different roads. All-terrain tires guarantee optimal performance for high-speed highway driving and relatively slow off-road driving.
Pirelli Scorpion All Terrain Plus outperforms 100% of tires in the On-/Off-Road All-Terrain category.
What are the features of the Pirelli Scorpion All Terrain Plus?
To balance the highway and off-road performance of these tires, Pirelli incorporates several technologies. The tires have symmetric tread patterns with large voids and are made from abrasion-resistant compounds. It improves the resistance to chip damage. The tread patterns are optimized for noise cancellation, providing a silent and comfortable drive on the highways. The tread patterns provide an aggressive physical look that enhances off-road traction.
The tires are deeply grooved with several independent tread blocks to improve grip over loosely packed or muddy roads. Defense against hydroplaning has been boosted by using lateral notches and sipes that maximize water evacuation.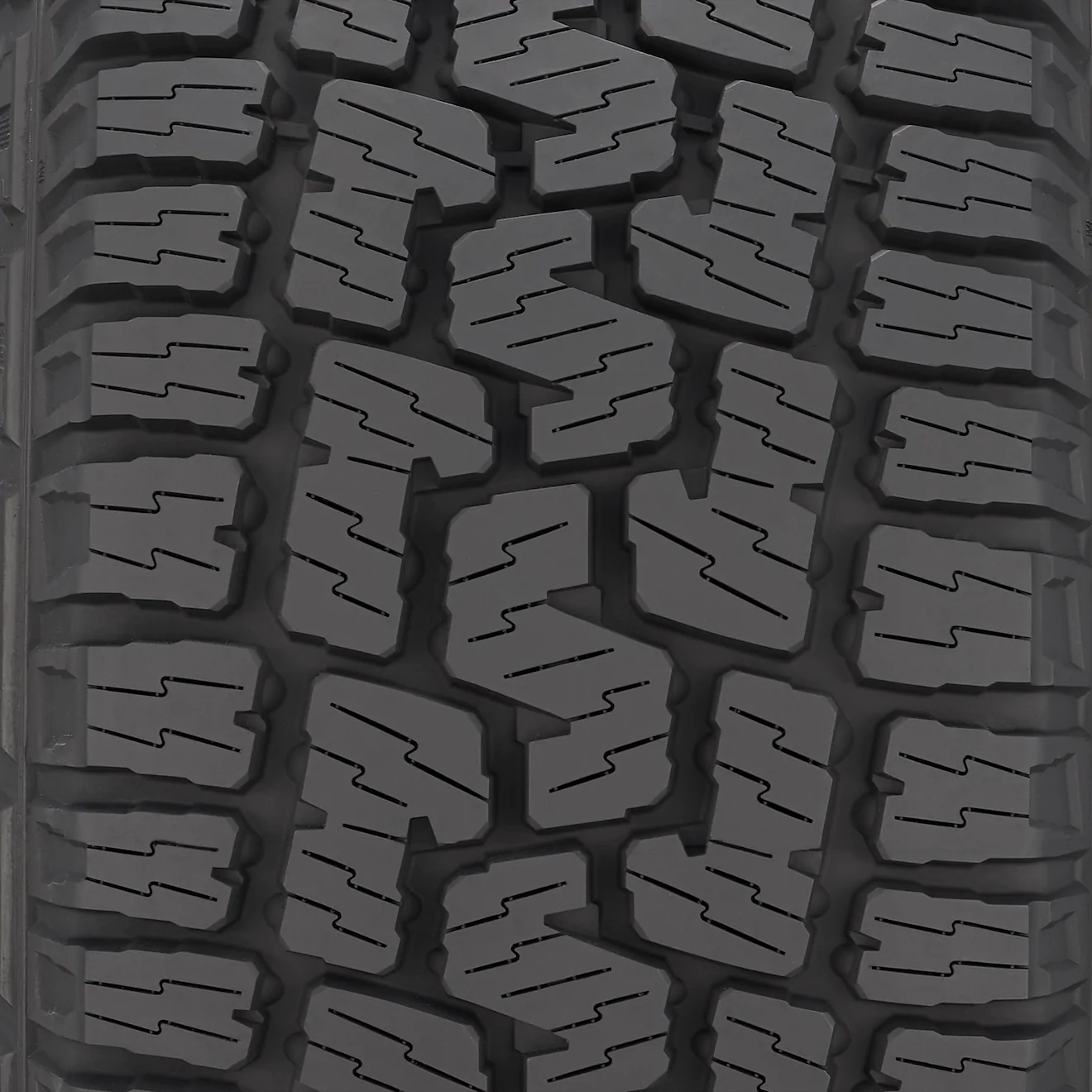 Scorpion All Terrain Plus tires are self-cleaning. They contain conically shaped ejectors that expel stone and debris to minimize punctures. The internal toughness and durability of the tires have been enhanced by incorporating polyester casings in their construction. Steel belts and nylon plies provide additional stability and improve the durability of the tires.
Using steel belts increases the load-bearing capacities of the tires. Nylon plies provide stability at high driving speeds to increase the overall safety of the tires. With sufficient rigidity, these tires offer a smooth, comfortable highway ride. They perform well across summer and winter seasons and feature the snowflake symbol.
How long does the Scorpion All Terrain Plus tire last?
Pirelli Scorpion All Terrain Plus tires have a 50,000-mile limited tread life warranty. Pirelli has a 30-day trial window implying that drivers can return verified purchases to official dealerships should they feel unsatisfied with their performance. The company covers repairs and replacements for defects stemming from manufacturing or poor workmanship for a maximum of one year or up to 2/32″ wear.
Pirelli tires have tread wear indicators that recess into the tread pattern. The indicators become visible as the tires wear. Replacement should be done once the wear indicators are flushing with the treads.
Off-road performance
Scorpion All Terrain Plus tires are engineered tough for the rough, dirty, or sandy off-roads. They perform excellently on hard, rough surfaces like gravel. The wide tread blocks enhance traction over uneven surfaces. The traction characteristics make the tires responsive to steering controls and improve the stability of the vehicle. 
The tires are self-cleaning and provide sufficient protection against puncturing by chips picked up from muddy or gravelly roads. The conically shaped ejectors ensure that the traction surfaces remain constant. Scorpion All Terrain Plus tires are easy to steer over mud. Performance diminishes as the depth of the mud increases. 
On the downside, the tires have a weaker sidewall toughness when compared to competing brands. They are likely to be punctured if driven over rocky roads.
Wet performance
The design of Pirelli Scorpion All Terrain Plus tires optimizes locations of lateral grooves and the open shoulders. The groove design permits quick expulsion of water on wet roads. The tires are generally safe for driving under moderate to heavy rainfall.
The treads of Scorpion All Terrain Plus tires are manufactured from Pirelli's unique tire compounds making the tires tough and increasing the gripping capabilities. It improves the tire's wet traction, making them responsive and easy to handle when driving on muddy or sticky roads. Scorpion All Terrain Plus tires have above average braking characteristics over slippery and muddy roads.
Dry performance
Pirelli Scorpion All Terrain Plus tires perform excellently on dry roads, irrespective of the driving speed. The aggressive tread patterns provide maximum traction, enhanced response to steering controls, and essay handling. The manufacturing compounds increase the stability of the tires at low and high speeds improving cornering characteristics.
When driving on the highways at high speed, the tires provide sufficient grip accompanied by on-road comfort. They align well to straight-line driving and tracking. The quality of dry road traction makes these tires highly responsive to braking.
Comfort performance
Although the tires contain some large, independent tread blocks, the symmetrical tread patterns have been designed to limit noise levels. When driving on the highway, it is hard to identify that Scorpion tires are all-terrain. They grip the road firmly and keep the road noises at a low level, improving the quality of the ride.
When driving off-road, the tires are noisy and impede the quality of the ride.
Winter&snow performance
Scorpion All Terrain Plus tires are generally safe when driving on light snow. They have sufficient traction to allow safe navigation and cornering on such roads. The independent tread blocks guarantee adequate traction on light snow.
When it comes to braking, the tires perform well but not as efficiently as winter tires. The braking distance is longer than that of snow tires. The deep-voided grooves provide sufficient biting edges when driving over ice, with lateral notches protecting against hydroplaning. 
Are Scorpion All Terrain Tires good?
The Scorpion All Terrain Plus tires perform well compared to competing brands. It provides sufficient traction for off-road driving and a balance of comfort and comfort for highway driving. For truck or SUV drivers, these are reliable tire alternatives to go after.
Pirelli Scorpion All Terrain Plus sizes & specifications
| Tire size | Load index/ Speed rating | UTQG | Max load | Max Inflation | Tread Depth | Tire Weight | Wheel Diameter | Rim Width Range | Measured Rim Width | Section Width | Tread Width | Overall Diameter | Revs Per Mile | Country | |
| --- | --- | --- | --- | --- | --- | --- | --- | --- | --- | --- | --- | --- | --- | --- | --- |
| 235/70R16 | 106T SL | 640 A B | | 44 psi | 13/32″ | 33 lbs | 16 | 6-8″ | 7″ | 9.4″ | 7.2″ | 29″ | | BR | |
| 245/70R16 | 111T XL | 640 A B | | 50 psi | 13/32″ | 34 lbs | 16 | 6.5-8″ | 7″ | 9.8″ | 7.6″ | 29.5″ | | BR | |
| LT245/75R16 | 120/116R E | | | 80 psi | 15/32″ | 45 lbs | 16 | 6.5-8″ | 7″ | 9.8″ | 7.7″ | 30.5″ | | BR | |
| 255/70R16 | 111T SL | 640 A B | | 44 psi | 13/32″ | 37 lbs | 16 | 6.5-8.5″ | 7.5″ | 10.2″ | 8.1″ | 30.1″ | | BR | |
| 265/70R16 | 112T SL | 640 A B | | 44 psi | 13/32″ | 40 lbs | 16 | 7-9″ | 8″ | 10.7″ | 8.3″ | 30.6″ | | BR | |
| LT265/75R16 | 123/120S E | | | 80 psi | 15.5/32″ | 49 lbs | 16 | 7-8″ | 7.5″ | 10.5″ | 8.3″ | 31.7″ | | BR | |
| 225/65R17 | 102H SL | 640 A B | | 51 psi | 13/32″ | 29 lbs | 17 | 6-8″ | 6.5″ | 9″ | 7.1″ | 28.5″ | | BR | |
| LT235/80R17 | 120/117R E | | | 80 psi | 15.5/32″ | 45 lbs | 17 | 6-7.5″ | 6.5″ | 9.3″ | 7″ | 31.8″ | | BR | |
| 245/65R17 | 111T XL | 640 A B | | 50 psi | 13/32″ | 36 lbs | 17 | 7-8.5″ | 7″ | 9.8″ | 8.1″ | 29.5″ | | BR | |
| 245/70R17 | 110T SL | 640 A B | | 44 psi | 13/32″ | 35 lbs | 17 | 6.5-8″ | 7″ | 9.8″ | 7.6″ | 30.6″ | | BR | |
| 265/70R17 | 115T SL | 640 A B | | 44 psi | 13/32″ | 41 lbs | 17 | 7-9″ | 8″ | 10.7″ | 8.3″ | 31.7″ | | BR | |
| LT265/70R17 | 121/118S E | | | 80 psi | 15.5/32″ | 48 lbs | 17 | 7-8.5″ | 8″ | 10.7″ | 8.4″ | 31.7″ | | BR | |
| LT285/70R17 | 121/118R D | | | 65 psi | 15/32″ | 55 lbs | 17 | 7.5-9″ | 8.5″ | 11.5″ | 9.3″ | 32.8″ | | BR | |
| LT315/70R17 | 121/118S E | | | 65 psi | 15.5/32″ | 62 lbs | 17 | 8-11″ | 9.5″ | 12.7″ | 9.9″ | 34.4″ | | BR | |
| 265/60R18 | 110H SL | 640 A B | | 51 psi | 13/32″ | 41 lbs | 18 | 7.5-9.5″ | 8″ | 10.7″ | 9.1″ | 30.5″ | | BR | |
| 265/65R18 | 114T SL | 640 A B | | 44 psi | 13/32″ | 40 lbs | 18 | 7.5-9.5″ | 8″ | 10.7″ | 8.7″ | 31.5″ | | BR | |
| 275/65R18 | 116T SL | 640 A B | | 44 psi | 13/32″ | 44 lbs | 18 | 7.5-9.5″ | 8″ | 11″ | 9.2″ | 32.1″ | | BR | |
| LT275/70R18 | 125/122S E | | | 80 psi | 15/32″ | 56 lbs | 18 | 7-8.5″ | 8″ | 11″ | 8.7″ | 33.2″ | | BR | |
| 275/55R20 | 113T SL | 640 A B | | 44 psi | 13/32″ | 43 lbs | 20 | 7.5-9.5″ | 8.5″ | 11.2″ | 9.5″ | 31.9″ | | BR | |
| 275/60R20 | 115T SL | 640 A B | | 44 psi | 13/32″ | 47 lbs | 20 | 7.5-9.5″ | 8″ | 11″ | 9.1″ | 33″ | | BR | |
| LT275/65R20 | 126/123S E | | | 80 psi | 15/32″ | 57 lbs | 20 | 7.5-9.5″ | 8″ | 11″ | 9.1″ | 34.1″ | | BR | |
| 285/55R20 | 122/119T E | | | 80 psi | 15.5/32″ | 58 lbs | 20 | 8-10″ | 9″ | 11.7″ | 9.9″ | 32.4″ | | BR | |