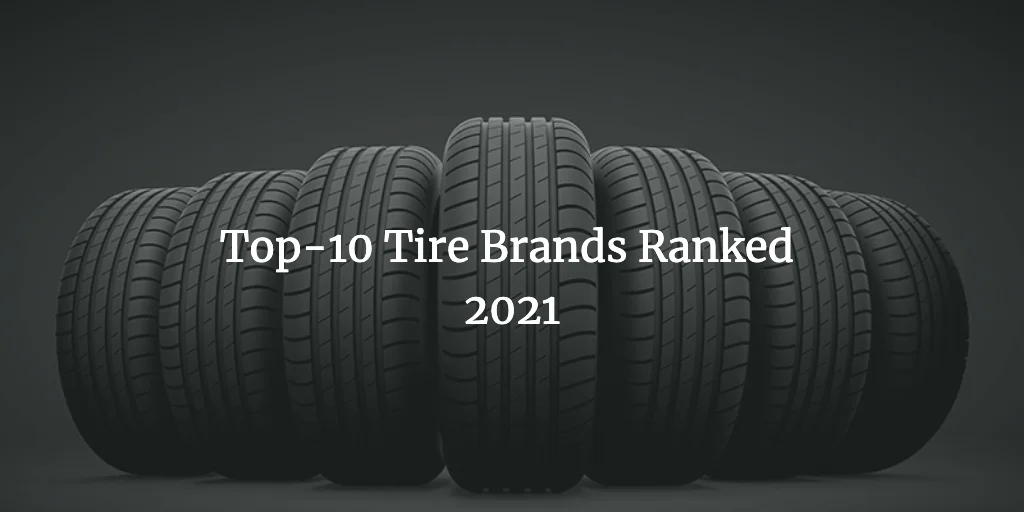 Tires are one of the most important aspects of a car, especially in terms of safety. That piece of rubber mounted on the rims provides traction, keeping your driving experience safe and maybe fun.
Considering the importance of tires, it is natural for car owners to aim for the best tire brands. In many cases, the process of purchasing a new set of tires begins with the brand. Most of us associate certain qualities of the tires with the brands. While it is true that some tire brands make better tires than others, things are much more complicated than that.
However you look at it, there isn't a perfect tire brand with the perfect models. There are some excellent choices, but they are not perfect. While some tire models excel in one area, they fall slightly short in another.  With that in mind, we reach today's topic.
Since there isn't a single tire brand for me to recommend, I will recommend 10 of them. The reason for this is that they have a unique set of advantages and disadvantages and it's impossible to pick one. So if you're on the lookout for a fresh pair of tires for your car, keep reading.
Michelin
In terms of popularity, Michelin is a tire brand that is usually on the top. The recognizable mascot has been in the hearts of car owners since 1889. During that time, the company has been producing tires for cars and planes and has plenty of experience in racing. With that in mind, it is natural to assume that it would provide an excellent set of tires for your everyday commute.
Michelin is the type of company that puts a lot of funds and effort into research and development. While it results in a higher price tag, you would get a lot in return. When buying a new set of Michelin tires, you can be sure that you get one of the best tire compounds on the market. On top of that, you will get a set of tires with no compromises.
Even though Michelin is a French tire brand, it has 19 plants throughout the US which employ well over 20 thousand people.
In terms of models, Michelin has a tire for every occasion, and here are the most widely used ones.
Michelin Defender – all-season tires
Michelin Premier – touring tires
Michelin Latitude – winter tires
Michelin LTX – off-road tires
Michelin Primacy – run-flat tires
Michelin Agilis – van tires
Michelin Pilot Sport – high-performance tires
Goodyear
Whenever someone mentioned Goodyear, people associate it with premium US-made tires and NASCAR, and with good reason. For well over 120 years, this American tire brand has been producing top quality tires for the streets and quite a lot for the race tracks.
In the early days, Goodyear was producing tires for bicycles, as cars weren't a thing at that time. As the popularity grew, so did the number of models, which brings us to today. Goodyear has tires for anything from lawnmowers, to cars and SUVs, to trucks and tractors.
The best thing about this company isn't the fact that there is a tire for every wheel, but it's the fact that they are some of the best ones. The company uses a state of the art technology to produce a rubber compound capable of long tread life.
Considering that Goodyear supplies racing tires for NASCAR and other motorsports, you can also expect excellent performance, combined with longevity.
Despite being a US-based tire brand, Goodyear has plants all over the world. In the US alone, there are 17 plants that employ several thousand workers.
Choosing the most popular models of each category is difficult because Goodyear has plenty, and none of them are bad.
Goodyear Assurance Fuel Max – all-season tires
Goodyear Wrangler SR-A – touring tires
Goodyear Ultra Grip Ice WRT – winter tires
Goodyear Wrangler Trailrunner AT – off-road tires
Goodyear Eagle F1 Asymmetric A/S ROF – run-flat tires
Goodyear Fierce Attitude M/T – mud tires
Goodyear Cargo – van tires
Goodyear Marathon – trailer tires
Goodyear Soft Trac – lawnmower and cart tires
Goodyear Sure Grip Lug I-3 – construction vehicle tires
Goodyear Power Torque – tractor tires
Continental
Next on the list is another European-based tire brand, Continental. Founded in Germany in 1871, this brand has established itself as a premium one, manufacturing tons of high-quality and performance tires.
Similar to most of the tire brands on this list, Continental has been making tires for road cars, vans, trucks, as well as racing. As a result, it is a company with a proven track record when it comes to durability and performance.
One thing that makes Continental stand from the premium tire brand crowd is the pricing. The tires are slightly cheaper than the competitors in this class while managing to keep the performance levels as high as possible.
In terms of plants and headquarters based in the US, Continental has one each. Despite being one of the oldest tire brands, the company doesn't have as many factories as some of the others. At the moment, there is only one headquarter and one plant in the US.
Continental has plenty of models and among the most popular ones are:
Continental TrueContact Tour – all-season tires
Continental ContiTrac – touring tires
Continental WinterContact SI – winter tires
Continental TerrainContact A/T – off-road tires
Continental ContiProContact SSR – run-flat tires
Continental VancoFourSeason – van tires
Continental CrossContact UHP – high performance tires
BF Goodrich
Moving away from the European brands for a minute, we reach BF Goodrich. This is a US-based company founded in 1870, with its headquarters based in Ohio. With over 150 years of experience under its belt, the company has provided car owners with excellent tires.
When it comes to performance, BF Goodrich is a tire brand that doesn't do compromise. The higher price means that you get to experience the tires made with the racing technology. Backed by engineers who are racing enthusiasts, this only enriches the heritage with tires designed by people who know what a driver wants, regardless of the application.
Considering that it is a US-based company, BF Goodrich didn't leave the country. At the moment, it has several plants across the states, meaning that if you are after US-made tires, BF Goodrich is the safest place to look.
One thing that BF Goodrich lacks is variety. Unlike other tire brands that have tires for vans or trucks, here you will find tires primarily aimed at passenger cars or SUVs. Below are the most popular models of most categories from this tire brand.
BF Goodrich Advantage T/A Sport – all-season tires
BF Goodrich Long Trail T/A Tour – touring tires
BF Goodrich Commercial T/A® Traction – winter tires
BF Goodrich All-Terrain T/A KO2 – off-road tires
BF Goodrich Mud-Terrain T/A KM 2 – mud tires
BF Goodrich g-Force™ COMP-2 A/S PLUS – high performance tires
Bridgestone
The Bridgestone company as we know it today came into existence in 1988. Before that, there were two companies, the Japan-based Bridgestone and the US-based Firestone. While both companies still exist today, they merged over 20 years ago, giving us one of the biggest tire manufacturers in the world.
Throughout its history, the company has been praised for several innovations that lead to tires being as we know them today. In the past, Bridgestone was the first company that developed the rayon cord tires. It also helped a lot in developing radial tires and shape them into what we regularly use today.
In recent years, Bridgestone can be credited for going green and help battle one of the world's biggest problems – pollution. During the manufacturing process, this tire brand focuses on reducing CO2 emissions as much as possible and utilizing energy from renewable resources.
While Bridgestone was a tire brand from Japan, in modern days, you can say that it is an American one. With multiple plants across the US, you can be sure that you are getting US-made tires.
The product lineup is extensive, and you have models for each occasion:
Bridgestone Ecopia EP422 – all-season tires
Bridgestone Dueler H/L 422 ECOPIA – touring tires
Bridgestone Blizzak WS80 – winter tires
Bridgestone Dueler A/T REVO 2 – off-road tires
Bridgestone Driveguard RFT – run-flat tires
Bridgestone Dueler H/P Sport – high performance tires
Cooper
Cooper's roots date back to 1914 in Ohio and have been spreading throughout the years, forming the company as it is today. One thing that makes Cooper stand out from the crowd is the lower prices for the models. Since day one, the company's goal was to produce quality tires at an affordable price. I must point out that even though Cooper makes cheaper tires, they are by no means terrible.
The company uses all the latest technologies and puts some real effort into making excellent tires. If you dive deep down, you may find that they lack ever so slightly behind the premium brands, but those are too small differences to notice for most drivers.
Despite not having the racing heritage like some of the other tire brands on this list, Cooper is very known, especially in the US. Being a local brand, most car owners decide to go for a set of domestic tires. With 4 plants in the US, 2 in Europe, and 1 in Latin America, it's not the biggest produces but sells tires worldwide.
For the most part, Cooper has models for passenger cars, and SUVs and the most popular ones are:
Cooper Evolution Tour – all-season tires
Cooper Evolution H/T – touring tires
Cooper Evolution Winter – winter tires
Cooper Discoverer AT3 XLT – off-road tires
Cooper Discoverer STT Pro – mud tires
Cooper Discoverer H/T Plus – high performance tires
Falken
Falken is the youngest brand on this list, and it has been on the market for less than 4 decades. Founded in Japan, the company quickly became one of the most popular tire brands on the market thanks to its lower price point and excellent quality and performance.
Even though Falken isn't on the market as long as some of the other tire brands, it still proves itself worthy of being on this list. As proof of that is the company's experience in racing. It's not as extensive as some of the others but is still not bad. The reason why it managed to get in on that game is because initially, the company started off producing performance tires. Then, once the popularity increased, it began making other types like touring or all-seasons ones.
For many years, Falekn's production came only from the 3 factories in Japan. Only in the past decade, the company began to open plants in other parts of the world. The USA is one of those places where a plant was opened in 2015, which employs around 1300 people.
Regardless of how Falken first started, today, it's a different company in terms of available products. While it may not be as extensive as some of the premium brands on this list, it is more than enough.
Falken Ziex ZE950 A/S – all-season tires
Falken Wildpeak H/T – touring tires
Falken Espia EP-Z – winter tires
Falken Rubitrek A/T – off-road tires
Falken Wildpeak MT01 – mud tires
Falken FK-453CC – high performance tires
Falken BI-877 – van tires
Pirelli
Pirelli is a tire brand that needs no introduction. The red and yellow styled logo is engraved into most people's brains as one of the best tire brands currently available on the market. Founded in Italy in 1872, Pirelli has been in the heart of racing almost since day one.
Considering its past and experience, Pirelli is the brand that can offer some of the best-performing tires at a higher price. Considering that it is the go-to tire brand for premium carmakers, the cost and performance should not be surprising. On top of that, Pirelli has been into developing racing tires for cars and bikes for so long that the company reached a point where it has exclusive rights, like the FIM World Superbike Championship.
In terms of tires for road cars, there's nothing to fault. Long-lasting tires with one of the best wet and dry handling are what you want, and Pirelli can deliver.
Pirelli has 19 plants globally, and only 2 of them are in the US and employ over 3000 workers.
As for products, Pirelli's lineup consists of car and SUV models mostly.
Pirelli P4 Four Seasons Plus – all-season tires
Pirelli Scorpion STR – touring tires
Pirelli Scorpion Winter – winter tires
Pirelli Scorpion All-terrain Plus – off-road tires
Pirelli Scorpion Verde – high performance tires
Pirelli Cinturato P7 – run flat tires
Toyo
Toyo isn't on the market as long as some of the other bands on this list, but despite that, it managed to attract a lot of attention. The company was founded in 1945 in Japan and manages to offer excellent performance for a lower cost. While there are some differences between Toyo and some of the more expensive brands, it isn't very noticeable for regular driving.
Despite the slightly lower price tag, Toyo makes no compromise when it comes to performance. While the driving performance may not be a match to some of the premium brands, but the longevity certainly is. In many tests, their tires have shorn to be longer lasting than competitors in that class. Some models can even trade blows with tires from the upper class.
While you may not see Toyo as a brand in F1, there are plenty of other races that the company participates in. Most of that racing technology ends up in the commercial tires, meaning that you can be sure that you will get the promised performance.
The story with Toyo in the US starts in 1966, making it the first non-US company to open shop in the states.
Toyo is the type of tire brand with a little bit of everything when it comes to models.
Toyo Extensa HP II – all-season tires
Toyo Open Country H/T – touring tires
Toyo Observe GSi-5 – winter tires
Toyo Open Country A/T II – off-road tires
Toyo Proxes ST III – high-performance tires
Toyo M 143– van tires
Toyo Open Country M/T – mud tires
Yokohama
Last but not least on today's list is another Japanese tire brand – Yokohama. It was founded in 1917, aiming to provide different types of tire models for various kinds of cars and applications. In some ways, Yokohama is similar to some of the other brands on this list as it balances the price and performance.
While handling is not compromised, Yokohama's goal is to provide longer-lasting tires for the masses. Using the latest technology, it manages to design tires that not only last longer but also reduce rolling resistance and help reduce fuel economy.
On the performance side of things, don't expect to get something that Pirelli or Michelin will offer. While Yokohama's tires perform exceptionally on wet and dry with plenty of grip, a slight difference can be noticed when approaching the limit. Despite that, they are excellent tires that deliver as promised on wet and dry performance, combined with long tread life.
Like most of the other tire brands on this list, Yokohama has expanded its production in the US. However, at the moment there are only 2 plants employing a little over 2000 people.
Model-wise, Yokohama has plenty to offer, and the most prominent models are:
Yokohama AVID Touring-S – all-season tires
Yokohama Geolandar H/T G056 – touring tires
Yokohama Avid Envigor ZPS – run-flat tires
Yokohama Geolandar A/T – off-road tires
Yokohama Parada Spec-X – high-performance tires
Yokohama RY023 – van tires
Yokohama Geolandar M/T G003 – mud tires
FAQ
What is the most reliable tire brand?
As I mentioned in the introduction, there isn't one tire brand that is best at something, and the same applies to reliability. In general, all 10 brands I mentioned are very reliable. You may find some of them to be slightly more reliable, but that comes at a higher price.
Which brand of tires lasts the longest?
In this segment, there are some that stand out. For example, based on multiple tests, Pirelli's P4 Four Seasons Plus is one of the longest-lasting tires on the market. Pirelli's claim about the longevity is 90 thousand miles, while some owners have reported back over 100 thousand miles.
For the rest of the models, you will find tire models rated for 70 or 80 thousand miles, depending on the application and the manufacturer.
What is the best cheap tire brand?
Cheap and best don't usually go in the same sentence, as you won't be able to find the best tires for a low price. With that said, there is some budget-friendly tire brand that has good tires for the money. From today's list, you are looking at Cooper and Falken as the more affordable options.
Keep in mind that cheaper tires will not perform as well as the premium ones. The most important thing to look for is how big of a difference it is.
Why are Michelin tires so expensive?
Michelin tires are among the most expensive brands, primarily because of what the company offers. Michelin has been on the market for over a century and has positioned itself as a premium tire brand. With the higher price tag, Michelin offers quality, longer warranty, and overall satisfaction with its models.
What are the worst tire brands?
Going for the cheapest tires available on the market is a recipe for having a bad set of tires on your car. I won't name any brands in this category, but the general rule is that the cheapest tires are the worst-performing ones. The cheapest tires on the market are usually the ones that have the worst rubber compound and don't perform well. Longevity can also take a hit thanks to the bad combination of materials. This applies to grip, handling, braking distances, etc.