Balancing highway comfort and the off-road conditions requires resilient all-terrain tires. As a driver, you do not have to worry about the safety or ease of handling whether you are cruising on the dry tarmac, rugged or muddy off-road.
What's even better is that these tires perform modestly across seasons. Finding a perfect all-terrain tire for your SUV or truck does not have to be a daunting task. This review compiles the best all-terrain tires in the market and their design features.
It also offers valuable insights for selecting tires that meet your driving expectations and balances performance across terrains.
Are all-terrain tires worth it? 
All-terrain tires remain a perfect choice for drivers who frequent the highways and spend a reasonable amount of time off-roading.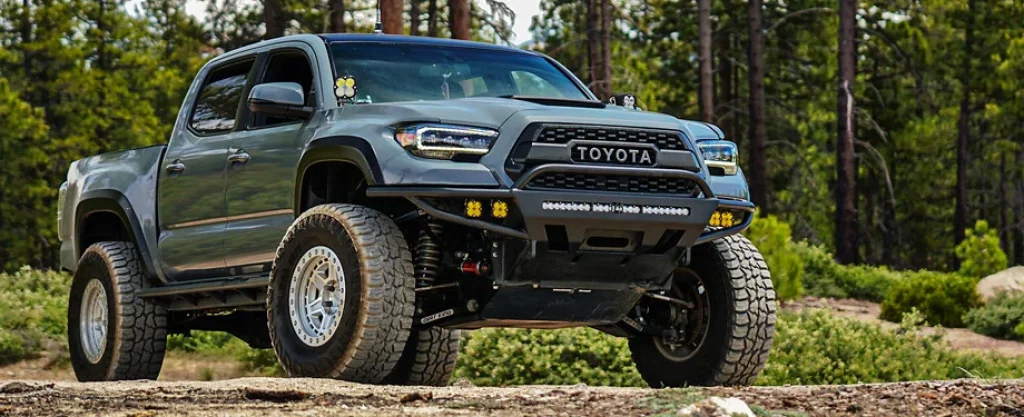 These tires come with several benefits:
Durability and flexibility —The tires are designed to offer optimum road traction on dry, wet, snow-covered, muddy, rocky, and slippery surfaces. They feature aggressive tread patterns and are reinforced with durable tire materials for extended tread life.
Excellent defense against hydroplaning — The design of most all-terrain tires features open tread patterns, wide grooves, full-depth sipes, and voids that allow maximum evacuation of water on wet roads.
Tread designs improve the safety ratings of the tires while providing additional contact surfaces to enhance handling capabilities.
Reinforced sidewalls — The sidewalls of all-terrain tires are reinforced using advanced materials and technologies to improve their load capacities and resistance to punctures on rugged roads.
Despite the numerous benefits, some all-terrain tires generate road noises that hamper ride comfort. 
Essential Features to Consider When Choosing All Terrain Tires
Load Index
The load index is the maximum weight that it can support when the tire is well inflated. Tires with higher load index ratings can carry heavier loads. When selecting an all-terrain tire, always go for one that supports more than the weight of your SUV or light truck.
UTQG
An alphanumeric code like 580 AB provides the treadwear, traction, and temperature resistance of the tire. These figures are based on experimental test results. When selecting all-terrain tires, aim for brands with higher UTQG ratings as they are more durable, have better traction, and enhanced insulation to protect the tire from heat damage.  
Speed Rating
How fast do you want to drive on the highways? The speed rating denotes the maximum speeds for a tire. The speed rating of your tires should match the operating speed of the vehicle. Otherwise, the treads will wear unevenly. Higher speed ratings do not guarantee safe handling when cornering.
Tread designs
All-terrain tires may feature symmetric or asymmetric tread patterns. Both designs affect the performance of the tires when driving on different roads. Tires with symmetric tread patterns have better fuel efficiency and noise cancellation capabilities. Asymmetric patterns enhance wet road traction and improve the tire's defense against hydroplaning.
Depth Void
The best all-terrain tires need to be self-cleaning and offer the best defense against hydroplaning. The voids created by the tread patterns need to be wide and deep enough to facilitate the quick evacuation of surface run-offs, ejection of mud and debris, and additional traction in deep mud or slushy roads. 
Tougher Sidewall
A more rigid sidewall impacts the stability of the vehicle when cornering or driving at high speed. A tougher sidewall means the tires will have better load-bearing capacities and resistance to chip cuts or punctures on rocky roads. A tougher sidewall ensures that the vehicle attains straight-line stability.
Center rib and Wider Shoulder Blocks
These features on the all-terrain tires affect their responsiveness to steering controls and handling capabilities. They create a balance between the highway and off-road performance by providing adequate footprints with the road throughout the ride. The center rib provides sufficient grip on the road, making it easy for drivers to predict handling characteristics on different roads.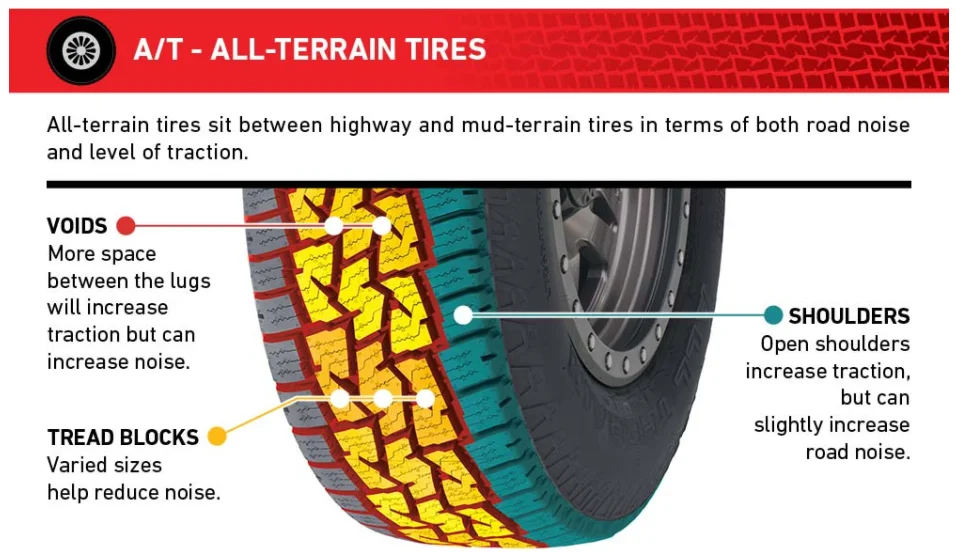 What Are the Best All-Terrain Tires Out There?
The best all-terrain tires are selected based on their performance characteristics on different roads, durabilities, and tire design features. The tires are available in different sizes that fit several SUVs, pickup trucks, touring vans, crossovers, and light trucks. Always check if the tires have the three-peak mountain snowflake symbol if you intend to use the tires in extreme winter conditions.
Pirelli Scorpion All Terrain Plus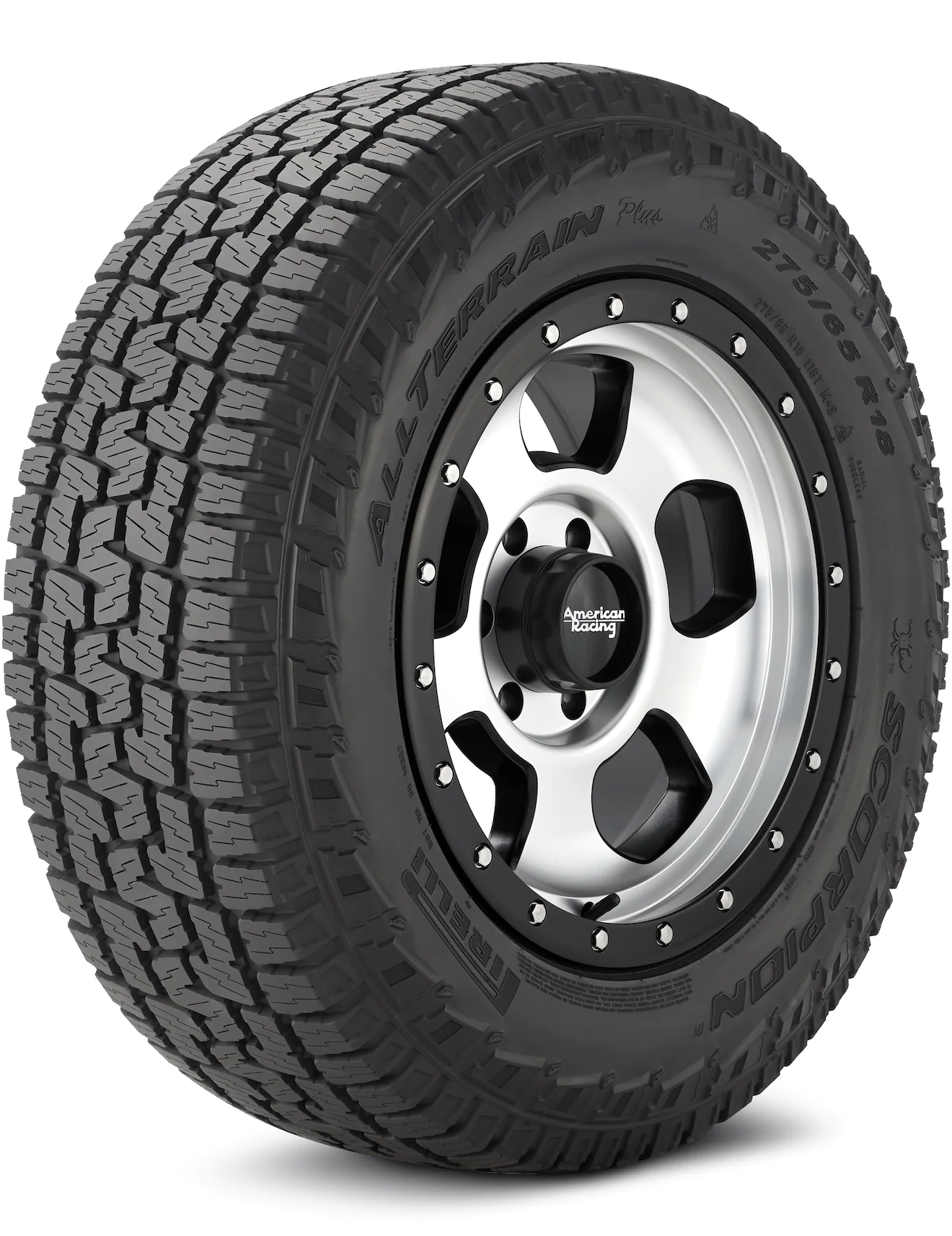 They feature deep-voided, symmetric tread patterns that utilize Pirelli's chip-resistant tread compound.
The deeply grooved tire contains independent tread blocks that enhance their traction capabilities on loosely packed roads.
The internal casing is made from polyester and is reinforced using high-strength steel belts. Open shoulders and lateral notches enhance defense against hydroplaning.  
Pros
Excellent defense against hydroplaning
Highly responsive to steering controls on dry surfaces
Excellent braking characteristics on wet and dry roads
Cons
Relatively weaker sidewalls 
Pirelli Scorpion All Terrain Plus Pirelli Scorpion All Terrain Plus tires are designed to provide …
General Grabber A/TX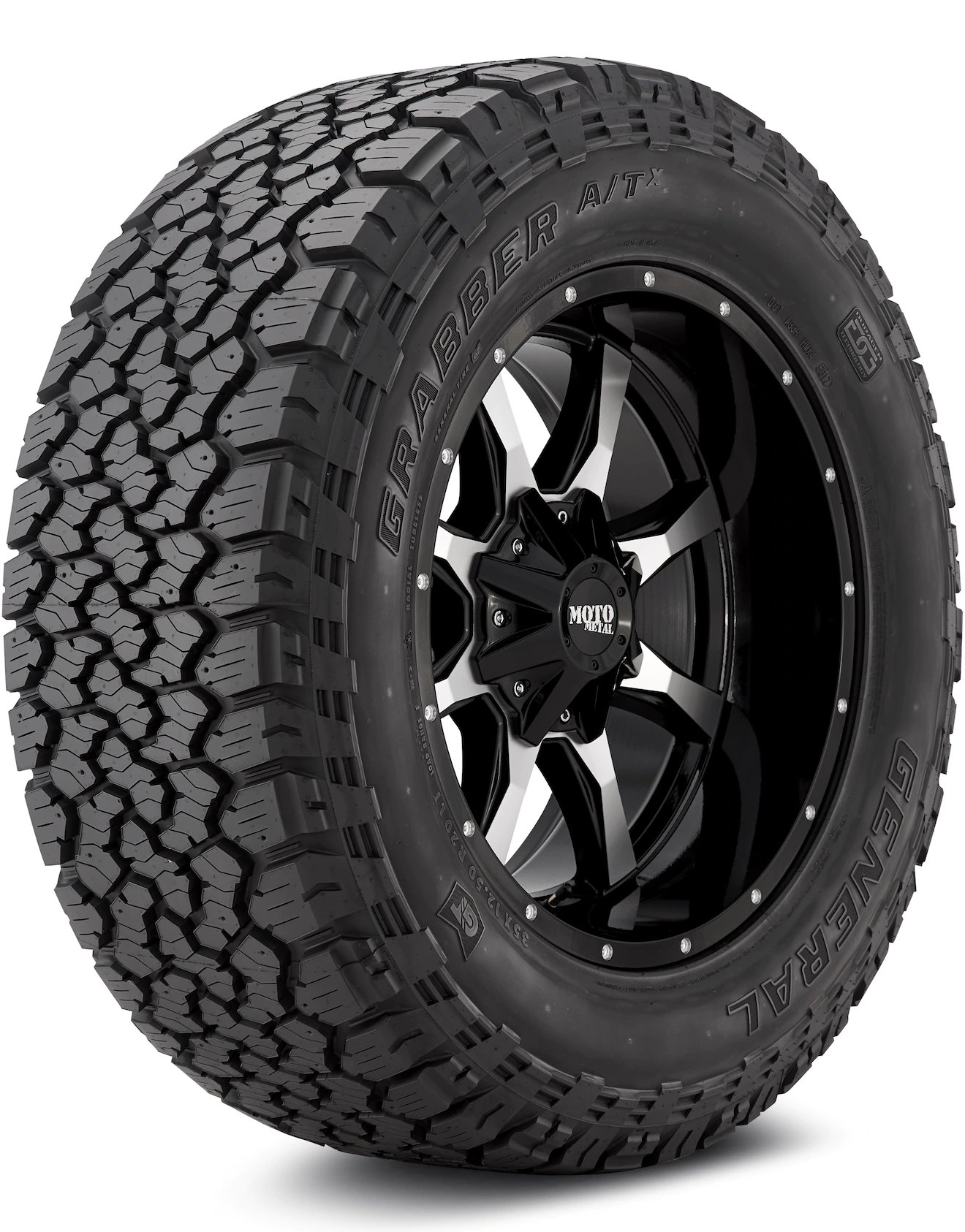 One of the best off-road tires that utilize Comfort Balance Technology to reduce noise and enhance ride comfort. Traction on loose surfaces is maintained using multi-angle tread blocks and deep treads.
The design of the tire adopts alternating shoulders and ejectors that improve the self-cleaning capabilities of the tires. Casings use polyester material reinforced with polyamide and steel belts. 
Pros
Offer exceptional ride comfort 
Extended tread life and assured durability
Remarkable off-road performance
Cons
Limited on-road capabilities
General Grabber A/TX Finding a tire that blends durability, comfort, and excellent traction offer …
Firestone Destination A/T2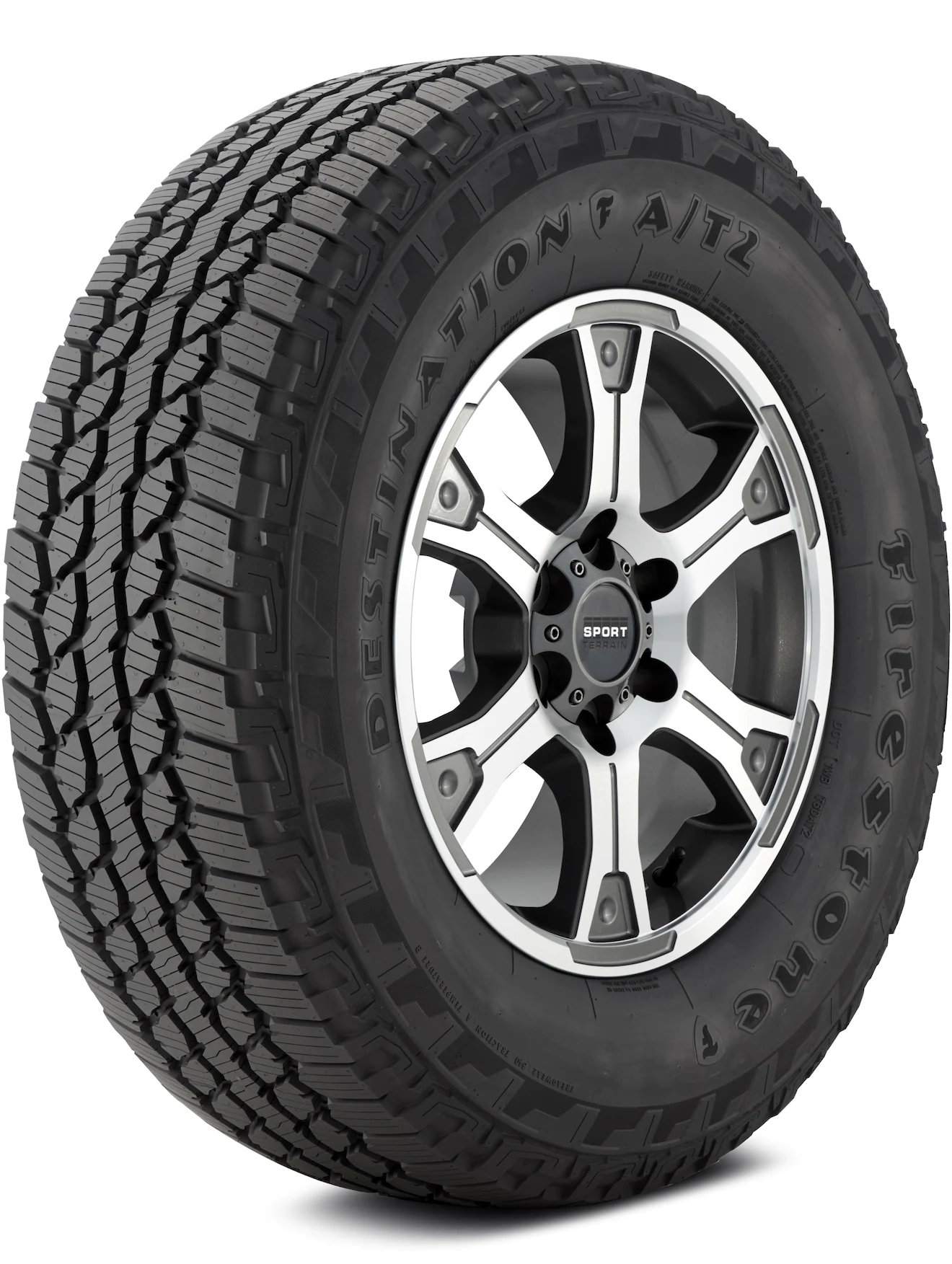 These tires use HydroGrip Technology to optimize the locations of full-depth grooves to improve wet handling and the defense against hydroplaning. The shoulders feature an aggressive pattern for an ultimate off-road adventure. Independent tread blocks and a wide center rib provide a large footprint for excellent traction on snowy or loosely packed roads.
Pros
Durable tires
Excellent highway and off-road performance
Cons
Limited availability (new product)
Firestone introduced Destination A/T2 all-terrain tires to offer drivers an opportunity to enjoy …
Cooper Discoverer AT3 4S
The Adaptive-Traction Technology optimizes the traction capabilities of the tire on all terrains. The tires use AquaVac channels to enhance the evacuation of water on wet roads. Micro-gauge ZigZag Sipes improve traction on slippery roads. Casings made from 2-ply polyester and reinforced using nylon strands and high-strength steel belts.
Pros
Utilize durable manufacturing materials
Decent performance on snowy roads
Cons
Perform poorly on muddy roads
Continental TerrainContact A/T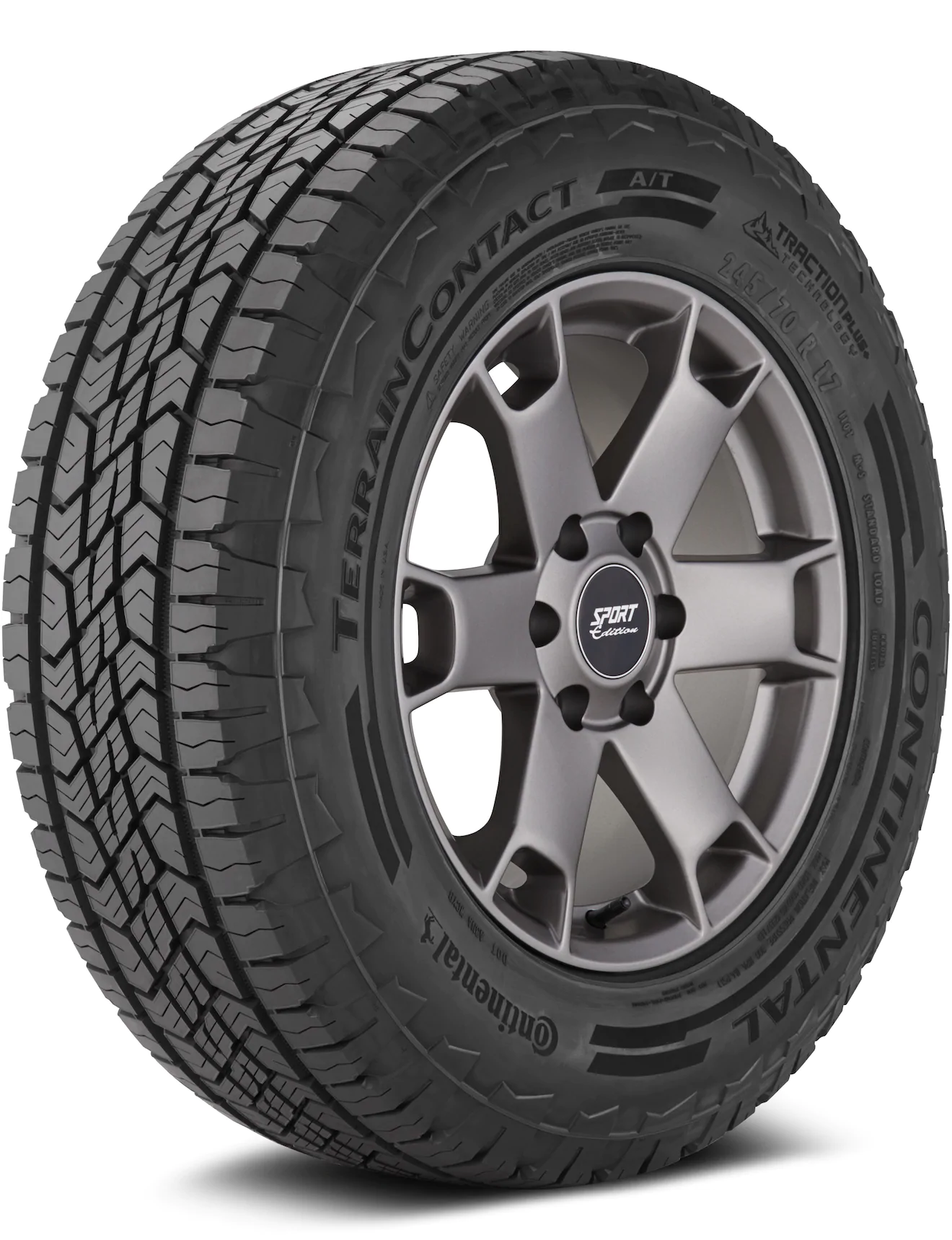 The tires have an all-terrain tread pattern molded from +Silane compounds. They feature an open-tread pattern for enhanced off-road traction. Full-depth sipes, traction grooves at the edges of the block, and +Silane additives improve wet-traction capabilities. Tensile steel belts and polyamide are utilized for reinforcing the two-ply internal casing of the tire.
Pros
Excellent wet and dry braking capabilities
Superb responsiveness to steering controls
Provide a comfortable and quiet ride over most surfaces
Cons 
Low traction over rocky roads
Continental TerrainContact A/T Continental TerrainContact A/T tire is suitable for all-terrain …
BFGoodrich All-Terrain T/A KO2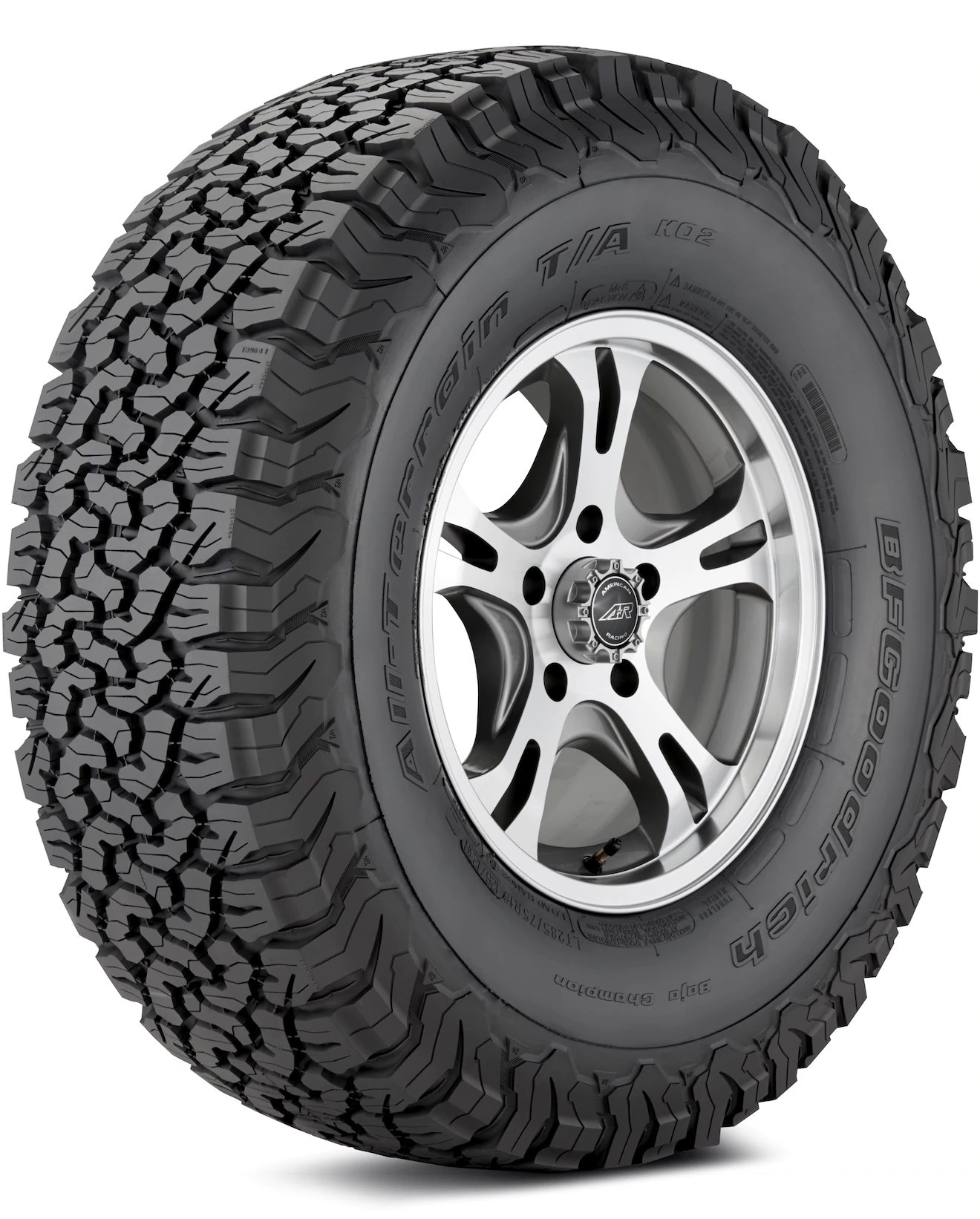 The tires use advanced tread materials molded into an optimized, highly-voided symmetric tread pattern with interlocking tread blocks for excellent all-terrain traction. Serrated Shoulders provide optimum grip on dirt, sandy, and muddy roads. Its internal structure is made from 3-ply polyester cords, steel belts, and nylon material.
Pros
Excellent mud traction
Durable and highly resistant to wear
Good handling characteristics on dry roads
Cons
BFGoodrich All-Terrain T/A KO2 BFGoodrich All-Terrain KO2 T/A tires are among the preferable …
Cooper Discoverer AT3 XLT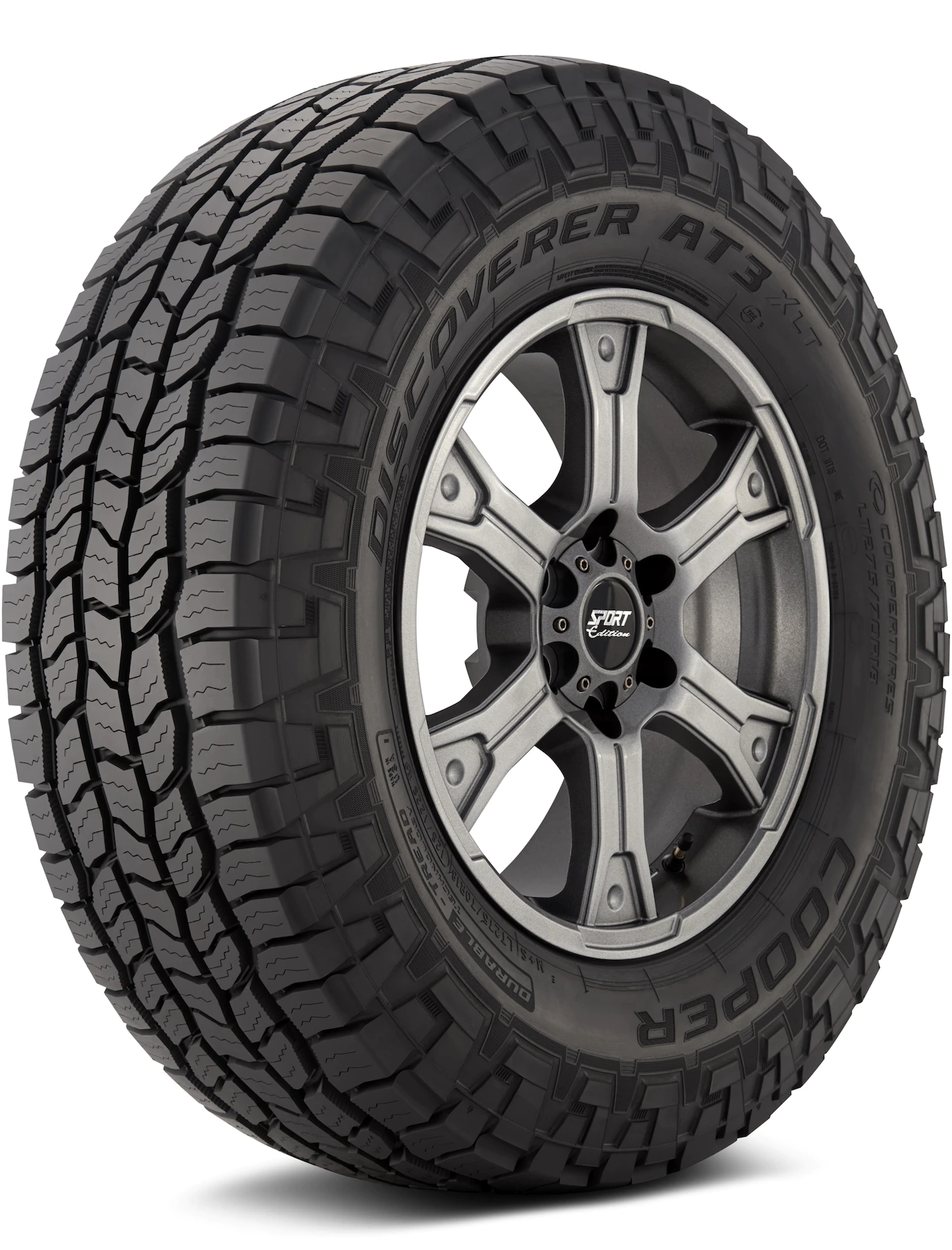 The durability of the tires depends on the Even Wear Arc technology that maintains an optimized footprint for even tread wear and maximum traction. Rugged Traction Shoulders facilitate safe handling on loosely packed roads. Deep circumferential channels, zigzag sipes, independent tread blocks, and lateral notches improve wet traction and protect against hydroplaning.
Pros
Excellent off-road capabilities
Higher load capacities
Remarkable stability on different roads
Cons
All-terrain, all-season tire performance has become a priority for most drivers. Competing tire …
Bridgestone Dueler A/T Revo 3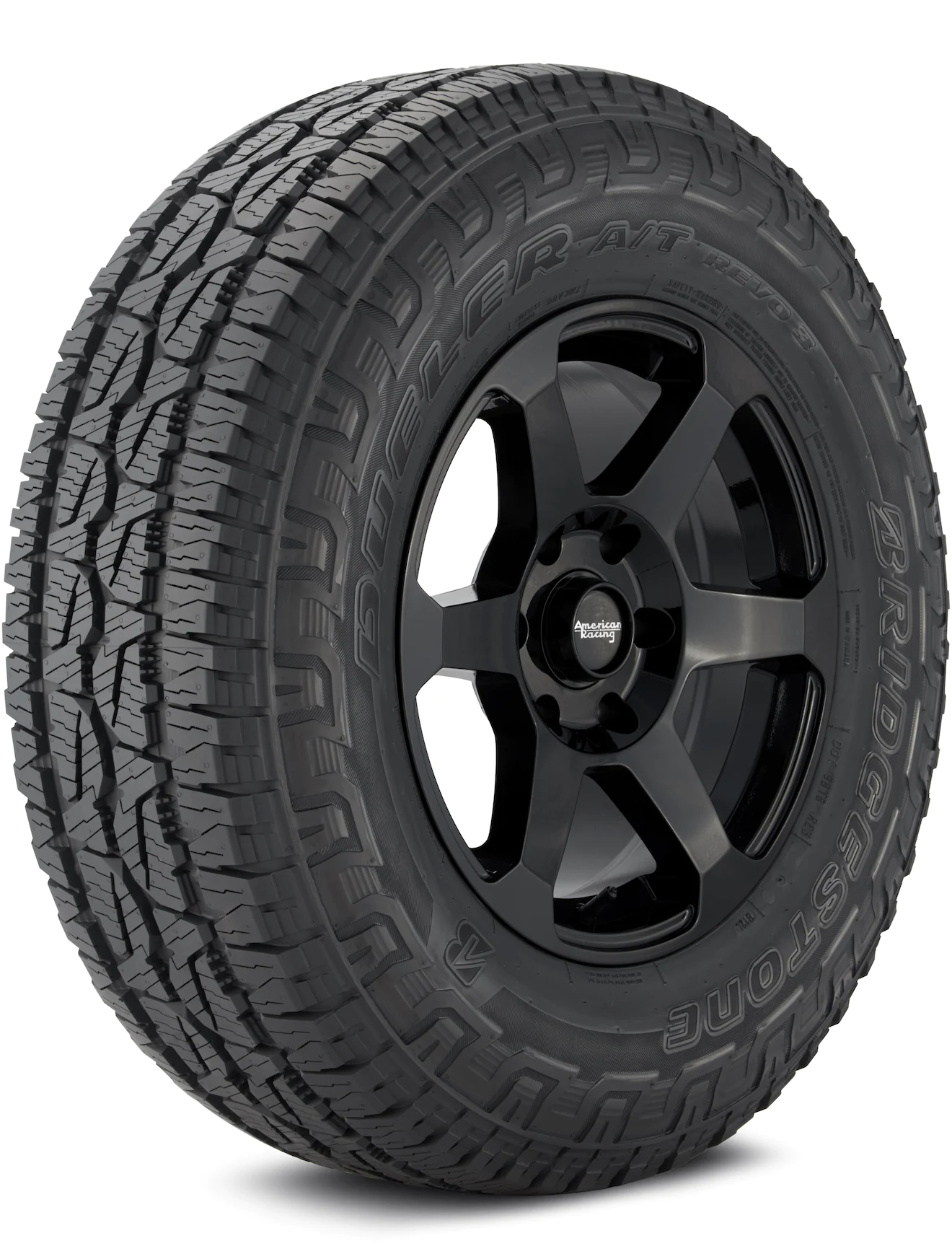 The tires adopt symmetric tread patterns with strong shoulders for sufficient traction. Staggered lugs on the shoulders contain 3D steps that improve traction on soft roads. Defense against hydroplaning relies on deep circumferential grooves, deep treads, and open shoulders. In-block sipes complement traction on snow-covered roads.
Pros
Superb handling characteristics on dry roads
Sufficient protection against hydroplaning
Responsive and stable on dry roads
Cons
Poor braking characteristics
Drivers of Jeeps, crossovers, pickup trucks, and SUVs need a set of tires like Bridgestone Dueler …
Yokohama Geolandar A/T G015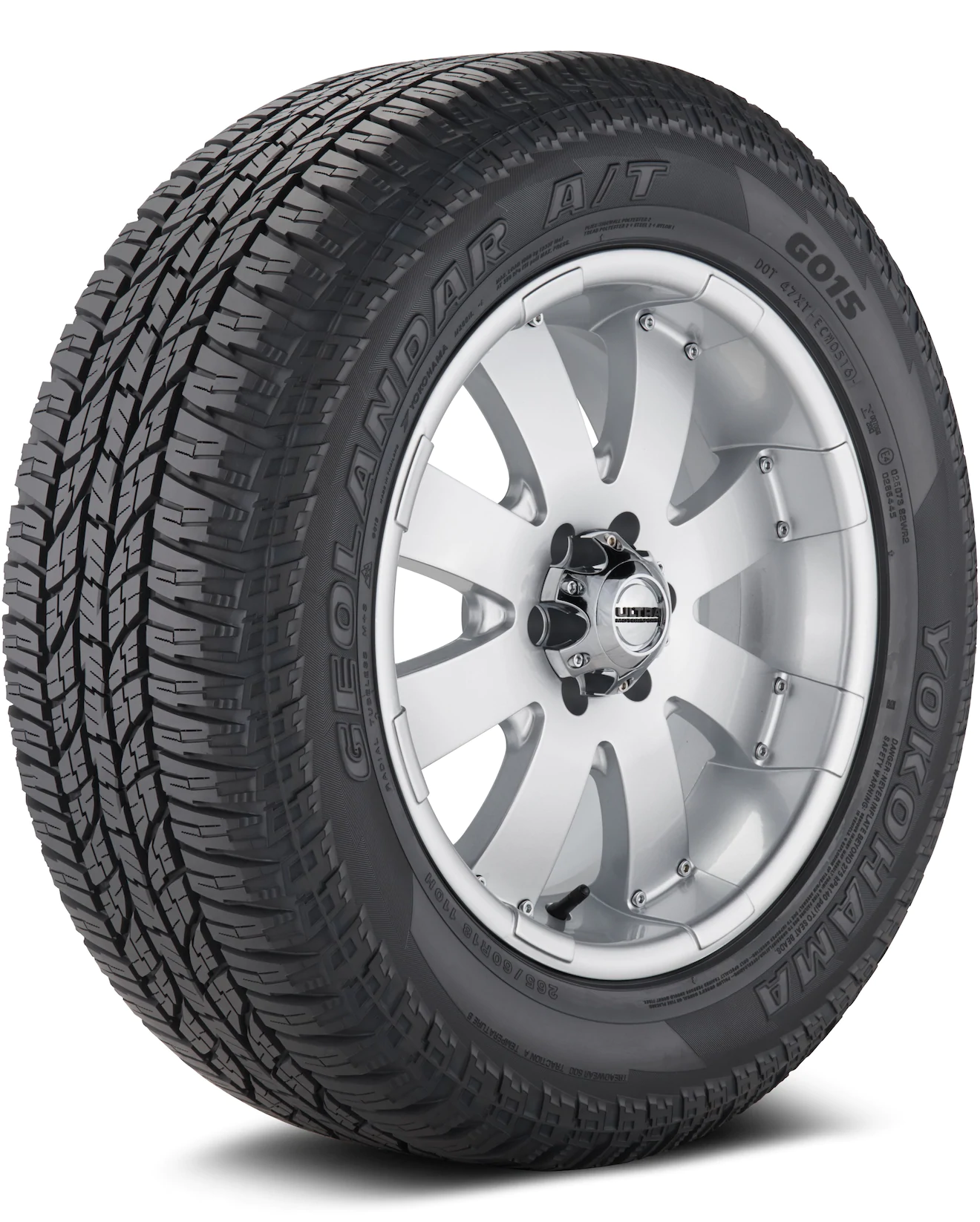 The tires utilize Triple Polymer Tread compounds that are formed into aggressive, symmetric tread patterns. A varying tread pitch ensures that road noises are kept at low levels, while the optimized tread pattern featuring deep circumferential grooves assures safe handling on wet roads. 3D sipes and grooves on lugs improve steering on light snow. 
Pros
Excellent all-season performance
Durable tires 
Better off-road performance
Cons
Costlier than most brands
Yokohama has managed to package comfort and performance in one tire to meet the expectations of …
Sumitomo Encounter AT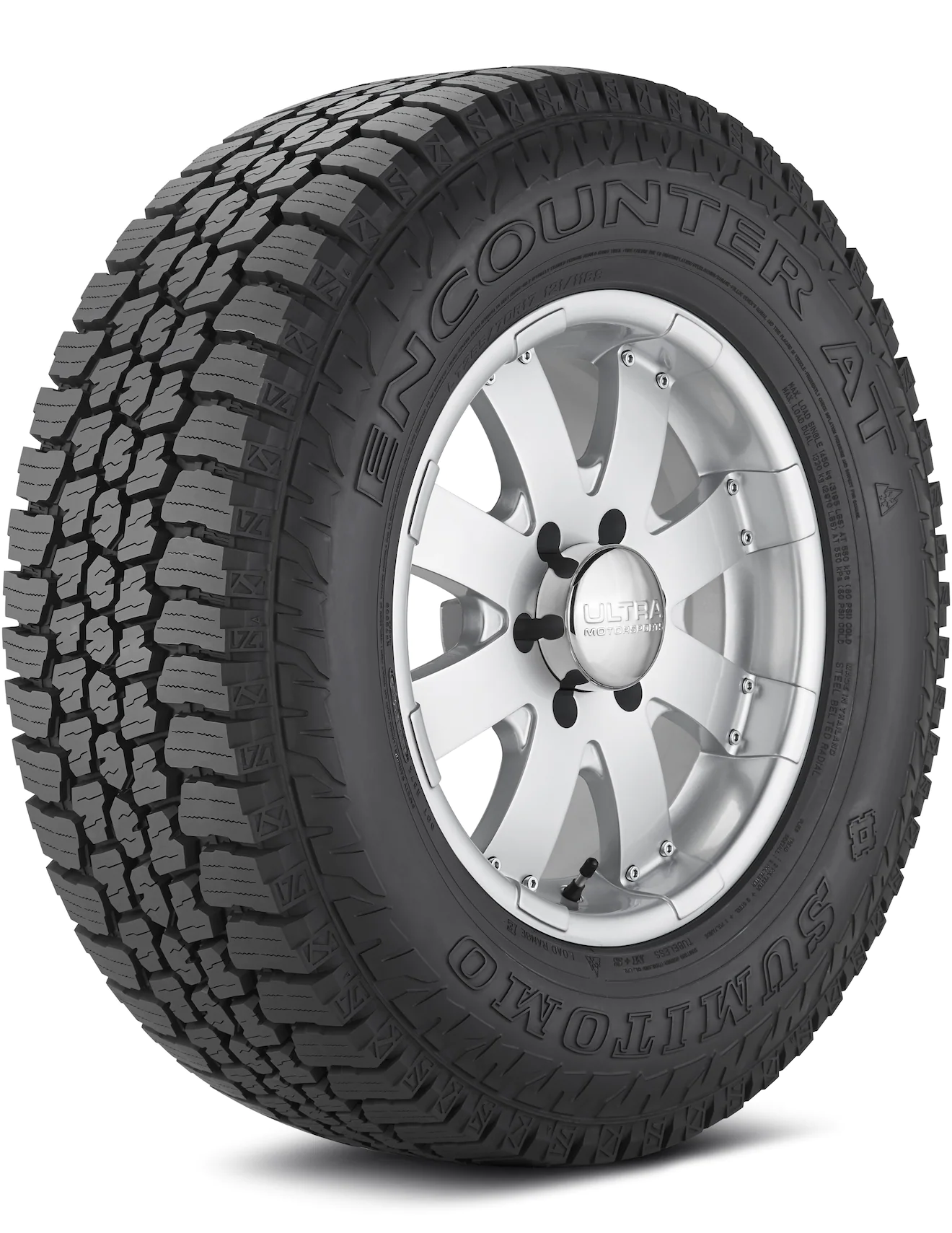 An open tread design and stepped edges of the center block ensure sufficient road traction. The tires provide extra stability thanks to their open shoulders that are connected with ribs. Wide grooves and in-block sipes increase biting edges to enhance handling on wet roads. Independent tread blocks and zigzagging sipes on the shoulders improve the performance of the tires in wintry conditions. 
Pros
Cheaper than most all-terrain brands
Excellent wet and dry traction
Modest performance in different terrains with winter capabilities
Cons
Drive anywhere without compromising the comfort, safety, and durability of your tires. That may seem …
What Is an All-Terrain Tire?
All-terrain tires try to balance the capabilities of a vehicle for routine highway commuting and off-road adventure. The tires are durable and flexible enough to provide adequate performance on muddy, rocky, or hard-packed gravel roads. The best all-terrain tires often feature wide tread blocks, deep circumferential grooves, and aggressive tread patterns to provide traction and the toughness needed for driving under dry and wet conditions. 
What vehicles need an all-terrain tire?
Tour Vans: These vehicles carry plenty of camping gear and have to traverse through tough terrains. All-terrain tires have a higher load index making them the appropriate tires for the camping/touring vans.
Pickups and light trucks: This category of vehicles have higher load-carrying capacities and can transport above 4000 pounds of cargo at any given time. All-terrain tires have the appropriate load index to enable safe transportation of such cargo on virtually any road, 
SUVs/ Four-Wheel Passenger Vehicles: These passenger-type vehicles are not just tailored for daily highway commutes. They facilitate terrain adventures allowing drivers to venture into the unpaved off-road.
All-Terrain vs Off-Road vs Highway tires: differences
All-terrain tires trade off some of the capabilities of highway tires like comfort to balance car performance when driving on the highway or off-road. The all-terrain tires have tread modifications to improve their handling and traction on diverse roads. They are safe for driving over puddles of rain, light snow, and mud. These tires can navigate over any surface, as long as it is not on the extremes. If driving in deep mud or snow, drivers may face difficulty handling the vehicles. In general, the all-terrain tire is a blend of highway tires and off-road tires.
On the contrary, highway tires provide excellent traction and stability for routine dry tarmac driving. They are highly responsive to steering and have decent braking distances. They exhibit poor results when driving in wet conditions or when subjected to muddy, rocky, or gravel roads. One advantage of these tires is the ride comfort and the amazingly low road noises.
FAQs about All Terrain Tires
What is the best brand of all-terrain tires?
General Grabber A/T X. The tires exhibit superb traction, braking, and handling capabilities on different terrains. The tires are manufactured using advanced technology and material that extend the tread life and balanced performance for highway comfort and off-road adventures.
What is the toughest all-terrain tire?
BFGoodrich All-Terrain T/A KO2 uses high-strength material for construction with additional shoulder traction capabilities that give them unmatched highway and off-road capabilities. Bridgestone Dueler A/T Revo 3 and Firestone Destination A/T2 are equally impressive.
Are all-terrain tires good for daily driving?
Continental TerrainContact A/T remains unbeatable when it comes to dry tarmac traction. They have remarkable technologies that improve the comfort and the quality of the ride. For routine highway driving, this will make a great choice. 
Conclusion: Are all-terrain tires worth it?
Every driver has to juggle between buying tires on a budget and receiving long-lasting service from them. Drivers of SUVs, pickup trucks, tour vans, and selected light trucks alternate their driving patterns, spending most of the time on highways and a few moments off-roading. In an ideal situation, this will require two sets of tires — highway tires and off-road tires.
All-terrain tires, available in different sizes, are designed to have tread patterns that ensure excellent performance on any road. They exhibit superb handling and braking results that make them a good choice for most drivers. They have manageable noise levels and reasonable pricing. All-terrain tires will be a good choice for car owners who frequent rough terrains (off-roads) and have to carry heavy loads on their vehicles.